Yamaha to exhibit at 17th China (Shanghai) International Boat Show
| | |
| --- | --- |
| | April 16, 2012 |
Yamaha Motor Co., Ltd. will exhibit its products at the 17th China (Shanghai) International Boat Show to be held from April 19 (Thur.) to 22 (Sun.), 2012 in Shanghai, China.

Yamaha Motor aims to increase sales of marine products in emerging economies as part of its next medium-term management plan objective of expanding "business scale." The show is seen as important trade expo on the road to this objective for promoting full-scale business in the marine markets of not only China but also the Republic of Korea and other parts of East Asia. The Yamaha booth at this prominent show is organized primarily by group company Yamaha Motor Commercial Trading (Shanghai) Co., Ltd.

The theme of the Yamaha booth is "Quality Time on the Water" and it will exhibit four boats, including the "SC390" (Japan domestic model EXULT36) and "SR310" (Japan domestic model NYTRO), five personal watercraft and six outboard motor models. It is designed to promote the quality and technology of Yamaha products garnered from more than 50 years of achievement in the marine industry, while also highlighting the many fun and rewarding forms of marine leisure.

Also on display at the booth will be an array of other products such as the Yamaha motorcycles that have already won a reputation for quality in the Chinese market and the electric motorcycles that are finding a rapidly expanding market there as well. The aim is to introduce Yamaha's unique approach to product creation that develops a diverse range of "vehicles that move people, body and soul" on the land, on the water and in the air.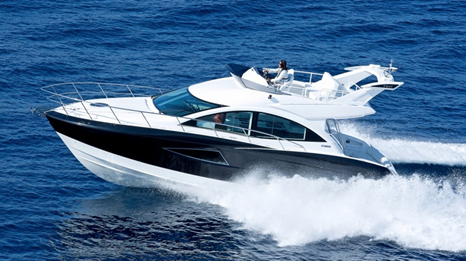 The cruiser "SC390" to be exhibited at the China (Shanghai) International Boat Show


About the 17th China (Shanghai) International Boat Show


| | |
| --- | --- |
| Date | April 19-22, 2012 |
| Organizers | Shanghai Association of Shipbuilding Industry/China Boat Industry & Trade Association/Shanghai UBM Sinoexpo International Exhibition Co., Ltd./Shanghai Centre for Scientific & Technological Exchange with Foreign Countries |
| Venue | Shanghai World Exhibition & Convention Center |


About Yamaha Motor's Boat Business Plans for East Asia


Amid China's rapid economic growth, the China State Council announced its intention to support the development of new tourism centered around cruise ships/boats and pleasure-use boats in 2009, and a new pleasure-use boat industry has been quietly growing ever since. With the Chinese middle class growing to an estimated level of 300 million in 2010, more and more attention is focusing on the big potential demand for boats as a leisure-use item for the affluent and upper middle class in the future.

Yamaha Motor has long been looking at China and the ROK as potential main markets for Yamaha boats in East Asia and has begun participating in boat shows and taking initiatives to build sales and service networks in these two countries. With these efforts beginning to bear fruit, this year's Yamaha booth at the China (Shanghai) International Boat Show is considerably larger in area and displays a fuller line of products.

Beyond its efforts to increase sales of Yamaha marine products (hardware), Yamaha Motor will undertake more initiatives aimed at creating new marine culture and promoting the spread of marine leisure in East Asia by leveraging the company's more than 50 years of boat building know-how.


Reference



Company Profile
Company name

English: Yamaha Motor Commercial Trading (Shanghai) Co., Ltd.
Chinese: 雅馬哈発動機商貿(上海)有限公司

Location

Shanghai, China

Foundation

September 21, 2004

Chairman

Yoshiro Takahira

Managing Director

Jiang Yuzhe

Capital

30.6 million CNY

Capital ratio

Yamaha Motor Co., Ltd. 100%

Business

(1) Import and export of Yamaha products manufactured in China
(2) Wholesales of Yamaha Motor products
(3) Export of knockdown kits and raw materials procured in China

Employees

168 (as of December 31, 2011)

Sales volume

2,756.1 million CNY (As of December 31, 2011)