Release of the new fuel-injection equipped "TTX" for Thailand
| | |
| --- | --- |
| | March 29, 2012 |
Yamaha Motor Co., Ltd. announces the release of the new "TTX," a 115cc automatic transmission (AT) commuter model equipped with the YMJET-FI*1 fuel injection system and fresh, off-road-themed styling. Yamaha Motor group company Thai Yamaha Motor Co., Ltd. (TYM) will begin marketing the model in April 2012.

The Thai motorcycle market has an annual demand of about two million units (Yamaha Motor survey, 2011 results). Among young male Thai customers in their 20s, a new type of motorcycle culture has taken root where they enjoy customizing their motorcycles to suit their personalities or use them as tools for self-expression. The new TTX was mainly planned and developed by group company Yamaha Motor Asian Center Co., Ltd. (YMAC) in Thailand as a customer-oriented next-generation AT commuter model. Its exterior employs sporty and original styling based on a "layered-structure" concept, special suspension, a wide rear tire (sized: 100/70-14) and more for a commuter model with a new flavor. Also, a wealth of genuine accessories and parts are available for customers to enjoy customizing the TTX.

The TTX, along with the 125cc YMJET-FI equipped "NOUVO SX" AT commuter model also being introduced in April, is on display at the 33rd Bangkok International Motor Show that started on March 27 (Public days started on March 28). Both of these products join the lineup following the YMJET-FI equipped "Mio115i" model introduced in Thailand in January 2012 as a part of Yamaha Motor's medium-term growth strategy*2 to strengthen product competitiveness, appeal and profitability in the ASEAN motorcycle market.
*1 YMJET-FI (Yamaha Mixture Jet-Fuel Injection): A fuel injection system employing an auxiliary air intake passage besides the main passage to provide an "air assist" for more efficient mixing of the air and fuel that helps improve fuel economy in the practical use range.
*2 Medium-term management plan: One of the four growth strategies in Yamaha Motor's 3-year (2010-2012) medium term management plan is strengthening product competitiveness, appeal and profitability in the ASEAN motorcycle market. This aims to be accomplished by enhancing product appeal by (1) increasing the ratio of models featuring a fuel injection system and (2) increasing profitability through reducing the cost of fuel injection systems and the benefits of larger scale production.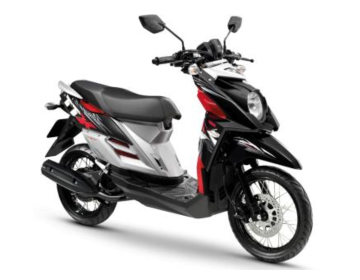 "TTX" (2012 Thai market model)
| | |
| --- | --- |
| Model name: | TTX |
| Release date: | April 2012 |
| Sales target: | 120,000 units (annual, in Thailand) |