Release of the new "NOUVO SX" flagship AT commuter model, manufactured in Vietnam for the Vietnamese market
| | |
| --- | --- |
| | March 12, 2012 |
Yamaha Motor Co., Ltd. announces the release of the new "NOUVO SX" 125cc automatic transmission (AT) commuter model. The NOUVO SX is equipped with the Yamaha-exclusive YMJET-FI (*1) fuel injection system and is slated for release in late March 2012. It will be manufactured and marketed by group company Yamaha Motor Vietnam Co., Ltd. (YMVN). The NOUVO SX, along with the "Nozza" AT commuter model introduced in fall of 2011 targeting women, is an important part of Yamaha Motor's medium-term growth strategy (*2) to strengthen product competitiveness, appeal and profitability in the ASEAN motorcycle market.

The Vietnam motorcycle market has an annual demand of approximately 3.5 million units (Yamaha Motor survey, 2011 results) with AT models accounting for around 1.1 million units. The demand for AT models is also expected to grow as steady economic growth continues in Vietnam's urban centers. The pioneer of the market expansion for AT models in Vietnam was the original NOUVO released in 2002. Today, it is the leading model with a large following of customers.

The NOUVO SX represents the latest evolution of the NOUVO and brings excellent fuel economy, environmental performance and running performance through its newly-designed engine with the quality feeling of a "one class higher power unit" and Yamaha's exclusive YMJET-FI fuel injection system. This new NOUVO is equipped with a range of features worthy of its premium class product positioning, including the first projector type headlight on an ASEAN market model, LED-lit instrument panel and LED taillight and specially developed tires that reduce rolling resistance by 20%.

In addition to the four standard colors, the NOUVO SX also comes in three "RC Edition" color schemes designed to bring out its sporty image for a total of seven colors.
*1 YMJET-FI (Yamaha Mixture Jet-Fuel Injection): A fuel injection system employing an auxiliary air intake passage besides the main passage to provide an "air assist" for more efficient mixing of the air and fuel that helps improve fuel economy in the practical use range.
*2 Medium-term management plan: One of the four growth strategies in Yamaha Motor's 3-year (2010-2012) medium term management plan is strengthening product competitiveness, appeal and profitability in the ASEAN motorcycle market. This aims to be accomplished by enhancing product appeal by (1) increasing the ratio of models featuring a fuel injection system and (2) increasing profitability through reducing the cost of fuel injection systems and the benefits of larger scale production.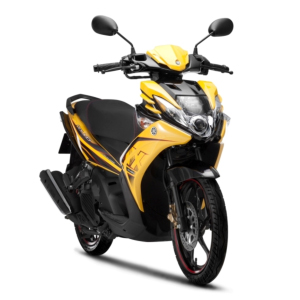 "NOUVO SX" RC Edition
(2012 Vietnamese market model)
Model name:

NOUVO SX

Release date:

Late March 2012

Manufacturer's
suggested retail price:

Standard: 35,900,000 VND
RC Edition: 36,900,000 VND

Sales target:

120,000 units (annual, in Vietnam)