Release of the new Yamaha D×D Solder-paste Printer "YSP20"
| | |
| --- | --- |
| | January 11, 2012 |
Yamaha Motor Co., Ltd. has developed the new YSP20 D×D Printer, a solder-paste (cream solder) printer that adopts dual-stage, dual-stencil printing to achieve an extremely fast printing speed and a variety of new and unique functions at the same time. This new model will be released on April 1, 2012.
Building on the printing quality and functionality of Yamaha's high-end 3S head (*1) fitted "YSP" solder-paste (*2) printer, the YSP20 adopts a new dual-stage, dual-stencil mechanism. In addition to more than doubling the printing speed compared to the previous model, the new system also enables a variety of new and unique functions such as non-stop set-up functions and sequential printing.
Yamaha Motor plans to exhibit the new YSP20 at the 41st INTERNEPCON JAPAN trade show for electronics manufacturing and surface-mounting technology (SMT), held from January 18-20 at the Tokyo Big Sight (Ariake, Koto Ward, Tokyo).

*1 3S head: Abbreviation for Swing Single Squeegee head. This Yamaha-original head utilizes only a single squeegee to control attack angle, speed and applied printing force.
*2 Solder paste: Solder in paste (cream) form made of a mix of fine granules of solder with viscous fluid flux and a binding agent. When run through a reflow furnace, the solder paste solidifies to solder electric components to printed circuit boards (PCBs).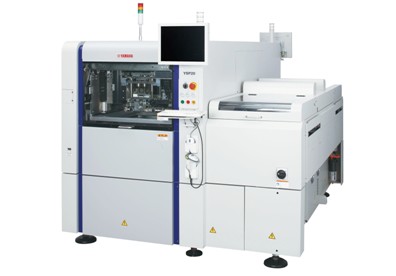 Yamaha D×D Printer YSP20
| | |
| --- | --- |
| Model name | Yamaha D×D Printer YSP20 |
| Release date | April 1, 2012 |
| First (full) year sales plan | 50 units (first year/Japan and foreign markets) |


Market Background and Product Outline


Recent years have seen the rapid emergence of electric/electronic products including mobile communications and IT devices like smart phones and tablets, and electronic control devices for automobiles, all of which require printed circuit boards (PCBs) mounting increasingly compact, high-density, high-function electrical/electronic components. At the same time, this electronics industry has been forced to improve manufacturing efficiency to accommodate mass production of these new products. This need has created a new field of surface mounting technology that not only meets the requirements of the new products and components, but also increases mounting capacity and speed on production lines as a whole and enables greater flexibility in production line composition, while also answering current demand for energy saving and reduced environmental impact.
To answer these growing market needs, Yamaha Motor has further evolved its "module concept" for production line equipment by developing revolutionary SMT-related products that deliver high added value under the motto of "SMT Innovation Creating advanced "breakthrough" technology."
The new YSP20 is a solder-paste printer that dramatically increases productivity to answer the needs of today's SMT production lines. The new dual-stage, dual-stencil mechanism employed in this model enables outstanding printing speed while also making possible a variety of unique functions to answer the constantly evolving trends in today's SMT manufacturing processes.


Product Features


(1)

Dual-stage, dual-stencil printing process employed
●Achieves printing line tact of approx. 5 seconds, or more than twice the previous speed.
●Enables a variety of unique new functions such as non-stop set-up functions, and sequential printing function involving different stencil thicknesses and quick and easy set-up (changing) of carry-in conveyor sections.
●Provides not only various running modes such as dual- or single-lane transport, but also compatibility with other makers' equipment (pre and post) in the production line.

(2)
Equipped with a 3S head (abbreviation for Swing Single Squeegee)
●A system of servo mechanics enables applicable control of squeegee attack angle and speed. This makes it possible to optimize printing conditions for the type of solder used and thus improve repletion performance for higher quality and more consistent printing performance.
●The printing pressure feedback control system makes accurate setting and control of squeegee printing pressure possible.
●Utilizes a single squeegee blade
·Cuts surplus solder build-up on blades in half to reduce overall solder consumption.
·Limit solder dripping.
·Improves serviceability and change-over work.
(3)

Handles larger board sizes
●This model is designed to handle larger PCBs up to L510 mm×W460mm, expanding its capacity to accommodate collective substrates, LCD PCBs and industrial-use PCBs.
●It has the capacity to immediately change between four types of large-sized stencils in both the front and rear stages.

(4)

Space-efficient platform
Even while providing a buffer function and traverse function in the carry-in conveyor section, optimizing the machine layout has enabled a highly space-efficient platform.

(5)

High accuracy printing
Increased rigidity of the printing table and frame has provided high levels of printing accuracy and smooth PCB release. Adoption of the Yamaha Multiple Accuracy Compensation System (MACS)*3 ensures a high level of printing accuracy.



*3 MACS (Multiple Accuracy Compensation System): A function that improves printing accuracy by taking into account all factors affecting accuracy, such as the printing stencil, the PCB and the various factors of the machine and corrects for them in a comprehensive and multifaceted way.

(6)

Print Stability Control (PSC) system
This system stabilizes the rolling radius of the solder paste that affects printing quality. This also contributes to faster set-up and reduces solder waste.

(7)

Graphic alignment function
This function provides a composite image showing the relative positions of the PCB and printing stencil that enables a direct verification of the alignment of the two. This makes it possible to finely adjust the printing alignment parameters.

(8)

Optical inspection of printing results
This function provides detailed and accurate post-printing inspection. This greatly increases reliability of printing results for areas that can't be verified by optical inspection after reflow-processing.

(9)

Excellent operability and full line of options
●The easy to read and understand interface ensures ease of operation. The display has four language options to select from: Japanese, English, Chinese and Korean.
●A highly effective cleaning system comes as standard equipment. Furthermore, a lower noise level is achieved.
●The full line of options includes an output-side sorting conveyor, a peripheral atmosphere temperature control unit, a PCB vacuum suction system, solder remaining quantity detection and UPS compatibility.

(10)

CE marking compliance*4
Compliance with the CE marking standard of machine design safety enables use worldwide.



*4 CE marking: The representative safety standard required for machines in the European region.


Basic Specifications


Model name

D×D Printer YSP20

Applicable PCB

L510×W460mm to L50×W50 mm

Printing head

3S (Swing Single Squeegee) head

Printing accuracy

Printing accuracy (3s) ±0.025 mm
Alignment repeatability (3s) ±0.005 mm

Printing line tact

Approx. 5 sec. (Standard printing: YMC test result at optimum conditions)

Applicable stencil sizes

750×750 mm, 736×736 mm
750×650 mm, 650×550 mm

Power supply

3-phase AC200/208/220/240/380/400/416V ±10%

Air supply

0.45MPa

External dimensions

L1,775×W2,410×H1,520mm (excluding protrusions)

Weight

Approx. 2,900 kg