Main Models to be displayed at the 42nd Tokyo Motor Show 2011
| | |
| --- | --- |
| | November 9, 2011 |
Yamaha Motor Co., Ltd. will participate in the 42nd Tokyo Motor Show 2011 (Organizer: Japan Automobile Manufacturers Association) to be held at the Tokyo Big Sight from December 3 (Sat.) to 11 (Sun.), 2011 with a booth displaying 20 motorcycles (including concept models) and five special models showing the diversity of personal vehicles envisioned by Yamaha Motor.
[Main Display Models]




World Premieres

Models making world debut at the Tokyo Motor Show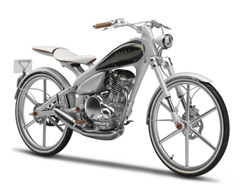 Y125 MOEGI (Reference vehicle)
This concept model is a fresh embodiment of Yamaha design philosophy that combines the familiar look and feel of a bicycle in a motorcycle. Mounting a world standard 125cc class engine on a slim, lightweight frame, this model is designed to offer good fuel economy with an easy and enjoyable ride. Besides its appeal as a personal vehicle for daily commuting, it sports an active image that will lure owners on longer jaunts on the weekends.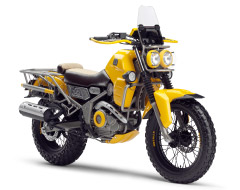 XTW250 RYOKU (Reference vehicle)
Here is a "SUV motorcycle" with toughness and heavy-duty utility that adds a new dimension to the great mobility and convenience motorcycles are known for. The key concept behind its design is "unrestricted, anytime, anywhere," and has a range of features like a large, high-load, low center-of-gravity rear carrier, a slim, low-mounted large-capacity gas tank, fat tires, rugged chassis guards and removable LED headlights. These features expand its range of uses and give you the performance and operability to go almost anywhere. Here is Yamaha's idea of a dependable partner for people who love motorcycles and the outdoor life, specially tailored for the Japanese market.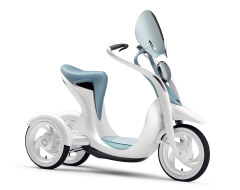 EC-Miu (Reference vehicle)
This is a concept model Yamaha proposes to expand the potential for electric commuter models in urban lifestyles. Positioned in the 50cc (Gentsuki) class, it has two rear wheels for a stable, easy ride that women will especially enjoy. It is designed in the image of the flow of wind with a compact size that makes it a breeze to handle. It's an "easy on me and easy on the environment" vehicle that will be perfect for those little daily errands around town.
PAS WITH (Reference vehicle)
Here is a concept model that proposes a new way of enjoying today's increasingly popular electrically power assisted bicycles. To complement its practicality for everyday commuting or shopping trips, this model is designed to fold up easily to fit on the train, bus, or your car when you travel. To make the bike foldable, the motor of its power unit is built into the front wheel hub in a sophisticated design that is both functional and stylish.
Japan Premieres

Models making Japan debut at the Tokyo Motor Show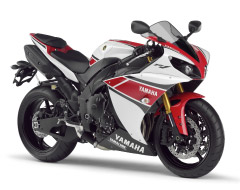 YZF-R1 (Reference vehicle)
With its newly adopted traction control system and crossplane crankshaft, this 1,000cc supersport model is full of technology right from Yamaha's YZR-M1 MotoGP race machines. Further advances have been made in its great cornering performance and new exterior styling features, such as the LED illumination in the headlight assembly. The Japanese-spec model to be displayed is in special coloring commemorating the 50th Anniversary of World Championship Grand Prix racing for Yamaha.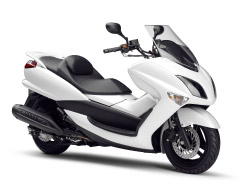 Majesty (Reference vehicle)
This is the latest 250cc Majesty, the epoch-making scooter that expanded the market for large-class scooters. This version maintains the comfortable, enjoyable ride and stylish body shape the Majesty is famous for, while adding exterior design changes that make the front face more imposing, but more refined at the same time.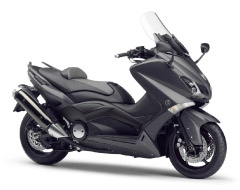 TMAX (Reference vehicle/Export-spec vehicle)
The engine displacement has been upped to 530cc in this full model change of the popular TMAX, the revolutionary model that pioneered the sporty commuter bike category in Europe. Striving for new heights in product appeal, the engine and drive train that are the spirit of the TMAX have been re-designed along with the suspension to achieve a new level of performance. Styling changes are made for an even more aggressive, sculpted look, while maintaining the iconic "boomerang image" of the TMAX's silhouette.
Other Main Display Models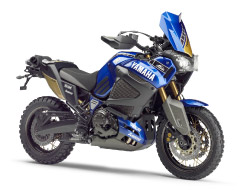 Super Tenere Worldcrosser (Reference vehicle)
This is a concept model based on the European-born XT1200Z (export model) as a rugged, powerful machine to literally cross the world, as its name implies. Boasting an array of new mechanisms and lightweight components throughout to boost its "go anywhere" performance potential, this special version is Yamaha's invitation to the world of extreme off-road adventure.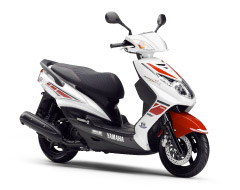 CYGNUS-X SR (Reference vehicle)
The CYGNUS-X (XC125SR) is a 125cc scooter acclaimed for its sporty performance and equipment. This special commemorative version sports the traditional Yamaha race colors used this year to celebrate the 50th Anniversary of World Championship Grand Prix racing for Yamaha.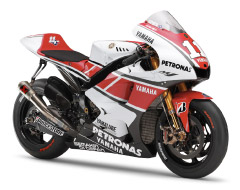 YZR-M1 (Reference vehicle/Commemorative model)
This is the proud factory machine that competes in MotoGP, the pinnacle class of the world championships of road racing. It is the machine that won Yamaha an amazing three consecutive MotoGP Triple Crowns (Riders', Teams' and Constructors' titles) from 2008 to 2010, a feat never before achieved in World Championship Grand Prix history. The machine on display bears Yamaha's traditional Red & White racing colors commemorating the 50th Anniversary of World Championship Grand Prix racing for Yamaha.