Release of the Yamaha Linear Single-axis Robot "PHASER Series MF7"
| | |
| --- | --- |
| | September 1, 2010 |
On September 15, 2010, Yamaha Motor Co., Ltd. will release the new linear single-axis robot "PHASER Series MF7," a compact model linear motor actuator that achieves high-thrust and a large stroke adjustment range.
The PHASER Series MF7 model adopts a flat type linear motor. Most of the main components have been independently developed by Yamaha Motor specifically for this model. The model comes complete with controller as an all-in-one single-axis robot package with a compact but high-rigidity frame.
MF7 is a single-axis robot capable of answering a wide range of diversifying user needs in terms of size, performance and functions. As a compact but high performance structural component of the axis of cartesian robots, it has great potential to expand the robot market.
Furthermore, although it uses a linear motor, Yamaha is able to offer this model at a greatly reduced price.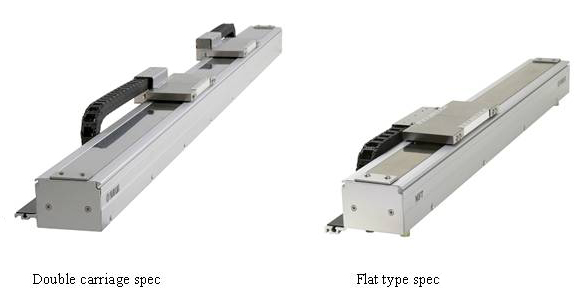 Yamaha linear single-axis "PHASER series MF7"

| | |
| --- | --- |
| Name: | Yamaha linear single-axis robot, PHASER series MF7 |
| Release date: | September 15, 2010 |
| Price: | Open price |
| The first year sales plan: | 300 units (series total, domestic and overseas markets) |



Market Background and Product Outline


Yamaha Motor launched its PHASER series single-axis robots with linear motors in 2003. Since then, these models have won a reputation as direct-acting linear motion actuators and have proved themselves as mobile robot arms in automated production facilities. However, in recent years there is an increasing demand from the market for more compact and lower priced products. This makes manufacturing facilities even more efficient in light of the increasing compactness of products manufactured and the need to often handle relatively heavy and large parts, such as flat display panels.
The new PHASER Series MF7 is a variation of the PHASER Series MF models designed to answer calls from the market for production facility robots that are light, compact, fast, inexpensive, easy to use and quiet. Like other MF models, it offers greater speed and a longer stroke potential than conventional ball screw type robots and also the capacity to mount more than one carrier on the same axis, while being compact. These qualities enable a wider range of uses. Depending on the types of tools fitted to the bit(s), it can be used for assembly work such as bolt/screw fastening for electric/electronic or mechanical parts, part insertion or extraction, transport, adhesive application, solder paste application, etc.



Product Features


(1)

High functionality for a wide range of uses
•
Achieves a maximum load transport capacity of 10 kg with a rated thrust of 36N.
•
Achieves a maximum stroke of up to 4,000 mm.
•
Double carrier versions with two carriers on same axis available standard for all specs.

(2)

Speed, accuracy and constant-speed operation only a linear motor can provide
•
The absence of a hazardous-speed limit, the potential for high-speed action over a longer stroke and lower vibration, etc., enable performance that exceeds conventional ball-screw drive robots.
•
Absolute advantages of a maximum speed of 2,500 mm/sec plus longer transport stroke.
•
Adopts a magnetic linear scale to eliminate disturbance elements such as mechanical backlash and error or delay in the detection and control system operations; and adoption of full closed control reduces positioning time cycle and enables a high level of positioning accuracy at ±5μm.
•
Revision of the core shape (configuration) minimizes cogging torque and reduces speed fluctuations in the lower speed range.

(3)

Lightweight, compact design for efficient use of space
•
All main components fit inside the body with a dimension of 85mm × 80mm for effective operation in minimal spaces.
•
Flat type with slider surface below the fitting hardware offered as a standard spec to accommodate a greater range of tool and mounting conditions.

(4)

Quietness, extended maintenance cycle
•
Increased rigidity in the moving coil has greatly reduced vibration and motor drive noise itself has been reduced to virtually zero.
•
Drive mechanism needs no greasing and the adoption of long-life type guide structure effectively lengthens the maintenance cycle.

(5)

Full lineup of controllers
•
Based on the type of application, users can use the easily-integrated robot driver, robot positioner and high-function single-axis controller, as well as Yamaha's multi-axial controller that enables more complex control when applied to cartesian robots, etc. It is also possible to use the MF7 in combination with ball screw spec axis.
•
It is possible to use the existing Yamaha single-axis robot controllers with their ease of use, proven operability and program assets, and also in combination with the programming box and supporting computer software.

(6)

All-in-one design reduces set-up time
•
Since the motor, position detection scale and controller have all been developed and marketed together as one package, the MF7 can be used from the day it is purchased without having to set control parameters, etc.

(7)

Absolute scale adopted
•
A new linear scale with absolute position system has been developed for the position detection scale.
•
A spec that does not require the unit to return to the origin point when the robot is activated can also be selected as standard.



Basic Specifications



PHASER series MF7

| | |
| --- | --- |
| Model | MF7 / MF7D |
| Motor | Flat-type linear motor with core |
| Maximum speed (mm/sec) | 2500*1 |
| Maximum payload (kg) | 10 |
| Rated thrust (N) | 36 |
| Repeated positioning accuracy (μm) | ±5 |
| Guide structure | Linear guide |
| Maximum stroke (mm) | 4000 |
| Total length (mm) | Stroke length +255 |
| Width (mm) | 85 |
| Height (mm) | 80 |
| Controllers | RDP, TS-P, SR1-P, RCX221, RCX240 |
| | |
| --- | --- |
| | |
| • | *1: Depending on the operating conditions, maximum speed may not be reached. |
| • | PHASER series is not available in vertical modes (with brakes). |