Release of the 2010 European Market New Model Super Ténéré
| | |
| --- | --- |
| | February 25, 2010 |
Yamaha Motor Co., Ltd. announces the release of the new 1,200cc model Super Ténéré (XT1200Z) adopting the Yamaha Ténéré brand name long renowned in Europe. This model will be sold in the European and Australian markets beginning in May 2010.

The new Super Ténéré has been developed under the product concept of an "Ultimate Machine for Intercontinental Adventure." It inherits the developmental ideals of the Ténéré that won a strong following in Europe in the '80s and '90s as the model that scored many victories in the Dakar Rally with its reputation as one of the world's toughest endurance races. It achieves a high-level balance of the qualities riders desire in an intercontinental long-distance tourer, including good performance on unpaved roads and light and agile cornering performance.

The newly developed in-line 2-cylinder 1,200cc power unit features a side-mounted radiator that contributes to centralization of machine mass. It also adopts traction control based on technology fed back from Yamaha's MotoGP racer development. What's more, a number of technologies that support machine operation have been adopted: the YAMAHA D-MODE function that lets the rider choose between two performance modes, linear-control ABS that supports brake work for a smoother braking feeling, and a front-rear coordinated Unified Brake System.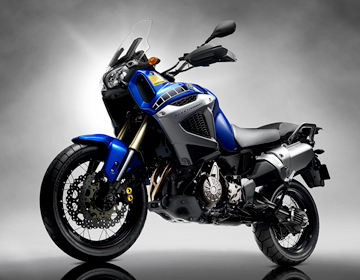 2010 European market model Super Ténéré
| | |
| --- | --- |
| Name: | Super Ténéré |
| Release date: | From May 2010 |


Main Features


1. Newly developed 1200cc in-line 2-cylinder engine
A 1200cc liquid-cooled, 4-stroke, in-line 2-cylinder engine with twin spark plugs and a 2-axis primary balancer and 270-degree crankshaft is adopted. The 270-degree crankshaft helps minimize the effect of inertial torque to improve the "torque feeling" and "traction feeling." The cylinder has a 26-degree forward incline for outstanding intake efficiency, an upward-positioned air cleaner and a left side-positioned radiator to ensure sufficient cooling performance while helping to achieve a short wheelbase and contributing to centralization of machine mass.

2. YCC-T with traction-control
Fuel injection achieves outstanding throttle response and environmental performance. The YCC-T (Yamaha Chip Controlled Throttle) system that controls the throttle valve to regulate intake air volume also incorporates a traction control function. Fed back from Yamaha's MotoGP machine development, input from the front and rear wheel speed sensors detect rear wheel spinning. That data is then processed instantaneously by the ECU and signals are generated to help optimize rear wheel traction by comprehensively regulating the YCC-T, ignition timing and the volume of fuel injection to optimize rear wheel traction. This helps provide better overall handling by minimizing the negative effects of balance loss that occurs during acceleration on road surfaces with poor traction. The system also features a choice of two performance modes and an "Off" option. The newly adopted YAMAHA D-MODE function lets the rider select between two mode maps.

3. ABS and Unified Brake System
A linear control ABS system and Unified Brake System (front-rear unified brake system) are adopted on this model to contribute to touring performance. The Unified Brake System is a system in which operating the front brake lever also activates the rear brake. When the front brake is operated, electronic control comes into play to regulate the amount of brake force generated by the rear brake based on the strength of the front brake application (hydraulic pressure), running speed and machine load, contributing to a more enjoyable ride. The system is designed so that the Unified Brake System function is cancelled at times when the rear brake is applied before the front brake, thus meeting the needs of off-road riding where the rear brake is used actively to maintain machine stability.

4. Other features
Other features include (1) a newly-designed frame, (2) compact elliptical short muffler and 3-way catalyzer, (3) shaft drive with hypoid gear that contributes to weight reduction, (4) solenoid operated Hi-Lo switching projector type headlights and (5) standard equipment 3-way carrier that can carry a Yamaha genuine top case or be used in standard or flat carrier form.


2010 European Market Model Super Ténéré Technical Specifications


| | |
| --- | --- |
| Overall length x width x height | 2,255mm × 980mm × 1,410mm |
| Seat height | LOW 845mm / HIGH 870mm |
| Wheelbase | 1,540mm |
| Curb weight | 261kg |
| Engine type | Liquid-cooled, 4-stroke, DOHC, 4-valve |
| Cylinder arrangement | Parallel twin |
| Displacement | 1199cm3 |
| Bore & stroke | 98.0mm × 79.5mm |
| Compression ratio | 11.0:1 |
| Maximum power | 80.9kW (110PS) / 7,250 r/min |
| Maximum torque | 114.1N•m (11.6kgf•m) / 6,000 r/min |
| Starting system | Electric |
| Fuel tank capacity | 23L |
| Fuel supply | F.I. |
| Tire size (Front / Rear) | 110/80R19M/C 59V / 150/70R17M/C 69V |