Release of the "YS24X" Compact High-speed Flexible Modular Mounter
| | |
| --- | --- |
| | January 14, 2010 |
Yamaha Motor Co., Ltd. has developed the new "YS24X" surface mounter with a compact platform and two mounting heads capable of handling large and irregularly shaped components plus the various optical recognition systems and lighting fixtures to enable outstanding component handling. This new model will be released in March 2010.
The new YS24X achieves excellent productivity in relation to surface area and great versatility with its capability to accommodate a wide variety of electronic components, including irregularly shaped components up to 45mm × 45mm and 15mm in height.
Despite its compact platform with a width of just 1.25 m, this model has two multi-heads on independent beams with each head having 10 nozzles in an in-line configuration to achieve a superior mounting capability of 54,000 CPH*1 (0.067 sec./chip: Under optimum conditions as defined by Yamaha Motor) and also has the capability to accommodate extra large PCB (printed circuit boards), up to L700 × W460mm. What's more, this model is complete with the optical verification functions and lighting to enable detection of defects and flaws of all ball electrodes and a coplanarity check*2 function, a large-sized nozzle station designed to hold a large number of nozzles to accommodate a wide range of electronic components and compatibility with the sATS 15-tray × 2 magazine automatic-replacement tray supply unit (option) to enable great flexibility in application.
Plans call for the new YS24X "39th Internepcon Japan" show featuring electronics mounting technology that will be held from January 20 to 22 at Tokyo Big Sight, Japan (Ariake Koto-ku, Tokyo).
| | |
| --- | --- |
| *1 | CPH (Chips Per Hour): Total number of chips that can be mounted per hour (unit time). Indicates processing capability under various conditions. |
| *2 | Coplanarity check: An inspection system that detects the positions of the electrode leads of the many electronic components mounted and the uniformity in height and direction of the ball electrodes on the bottoms of components and compares them with PCB (printed circuit board) pattern to ensure the reliability of electrode connections. |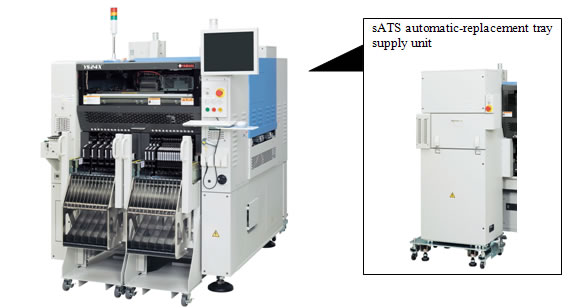 "YS24X" Compact High-speed Flexible Modular Mounter
| | |
| --- | --- |
| Name: | "YS24X" Compact High-speed Flexible Modular Mounter |
| Release Date: | March 2010 |
| Sales Forecast First Fiscal Year: | 100 units (domestic and overseas) |


Outline of Market Background and Product


In recent years, chip (electronic component) mounting facilities are confronted with a diverse range of demands, including adapting to new LED products, large flat-screen televisions and mobile devices and the new components they utilize. At the same time, they must also be able to make the efficient use of plant space, have flexible line configurations, while reducing energy consumption and environmental impact.
The "YS24X" is a model that has been developed to respond to these market needs while also achieving great versatility with the capability to handle large and irregularly shaped components and accommodate two or more kinds of tray component supply. When used inline with Yamaha Motor's YS24 model, with its highest level of area productivity, this new model makes it possible to create production lines that can accommodate a wider range of product genres while further boosting productivity.


Product Features


(1)

Versatility to handle components ranging in size from 0402*3 to 45mm × 45mm and a maximum height of 15mm, while also achieving an outstanding mounting capability of 54,000 CPH (0.067 sec./chip: Under optimum conditions as defined by Yamaha Motor)
•
Two multi-heads, each having 10 nozzles in an in-line configuration for the capability to handle large components and irregularly shaped components
•
Fully rigid dual drive two-beam configuration
•
Large nozzle station designed to hold a large number of nozzles to accommodate a wide range of electronic components

| | |
| --- | --- |
| *3 | 0402: Super-small electronic components of 0.4mm × 0.2mm |

(2)
Compatibility with the sATS 15-tray × 2 magazine automatic-replacement tray supply unit (option) to enable supply of a larger variety of component types
(3)

Multi cameras fitted with vertically adjustable side lights. This enables accurate verification and mounting of ball-electrode type components BGA/CSP*4.

| | |
| --- | --- |
| *4 | BGA/CSP: Ball Grid Array & Chip Size Package |

(4)
Coplanarity checker to detect irregularities in electrode height and direction to ensure reliability of connections for a large number of component electrodes, including QFP/large SOP and BGA/CSP
(5)
Compact external dimensions of 1,254 mm in width and 1,687 mm in depth. Depth of 2,020mm when coupled with the sATS tray component supply unit
(6)
Capability to handle super-large PCBs (printed circuit boards) (L700 × W460mm) to answer market needs for large flat panel TVs and LED light fixture PCB and large industrial-use PCB mounting
(7)
Compatibility with the electric-drive intelligent tape feeder "SS Feeder" that employs microcomputer control to provide high-speed components supply and high-accuracy components positioning, thus ensuring excellent job setup efficiency and enabling job failure prevention functions
(8)

High Mounting Quality Guaranteed
•
The "MACS (Multiple Accuracy Compensation System)" has been adopted. It compensates for various factors that change accuracy in a complex and multi-faceted manner, guaranteeing a constant mounting accuracy of ?0.05mm.

(9)

Actual Operating Ratio increased by Ease of Maintenance
•
Nozzles common with the "YS12," "YS100" and "YS24" have been adopted to ensure superior ease of maintenance.
•
Standard provision of a "Blow Station" enables self-cleaning of the nozzle shaft, reducing the amount of maintenance work.

(10)

Achieves Superior Ease of Operation
•
Graphic display design with superior ease of operation has been adopted. An easy to view and easy to understand man-machine interface achieves very easy operation.
•
Higher operating ratio and superior quality control are supported by the below software "Y.FacT" and "IT Option".
•
One of four display languages (Japanese, English, Chinese or Korean) can be selected according to the location where the unit is installed.

(11)

Safety and Environmental Considerations
•
Device is compatible with CE marking *5 to ensure safe device design, enabling it to be marked around the world.
•
Compatible with air supply source of 0.45MPa.

| | |
| --- | --- |
| *5 | CE Marking: Name of mark indicating device conforms with safety requirements for devices installed and used in European region. |


Basic Specifications


Model Name
YS24X
Applicable PCB
L50 × W50mm - L700 × W460mm
Mounting Capability
54,000CPH (0.067 sec./CHIP conversion: Optimum conditions established by Yamaha Motor)
Mounting Accuracy
Absolute accuracy (μ + 3σ): ±0.05mm/CHIP, ±0.05mm/QFP
Repeatability (3σ): ±0.03mm/CHIP, ±0.03mm/QFP
Applicable Components
0402 - 45mm × 45mm, Height 15mm or less,
Ball type electrode components applicable
* 32 × 32mm or more needs special nozzle set
Component Types
Tape reel: 96 types (Max.,8mm tape reel conversion)
Tray: 30 types (Max., JEDEC trays conversion)
Power Supply
3-Phase AC 200/208/220/240/380/400/416 V ±10%
Air Supply Source
0.45MPa
External Dimensions
(not-including the projection)
L1,254 × W1,687 × H1,445mm (Main unit only)
L1,254 × W2,020 × H1,545mm (When sATS is installed)
Weight
Approx. 1,700kg (Main unit only)
Approx. 1,870kg (When sATS is installed)