New 115cc Model "LEXAM" for the Vietnam Market The first moped equipped with a compact CVT unit
| | |
| --- | --- |
| | November 27, 2009 |
On November 26, 2009, Yamaha Motor Co., Ltd. displayed the new 115cc moped* model "LEXAM" at the Yamaha dealer meeting in Vietnam as a new model to be launched in 2010. This model mounts the new Yamaha-exclusive compact CVT (continuously variable transmission) unit, the Y.C.A.T. (Yamaha Compact Automatic Transmission), released in October this year. The first YCAT-equipped moped enables a smoother ride, increased convenience, and sports a dynamic body design.

The current motorcycle demand for the five main ASEAN region markets is approximately 10.55 million units (2009 estimate) of which moped style models (17-inch wheels front/rear and manual transmission) comprise approximately 60%. Mopeds are popular for their ease of ride and convenience in daily use. Because they are often shared by family members, the market has been calling for models with automatic transmission. However, the length of conventional CVT units designed for scooters was a problem when applying them to mopeds, thus creating the need for a far more compact CVT unit design. Yamaha Motor answered this need by developing the Y.C.A.T. as a core technology featuring a high-elasticity, heat resistant resin drive belt with optimized sheave (pulley) design and an optimized belt-chamber cooling function to create a unit compact enough for the new model that retains the look and feel of a moped.
*Moped: Small-class motorcycles with a "U" shaped "underbone" chassis for easy mounting and dismounting and large wheels (17-inch front and rear).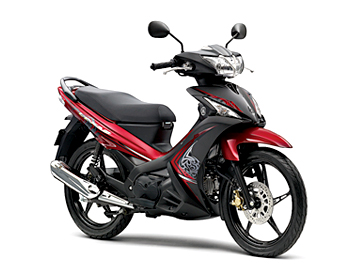 LEXAM


Main Features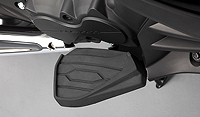 Rubber padded footrest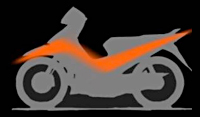 The rising body line
1) Outstanding response and reliability from a power unit that couples a newly designed 115cc air-cooled 4-stroke engine with the compact CVT unit Y.C.A.T. featuring a high-elasticity, heat resistant resin drive belt.

2) A newly deigned rubber padded footrest that provides greater freedom of riding position.

3) Outstanding performance achieved with the combined effects and balance of (1) the compact Y.C.A.T. CVT unit, (2) a newly designed frame and (3) 17-inch wheels front and rear.

4) A flowing body line that rises in the rear with a feeling of dynamism. LED tail and brake lights.