Models to be Displayed at the 41st Tokyo Motor Show 2009 (Part 1)
| | |
| --- | --- |
| | September 30, 2009 |
Yamaha Motor Co., Ltd. is proud to announce that it will mount a booth organized around the concept of "The Art of Engineering" at the upcoming 41st Tokyo Motor Show 2009 to be held over the 12 days from October 24 (Sat.) to November 4 (Wed.) (Organizer: Japan Automobile Manufacturers Association; Venue: Makuhari Messe, Chiba Pref.; Special invitation day: October 23).

The Yamaha Motor booth will be located in West Hall area W-06 and the press briefing will be held on October 21 (Wed.) from 13:50 to 14:05.
[Summary of the main display models]




«World Premiere Model»

•Products making world debut at the Tokyo Motor Show
•SR400 (F.I.*) (Reference vehicle)
First released in March of 1978, the SR400 offers an unchanging simplicity of design and an air-cooled single-cylinder engine with its inherent sense of pulse that gives it its distinctive riding feeling. These qualities have made it a long-selling model with a steady following of fans for over 30 years. As times have changed and technologies have advanced, this model has undergone a series of detail improvements and continued to evolve in ways that deepen the SR character while staying true to the original product concept of embodying the fundamental motorcycle without being swayed by the trends of each era.
This reference model of the SR400 adopts a fuel-injected engine for outstanding environmental performance while maintaining its traditional lightweight, slim and compact design ideal plus the sense of pulse and the styling that have always defined the SR models. Also, a new retro-modern styled meter panel and newly designed side covers and Yamaha emblem add new touches of quality.

*F.I. = fuel injection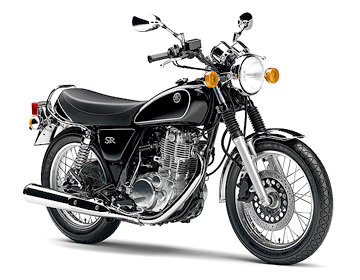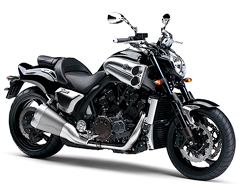 •VMAX (Production vehicle)
The VMAX is a flagship of Yamaha motorcycles that embodies our ideal of "The Art of Engineering." It is characterized by an outstanding acceleration feeling and muscular styling.
This 2009 model is the 2nd-generation VMAX and the first full model change since the release of the original model nearly a quarter of a century ago in 1985. The new model's combination of a large-displacement 1,679cc engine, an aluminum frame and Yamaha-exclusive control technologies, provides a powerful ride that is enjoyable and comfortable at the same time. It has also be re-designed with new styling defined by a sense of dynamic motion and quality.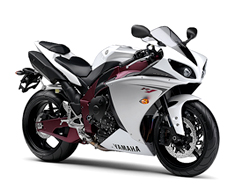 •YZF-R1 (Production vehicle)
The YZF-R1 is a 1,000cc class supersport model boasting a potent combination of excellent cornering performance and beautiful styling. This 2009 model represents the 6th-generation R1 and boasts completely new design and engineering throughout the engine and frame. The new engine, which adopts the same crossplane crankshaft design as the Yamaha YZR-M1 now leading the competition in MotoGP, the pinnacle of international road racing. This new engine design provides a new ride and running feeling that is completely different from that of the models powered by a liquid-cooled 4-stroke in-line-4 engine until now. From June of this year this model became the first Yamaha 1,000cc supersport model to be marketed in Japan*.
*With the exception of race base machines.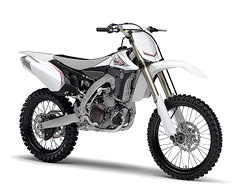 •YZ450F (Production vehicle)
This YZ450F is an off-road competition model. In a motocross world formerly dominated by 2-stroke machines, the revolutionary YZ-F series models powered by liquid-cooled 4-stroke engines opened the way to the new 4-stroke era in off-road competition.
The 2010 model displayed this time is the first Yamaha motocrosser to mount a fuel injection system in a new engine with an innovative new layout defined by front intake and rear exhaust. This power unit is mounted on a new aluminum frame in a combination that improves competitiveness in all types of riding conditions, especially with its improved cornering performance. In addition to these performance measures, design efforts also focused on new styling that gives this model its sharply defined beauty.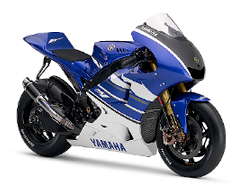 •YZR-M1 (Reference vehicle)
This is the YZR-M1 factory racer that won the triple crown of rider, team and manufacturer titles in the 2008 MotoGP season. The further evolved 2009 model of this machine has already carried the Fiat Yamaha Team's Valentino Rossi to six victories in the 2009 MotoGP series and his teammate Jorge Lorenzo to three victories, or a total of nine wins in the first 13 rounds of the season. These results have put Yamaha in the ranking lead in the rider, team and manufacturer categories once again in 2009 (as of Sept. 29).
The "M" in this model's designation stands for our "Mission" to feed back technologies developed in the race arena to our production models and the Mission of winning the MotoGP championship. A good example of the developmental Mission can be seen in the fact that the technology developed for the YZR-M1's liquid-cooled 4-stroke, DOHC, in-line-4, 4-valve engine with crossplane crankshaft have now been adopted on the 2009 production model YZF-R1 with its engine of the same format.