Surface Mounter with World's Highest Area Productivity "YS24" Compact Super-high-speed Modular to be Newly Released
| | |
| --- | --- |
| | May 28, 2009 |
Yamaha Motor Co., Ltd. has incorporated two mounting heads and a newly developed transport system on a compact platform to develop the "YS24" surface mounter with the world's highest area productivity *1, and the model will be released in July 2009.
The "YS24" has been developed as the flagship model of the "YS Series" that has been acclaimed for its superior area productivity, component applicability and ease of performing setup work. Two sets of 10 in-line multi heads are located on two beams within a compact platform that has a horizontal width of 1.25 meters. In addition, the adoption of a newly developed "Dual Stage Conveyor" has achieved the highest area productivity in the world *1 (34,000 CPH per square meter) with a superior mounting capability of 72,000 CPH *2 (0.05 sec./chip: Under optimum conditions as established by Yamaha Motor). The unit is also capable of handling super large printed circuit boards (PCBs) (L700×W460mm). Furthermore, the "SS Feeder" microcomputer controlled electric powered tape feeder *3 and a compact and lightweight feeder carriage have been adopted for the part changing unit, creating a mounting line configuration that boasts superior setup productivity in addition to very high production efficiency.
Plans call for exhibition of the "YS24" at the "11th Jisso Process Technology Exhibition" featuring electronics mounting technology that will be held at the Tokyo Big Sight (Ariake, Koto-ku, Tokyo) starting on June 3, 2009.


| | |
| --- | --- |
| *1 | Mounting capability per square meter of occupied floor space. As investigated by Yamaha Motor as of May 27, 2009. |
| *2 | CPH (Chips Per Hour): Total number of chips that can be mounted per hour (unit time). Indicates processing capability under various conditions. |
| *3 | Tape Feeder: Device that supplies chips (electronic components) to the surface mounter that are packaged on a tape. |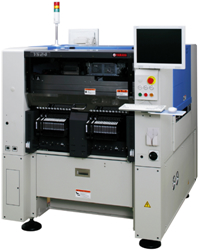 "YS24" Compact Super-high-speed Modular
| | |
| --- | --- |
| Name: | "YS24" Compact Super-high-speed Modular |
| Release date: | July 2009 |
| Sales Forecast First Fiscal Year: | 200 units (domestic & overseas) |


Outline of Market Background and Product


In view of the current severe economic conditions, chip (electronic component) mounting facilities are confronted with a diverse range of demands, including adapting to new products and components, the efficient use of plant space, flexible line configuration, reducing energy consumption and the reduction of environmental impact. The "YS24" has been developed as the flagship model of the "YS Series" to respond to these user needs as well as satisfy various other requirements. In addition to the machine itself featuring highly efficient operation, multiple units can be connected or it can be combined in a production line with other YS series units, featuring area productivity and superior ease of use that is much higher than can be achieved with any other product.

Product Features


(1)

Superior Mounting Capability of 72,000 CPH (0.05 sec./chip: Under ideal conditions as established by Yamaha Motor)

•

Incorporates two sets of narrow pitch 10 in-line multi heads

•

Equipped with component recognition system adopted with YS12

•

Fully rigid dual drive two-beam configuration

•

Newly developed "Dual Stage Conveyor" adopted

(2)

World's Highest Area Productivity

•

Compact external dimensions of 1,254mm width and 1,687mm depth achieved. This has resulted in outstanding area productivity of 34,000 CPH per square meter, approximately double that of the "YS12".

(3)

Compatible with Super Large Printed Circuit Boards (PCBs)

•

In addition to being compatible with PCBs for large flat panel screens and LED lighting devices, large industrial PCBs and other types of PCBs, it is also compatible with super large PCBs (L700 x W460mm).

(4)

Component Supply Device with Superior Ease of Operation and Work Efficiency

•

The supply device adopts the single lane type "SS Feeder". Thin, lightweight and compact, this tape feeder is electric powered and controlled by a micro-computer to achieve superior working ease. A maximum of 120 units can be installed.

•

The compact and lightweight feeder carriage system achieves high setup efficiency.

•

A built-in tape cutter facilitates easy disposal of empty waste tapes.

(5)

High Mounting Quality Guaranteed

•

The "MACS", or Multiple Accuracy Compensation System, has been adopted. It compensates for various factors that change accuracy in a complex and multi-faceted manner, guaranteeing a constant mounting accuracy of ±0.05mm.

•

Standard provision of a side view function, a component mounting orientation detection function and a self nozzle diagnosis function ensures very high mounting quality and reliability.

(6)

Actual Operating Ratio increased by Ease of Maintenance

•

Nozzles common with the "YS12" and "YS100" have been adopted to ensure superior ease of maintenance.

•

Standard provision of a "Blow Station" enables self cleaning of the nozzle shaft, reducing the amount of maintenance work.

(7)

Achieves Superior Ease of Operation

•

Graphic display design with superior ease of operation has been adopted. An easy to view and easy to understand man-machine interface achieves very easy operation.

•

Higher operating ratio and superior quality control are supported by softwares like "Y.FacT" and "IT Option".

•

One of four display languages (Japanese, English, Chinese or Korean) can be selected according to the location where the unit is installed.

(8)

Safety and Environmental Considerations

•

Device is compatible with CE marking *4 to ensure safe device design, enabling it to be marked around the world.

•

Compatible with air supply source of 0.45MPa.

*4

CE Marking: Name of mark indicating device conforms with safety requirements for devices installed and used in European region.


Basic Specifications


| | |
| --- | --- |
| Model Name | YS24 |
| Applicable PCB | L50×W50mm - L700×W460mm |
| Mounting Capability | 72,000CPH (0.05 sec./CHIP: Optimum conditions established by Yamaha Motor) |
| Mounting Accuracy | ±0.05mm (μ + 3σ), ±0.03mm (3σ) |
| Applicable Components | 0402 - □32mm MAX (Height 6.5mm or less) |
| Component Types | 120 types (Max./8mm wide tape reel conversion) |
| Power Supply | Three phase AC 200/208/220/240/380/400/416 V ±10% |
| Air Supply Source | 0.45MPa |
| External Dimensions | L1,254×W1,687×H1,445mm (Excluding protrusions) |
| Weight | Approx. 1,700kg |