Yamaha Motor to Exhibit at Japan International Boat Show 2009 in Yokohama
| | |
| --- | --- |
| | Febuary 26, 2008 |
Yamaha Motor Co., Ltd. will mount a booth at the Japan International Boat Show 2009 in Yokohama, to be held from Thursday, March 12 to Sunday, March 15 at the Pacifico Yokohama exhibition site (Yokohama City, Kanagawa Prefecture).

The theme of Yamaha Motor's exhibit booth will be "The Sea – Unforgettable Weekends." In the indoor venue, Yamaha will display mid- to small-range motorboats including the new model "FR-23Active Sedan" and the FR-32LX along with its personal watercraft and outboard motors. In the outdoor floating display area, Yamaha will display its larger-class boats including the EXULT 45 CONVERTIBLE.

This year's boat show also features counters for Yamaha Motor's fuller-service members-only marine club Sea-Style, the company's boat license courses and other software aspects of the company's services aimed at helping as many people as possible to feel closer to marine leisure and recreation through experiential type user events and information supply. Visitors will also see easy to understand displays of Yamaha Motor's environmental activities.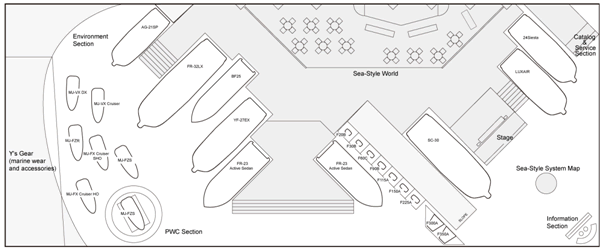 About the Yamaha Motor Booth


| | |
| --- | --- |
| | Booth theme: |
The Sea – Unforgettable Weekends


| | |
| --- | --- |
| | Displays: |
12 pleasure-use boats (indoor booth: 9 boats, floating display area: 3 boats), seven PWCs (including color variations), 9 outboard motor models, technology displays, sections introducing marine services such as the Sea-Style club, Y's Gear marine apparel and accessories sections.




Booth Contents


| | |
| --- | --- |
| | Boats: |
In the indoor booth, Yamaha Motor will display nine boats of eight models, including the new family cruiser model "FR-23 Active Sedan" designed for enjoying weekends on the water, the FR-32LX with its great combination of functionality in fishing use and on-board living comfort. In the outdoor floating display area, Yamaha will display three larger-class boats including its flagship model EXULT 45 CONVERTIBLE.


| | |
| --- | --- |
| | PWCs (Personal watercraft) |
On display are seven Yamaha 4-stroke PWCs with their mix of high performance and clean running qualities will be, including the new sports runabout models MJ-FZS and MJ-FZR featuring lightweight hulls made of the new super-light "NanoXcel" and supercharged engines, and the flagship model MJ-FX Cruiser SHO.


| | |
| --- | --- |
| | Outboard motors |
Developed for "high performance, light weight and compactness" since 1960, Yamaha outboard motors have won a strong reputation worldwide for their durability and reliability. At this year's boat show Yamaha will display nine models, including the 350hp F350A, the world's largest displacement commercially sold outboard motor, featuring a 5,330cm3 V-8 engine.


| | |
| --- | --- |
| | Sea-Style (Members-only marine club) |
The "software" aspects of Yamaha Motor's marine business will be introduced, centering around the marine club Sea-Style that offers easy access to boats at local marinas around the country at reasonable membership fees. Four years after its 2006 launch, this club already has more than 13,000 members and a fuller menu of services. Also available will be information about Yamaha's boat license courses teaching the skills of seamanship and boat operation to enable people to obtain boating licenses.


| | |
| --- | --- |
| | Y's Gear (marine wear and accessories) |
In the marine apparel and accessories section offering the items essential for fuller marine life enjoyment, you will find displays themed for "Pleasure & Safety," including the latest models of life-preservers, navigational equipment, wakeboards and more.


| | |
| --- | --- |
| | Others |
Video, panels and a variety of stage events will be presented in order to portray "The Sea – Unforgettable Weekends" that Yamaha Motor offers, the attractions of marine leisure and the technologies that Yamaha Motor has acquired over many years of developing and bringing to market the company's wide range of quality products. Also introduced will be Yamaha's environmental activities aimed at preserving the marine environment so that we will always be able to enjoy marine leisure on beautiful waters.




Reference

Outline of Japan International Boat Show 2009 in Yokohama

Dates:

Thursday, March 12 until Sunday, March 15, 2009

Venue:

Pacifico Yokohama (Minato Mirai 1, Nishi-ku, Yokohama, Kanagawa Pref.)

Opening hours:

10:00~18:00

*Opening ceremony: March 12 at 11:45; open to the public from noon

*Closing: March 15 at 17:00

Entrance fees:

1,000 Japanese Yen (free for junior high school students and under)

Organizers:

Japan Boating Industry Association (JBIA)

Website:

Last year's Japan International Boat Show 2008 in Yokohama