Yamaha Motor Corporation, U.S.A. Acquires US Outboard Propeller Maker
| | |
| --- | --- |
| | July 22, 2008 |

Yamaha Motor Co., Ltd. announces that an agreement has been reached for its consolidated group company Yamaha Motor Corporation, U.S.A. (YMUS) to acquire the US maker of stainless steel outboard motor propellers, Precision Propeller, Inc. (PPI). Operations begin today under the new managerial arrangement that makes PPI a member of the Yamaha Motor group.
The purpose of this acquisition is to strengthen production capacity at PPI and ensure the high quality of the stainless steel propellers it supplies for Yamaha outboard motors. Until now, approximately half of the propellers produced by PPI have been supplied to Yamaha Motor, and making the company a part of the Yamaha Motor group will ensure a stable supply of these important performance parts and thus help strengthen the foundation for continued growth by the Yamaha Motor brand in the outboard motor market.

As part of the acquisition agreement, YMUS establishes a new company under the name Precision Propeller Industries, Inc. (the new PPI) and acquires the corporate assets necessary to carry on the corporate operations of the former PPI under new management.

Concerning the 70 employees of the existing PPI, provisions are made for them to continue to be employed by the new PPI.

Under the Yamaha Motor company medium-term management plan covering the fiscal years 2008 to 2010, strengthening the outboard motor lineup in the mid- to large-size model range and increasing profitability by expanding sales of 4-stroke outboard models have been set as business priorities. The acquisition of PPI is part of these efforts to strengthen product value in Yamaha's outboard motor business.

A stainless steel outboard motor propeller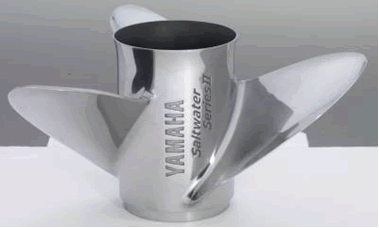 About Precision Propeller Industries, Inc.


| | | | |
| --- | --- | --- | --- |
| | Name | : | Precision Propeller Industries, Inc. (PPI) |
| | Location | : | Indianapolis, Indiana, U.S.A |
| | Founding date | : | July 18, 2008 (local time) |
| | Headed by | : | Phil Dyskow, President |
| | Capital | : | 12,400,000 US dollars |
| | Investment ratio | : | Yamaha Motor Corporation, U.S.A. (100%) |
| | Business | : | Manufacture and marketing of stainless steel outboard motor propellers |
| | Employees | : | 70 |
About Yamaha Motor Corporation, U.S.A


| | | | |
| --- | --- | --- | --- |
| | Name | : | Yamaha Motor Corporation, U.S.A. |
| | Location | : | Cypress, California, U.S.A. |
| | Headed by | : | Masato Adachi, President |
| | Capital | : | 185,020,000 US dollars |
| | Investment ratio | : | Yamaha Motor Co., Ltd. (100%) |
| | Business | : | Import and marketing of Yamaha Motor products |
| | Employees | : | 822 |