Yamaha Motor Reaches 10 Millionth Motorcycle Milestone in Indonesia
| | |
| --- | --- |
| | December 6, 2007 |

Yamaha Motor Co., Ltd. recorded 10 million motorcycles produced in Indonesia since establishing its local manufacturing companies, and today held a commemorative celebration at PT. Yamaha Indonesia Motor Manufacturing ("YIMM"), a Yamaha Motor subsidiary located in Jakarta.

In 1971, Yamaha Motor set up a sole distributorship in Indonesia in association with a local conglomerate, and began exporting fully assembled motorcycles with engine displacements in the 100cc range from Japan, and selling them locally. In July 1974, Yamaha Motor founded YIMM as a local subsidiary to allow independent manufacturing in Indonesia.

In November 2004, Yamaha Motor established its second motorcycle manufacturing company in Karawang, Indonesia, PT. Yamaha Motor Manufacturing West Java, in response to the nation's growing demand for motorcycles. Yamaha motorcycles in Indonesia are currently manufactured by these two companies.

Yamaha Motor expects motorcycle production in Indonesia to reach 1.8 million units for 2007, due to the increase in sales of its automatic models, which were the first to be introduced to the market, and in market share of the high value-added mopeds.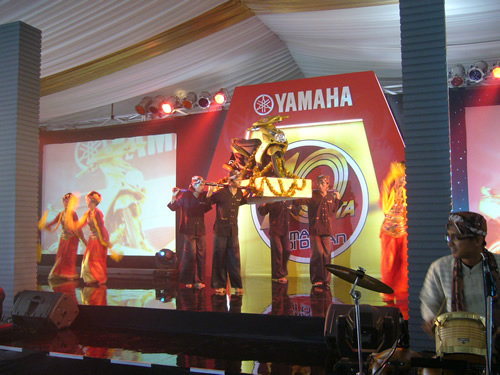 Commemorative celebration held at YIMM