Release of the new entry level ATV model YFM250R Full-fledged sports performance in a lightweight, compact body About the 2008 Yamaha ATV Sports Models
| | |
| --- | --- |
| | June 13, 2007 |
Yamaha Motor Co., Ltd. has developed a new entry level sports ATV model named the "YFM250R" that mounts a 250cc air-cooled SOHC, single-cylinder engine on a lightweight, compact body to provide truly enjoyable running performance.

For 2008, the flagship sports model YFZ450 adopts features like a new front suspension with compression-stroke and rebound-stroke damping adjustment for even greater operability. Meanwhile, the YFZ450, YFM350R, YFM80R and YFM50R models adopt new body graphics and wheel color.

The 2008 Yamaha ATV lineup now consists of five models including this new model YFM250R, which will be released on the Japanese market as a 2008 model on July 15, 2007
*ATV=All-Terrain Vehicle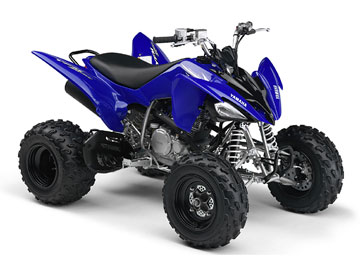 Yamaha ATV YFM250R
| | |
| --- | --- |
| Name: | Yamaha ATV YFM250R |
| Release date: | July 15, 2007 |
| Coloring: | Deep Purplish Blue Solid E |


Market Background and Product Summaries


With their characteristic low-pressure balloon tires, ATVs have the performance capability to tackle all kinds of off-road terrain, whether its unpaved or hilly ground, rock beds, sand, grass lands or frozen roads. That is why they are used for a wide range of uses from outdoor leisure and sport riding to transportation, hauling loads and patrol duties. In recent years the domestic demand for these vehicles in Japan is about 500 units annually (Yamaha survey).

Presently, Yamaha offers a lineup of eight ATV models ranging in engine displacement from 50cc to 700cc in the two basic categories of utility models designed for a variety of jobs and sports models designed for leisure sport riding.

The new YFM250R mounts a 250cc 4-stroke single-cylinder engine on a lightweight, compact body. As an entry-level sport ATV, it offers easy-to-use power and easy handling and features full-fledged sport model specifications for the frame, suspensions and brakes, etc., in a package with performance that is sure to satisfy intermediate and advanced level riders as well.


Main Features of the YFM250R


An engine that boasts gutsy torque and acceleration
The newly developed 250cc air-cooled 4-stroke SOHC, single-cylinder engine provides plenty of usable torque in the low- to mid-speed range and power that develops smoothly up through the high-speed range and is characterized also by a responsive acceleration feeling. To handle the heavy engine load in sport riding, the engine is also fitted with an oil cooler.

New-design frame and other measures for a lightweight body
A more compact overall framework design has enabled a major reduction in the weight of the main body components while maintaining the necessary rigidity and strength. Furthermore, measures like the adoption of aluminum wheels and smaller diameter tires, plastic resin parts for the rear frame protector and engine protector and reducing the size of the front and rear bar carriers have helped reduce overall body weight to a light 142 kg, which is even less than the 2-stroke Blaster model at 147 kg.

Chassis balance better suited to sporty riding
By lowering the heaviest components of the machine when ridden, through a lower engine mounting position setting, the riding positioning as low as possible, and also adopting smaller diameter tires, it has been possible to achieve an optimum chassis balance for sporty riding.

Wheel and suspension specs for sporty riding
For the suspension, with its major influence on the handling and running performance of an ATV, a combination of a wishbone type suspension in the front and a Monocross suspension with pneumatic shock absorber in the rear have been chosen and a wheel travel of 190 mm in the front and 200 mm in the rear has been achieved. Also, the specs of the front wheel alignment (caster angle, camber angle) and the suspension geometry are abased on those of flagship model YFZ450, with its acclaimed sporty performance. The adoption of front and rear brake parts equivalent to those of the top sports models also helps give this model wheel and suspension assemblies that ensure a sporty riding experience for a wide range of riders.


YFM250R Main Specifications


| | |
| --- | --- |
| Name | YFM250R |
| Overall length x width x height | 1,625 mm×1,070 mm×1,040 mm |
| Seat height | 730 mm |
| Wheelbase | 1,110 mm |
| Min. ground clearance | 100 mm |
| Dry weight | 142 kg |
| Engine type | Air-cooled, 4-stroke, SOHC, 2-valve |
| Cylinder arrangement | Single cylinder |
| Displacement | 249 cm3 |
| Bore x Stroke | 74.0 mm×58.0 mm |
| Compression ratio | 9.5:1 |
| Starting system | Electric |
| Lubrication system | Pressurized wet sump |
| Drive system | Chain |
| Engine oil capacity | 1.6L |
| Fuel tank capacity | 9.0L |
| Carburetion | Carburetor |
| Ignition system | C.D.I. |
| Transmission type | Return type 5-speed forward |
| Tread (Front/Rear) | 826mm/824mm |
| Tire size (Front/Rear) | AT20×7-10/AT19×10-9 |
| Brake type (Front/Rear) | Hydraulic disc×2/Hydraulic disc×1 |
| Suspension type (Front/Rear) | Double wishbone (independent)/ Swinging arm (Monocross) |
| Headlight | 12V 30W/30W×2 |


YFM250R Feature Map




2008 Yamaha Sport ATV Lineup *excluding YFM250R


YFZ450
This model mounts a 450cc liquid-cooled 4-stroke DOHC, 5-valve engine on a lightweight body. With high-spec components like the suspensions and brakes, this model is the flagship of the Yamaha's sport ATVs.

Release date: July 15, 2007

YFM350R
This model mounts a 350cc air-cooled 4-stroke SOHC 2-valve engine. Coupled with a 6-speed transmission, it achieves a sporty ride. It features a linked Monocross suspension with piggy-back type shock unit.

Release date: July 15, 2007


Main Specifications


Name
YFZ450
YFM350R
Overall length x width x height
1,840 mm×1,170 mm×1,090 mm
1,780 mm×1,095 mm×1,080 mm
Seat height
810 mm
820 mm
Wheelbase
1,280 mm
1,210 mm
Min. ground clearance
255 mm
115 mm
Dry weight
159 kg
170 kg
Engine type
Liquid-cooled, 4-stroke, DOHC, 5-valve
Air-cooled, 4-stroke, SOHC, 2-valve
Cylinder arrangement
Single cylinder
Single cylinder
Displacement
449 cm3
349 cm3
Bore x Stroke
95.0 mm×63.4 mm
83.0 mm×64.5 mm
Compression ratio
11.2:1
9.2:1
Starting system
Electric
Electric
Lubrication system
Pressurized dry sump
Pressurized wet sump
Drive system
Chain
Chain
Engine oil capacity
1.95L
3.2L
Fuel tank capacity
10.0L
9.0L
Carburetion
Carburetor
Carburetor
Ignition system
C.D.I.
C.D.I.
Transmission type
Return type 5-speed forward
Return type 6-speed forward, 1 reverse
Right-hand operated forward/reverse shift
Tread (Front/Rear)
950mm/900mm
810mm/840mm
Tire size (Front/Rear)
AT21×7-10/AT20×10-9
AT21×7-10/AT20×10-9
Brake type (Front/Rear)
Hydraulic disc×2/ Hydraulic disc×1
Hydraulic disc×2/ Hydraulic disc×1
Suspension type (Front/Rear)
Double wishbone (independent) /Swinging arm (linked Monocross)-(Not independent)
Double wishbone (independent) /Swinging arm (linked Monocross)-(Not independent)
Headlight
12V 30 W /30W×2
12V 30 W /30W×2
YFM80R
This leisure-use model is powered by an 80cc engine with a 3-speed semi-automatic transmission.

Release date: July 15, 2007

YFM50R
This entry-level 50cc model is designed with easy operability for kids aged six and up.

Release date: July 15, 2007


Main Specifications


| | | |
| --- | --- | --- |
| Name | YFM80R | YFM50R |
| Overall length x width x height | 1,537mm×841mm×940mm | 1,537mm×825mm×915mm |
| Seat height | 669mm | 618mm |
| Wheelbase | 1,030mm | 1,030mm |
| Min. ground clearance | 100mm | 75mm |
| Dry weight | 110kg | 108kg |
| Engine type | Air-cooled, 4-stroke, SOHC, 2-valve | Air-cooled, 4-stroke, SOHC, 2-valve |
| Cylinder arrangement | Single cylinder | Single cylinder |
| Displacement | 79 cm3 | 49 cm3 |
| Bore x Stroke | 47.0mm×45.6mm | 39.0mm×41.4mm |
| Compression ratio | 9.6:1 | 10.3:1 |
| Starting system | Electric | Electric |
| Lubrication system | Pressurized wet sump | Pressurized wet sump |
| Drive system | Shaft | Shaft |
| Engine oil capacity | 0.95L | 0.95L |
| Fuel tank capacity | 6.8L | 6.8L |
| Carburetion | Carburetor | Carburetor |
| Ignition system | C.D.I. | C.D.I. |
| Transmission type | Return type 3-speed forward | Constant mesh 1 forward, left-hand shift |
| Tread (Front/Rear) | 665mm/630mm | 665mm/630mm |
| Tire size (Front/Rear) | AT18×7-7/AT18×8-7 | AT16×7-7/AT16×8-7 |
| Brake type (Front/Rear) | Mechanical disc×2/Mechanical disc×1 | Mechanical disc×2/Mechanical disc×1 |
| Suspension type (Front/Rear) | Leading arm (Not independent)/Swinging arm (linked Monocross) | Leading arm (Not independent)/Swinging arm (linked Monocross) |
| Headlight | — | — |