Mounting a completely new-design liquid-cooled 4-stroke 135cc engine An ASEAN market model with sporty ride in a body with the look of quality Yamaha Sports Moped "T135"
| | |
| --- | --- |
| | Sept. 20, 2005 |
Yamaha Motor Co., Ltd. (YMC) has succeeded in the development of a new sporty model named the "T135" that mounts a liquid-cooled 4-stroke SOHC single-cylinder 135cc engine with a 4-speed rotary transmission on a body with the look of quality and a futuristic design. This model will be released in the ASEAN market beginning with Indonesia in October 2005.

The new "T135" has been developed under the key words of "a fusion of high performance and fashion" and it boasts the latest technologies throughout its design. It mounts the first liquid-cooled engine ever on a Yamaha 4-stroke moped, it features the highly reliable Yamaha DiASil cylinder, a lightweight forged aluminum piston for reduced vibration, a roller rocker arm type 4-valve system that contributes to better fuel economy, a 4-speed rotary type transmission, a new-design diamond type frame and an aerodynamic cowling that contributes to both improved cooling effect and greater rider comfort. These features combine to give this model higher level of running performance not achieved by conventional 125cc class sporty mopeds, and the whole package comes in a stylish body with the look of unquestionable quality and sleek refined beauty.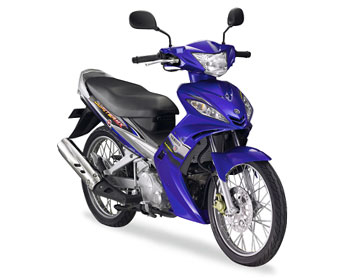 Yamaha Sports Moped "T135" (Indonesian market spec)
Name:

Yamaha Sports Moped "T135"

Release date:

Beginning Oct. 2005

Sales plan:

500,000 units (annual total for the Indonesia, Thailand,
Malaysia, Vietnam and Philippine markets)


Market Background and Product Summary


The motorcycle market in the ASEAN region has been growing rapidly in recent years, to the point where total demand for the four countries of Indonesia, Thailand, Malaysia and Vietnam reached 7.2 million units in 2004. This represents an approximate 30% increase over 2002, and as personal income continues to grow, this demand is expected to grow as well in the future.
Most of this demand centers around mopeds in the 110 to 125 cc class that are widely used for commuting and business and also by younger generation commuters. It is expected that this trend will continue in the future. But at the same time we expect to see a further diversification of user needs. In particular, there is an increasingly strong call from younger users for next-generation mopeds that offer higher levels of performance, new models that go beyond the present 125cc mopeds, sportier ride and fresh new styling.

In light of this market background, the "T135" was developed under the concept of "a fusion of high performance and fashion" with the key word "Performal" (a combination of performance and formal) to describe its development direction. To achieve these aims, the new model boasts the latest technologies throughout its design to give it the kind of running performance, comfort, stylish body and environment-friendly performance that go far beyond the conventional moped image.

For Yamaha Motor Company, January 2005 marked the end of our "NEXT 50" mid-term management plan and the start of our new "NEXT 50 - Phase II" plan defining specific management issues, business strategies and quantitative goals that will be in effect for the 3-year period until Dec. 2007. As the second phase of our "NEXT 50" plan, this new mid-term plan aims at even higher levels of corporate growth and profitability. In the area of motorcycle business, the new plan calls for approximately 25% more new models to be introduced in the same 3-year period. It also calls for production capacity in the ASEAN region to be increased from the present level of 1.6 million units annual to three million units annual by 2007. Amidst these plans, the new T135 is positioned as Yamaha's new flagship moped.


Main Features


Engine

1) Liquid-cooled 135cc 4-valve engine that achieves both gutsy low-speed performance and plenty of high-speed power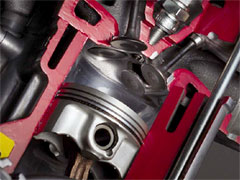 A newly designed liquid-cooled 4-stroke 135cc engine has been adopted that delivers reliable performance as well as reduced noise and vibration. With a compression ratio of 10.9 : 1 on par with that of large-displacement sports bikes and a pent roof type combustion chamber that ensures rapid combustion, this engine delivers outstanding power output. The 135cc displacement ensures abundant torque in low speed range, while the 4-valve system contributes to outstanding power feeling in the mid- to high-speed range.
In adopting a liquid cooling system, efforts were made to keep the radiator and other components as compact as possible. At the same time the body is designed to direct optimum cooling air flow to achieve an excellent balance of engine performance, weight reduction and body compactness.

2) DiASil Cylinder adopted
The cylinder adopted in the T135 engine is the exclusive Yamaha all-aluminum DiASil Cylinder made by Yamaha's unique aluminum forging technology that creates a cylinder wall that is so hard and durable that it eliminates the need for a conventional steel cylinder sleeve. As a result, it has excellent heat dissipation qualities. What's more, Yamaha's specially developed honing process gives the DiASil cylinder a surface that prevents oil flow and helps maintain an ideal oil film on the cylinder wall, thus reducing oil consumption. The T135 is the second Yamaha model to adopt this advanced technology, following the Japanese market model "Grand Majesty YP250G."

3) First forged piston on a Yamaha moped
The T135 adopts the first aluminum forged piston ever on a Yamaha moped. Because the forged piston is light and strong can be made with less reciprocating mass, it contributes to running performance with reduced vibration. Because the aluminum alloy does not reach the melting point in Yamaha's forged piston production method, the metallurgic matrix is not destroyed. This enables a piston the manufacture of an especially strong forged aluminum piston.

4) Excellent environmental performance
The T135 adopts Yamaha's air induction system that cleans the exhaust by re-burning (oxidizing) any unburned fuel in the exhaust when it reaches the exhaust pipe. The exhaust that has been cleaned once in this way is then cleaned once again in the muffler by a multi-tube type catalytic converter. The result is excellent environmental performance.

5) Other engine-related features
Other features include (1) a roller rocker arm type valve system that contributes to outstanding fuel economy and smoother running feeling in the low- and mid-speed range, (2) a VM carburetor with acceleration pump that achieves good start-up acceleration and passing acceleration and (3) TPS (throttle position sensor) that makes possible 3-D mapped control based on information about engine rpm and throttle position to achieve optimum ignition timing and excellent fuel economy.


Body Features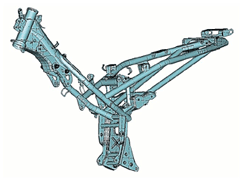 1) New-design frame and optimized front-rear weight balance (45% front, 55% rear)
For the frame, a new-design diamond type pipe frame with excellent rigidity balance was developed. For the engine mounts, a 4-point rigid type mount system was designed that uses the engine as a stressed member that contributes to chassis strength and rigidity, thus achieving excellent rigidity balance. Meanwhile, the weight distribution is set at 45% front, 55% rear, close to that of a sports bike. This combines with the optimized center of gravity and caster and trail dimensions to contribute to a light and natural handling feeling.

2) Monocross suspension for pleasurable ride and smooth cornering characteristics
A newly designed Monocross suspension like the ones used on larger-displacement sports bikes has been adopted. This suspension is known for better concentration of mass and capacity for plenty of wheel travel. When added to the rigidity of the T135's frame and rear arm and their relative positions, this Monocross suspension helps provide a pleasurable ride and excellent cornering characteristics.

3) Aerodynamic cowling that boosts cooling effect and makes for a more comfortable ride
An aerodynamic cowling with a distinctive new sleek and refined styling has been adopted. The air flow directed to the radiator by the front air guides helps promote better engine cooling effect. Furthermore, a separate set of air ducts has been designed to direct air flow through the cowling to cancel out heat developing there so that the rider does not feel a flow of hot air coming up directly from the radiator, thus achieving both improved cooling effect and greater rider comfort at the same time.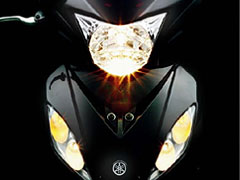 4) World's first 5-lamp front mask stresses individuality
A fresh new front mask (front view) design reminiscent of Yamaha's flagship YZF series sport bikes has been adopted. With the headlight in the middle and design position lamps to the right and left of it, a sporty 2-eye mask effect is achieved. The turn signal flashers are positioned to the outside of the position lamps to create a 5-lamp front mask.


Yamaha Sports Moped "T135" Specifications (Indonesia spec)


| | |
| --- | --- |
| Overall length x width x height | 1,945 x 750 x 1,065mm |
| Seat height | 770mm |
| Wheelbase | 1,245mm |
| Minimum ground clearance | 140mm |
| Dry weight / Curb weight | 103kg / 109kg |
| Engine type | Liquid-cooled, 4-stroke, SOHC, 4-valve |
| Cylinder arrangement | Single cylinder |
| Displacement | 134.4cc |
| Bore x Stroke | 54 x 58.7mm |
| Compression ratio | 10.9 : 1 |
| Maximum power | 8.45kW / 8,500rpm |
| Maximum torque | 11.65N-m / 5,500rpm |
| Starting system | Electric / kick duo |
| Lubrication | Wet sump |
| Engine oil volume | 1.2L |
| Fuel tank capacity | 4.0L |
| Carburetion | VM21x 1 |
| Ignition system | DC-CDI |
| Primary / Secondary reduction ratio | 2.875 / 2.600 |
| Clutch type | Clutch=wet centrifugal / transmission= wet multi-plate |
| Transmission type | Rotary type 4-speed |
| Gear ratios | 1st: 2.832, 2nd: 1.875, 3rd: 1.354, 4th: 1.045 |
| Frame type | Diamond type |
| Caster / Trail | 25° 30' / 75mm |
| Tire size (Front / Rear) | 70/90-17 / 80/90-17 |
| Brake type (Front / Rear) | Hydraulic single disc / Drum |
| Suspension type (Front / Rear) | Telescopic / Monocross |
| Headlight | 12V35W / 32W x 1 |


Yamaha Sports Moped "T135" (Indonesia spec) Feature Map