With an even more comfortable ride and completely new look The ASEAN commuter model Yamaha New NOUVO debuts on the Thai market
| | |
| --- | --- |
| | Sept. 17 2004 |
Yamaha Motor Co., Ltd. (YMC) announces the release of the new version of the 115cc automatic transmission commuter model "NOUVO,"which has won a popular following among young users in the ASEAN market. This new NOUVO, which will be released first in the Thai market in September 2004 and then successive in the other ASEAN markets, has been redesigned to offer an even more comfortable and enjoyable ride while also sporting an entirely restyled exterior look.
Building on the basic qualities of the existing model, like its high-quality look and excellent running stability deriving from its large 16-inch wheels, the new NOUVO features (1) a new engine specification, new rear suspension and revised riding position for a more comfortable, enjoyable ride, (2) new body styling with a futuristic design sense and (3) improved convenience and environmental friendliness. (Specifications will vary by market)

Yamaha Motor Co., Ltd. is now pursuing a new "Next 50" mid-term management plan (for the period from Apr. 2002 - Mar. 2005) that defines the basic goals of (1) improving the profitability of existing operations, (2) building a strengthened foundation for motorcycle business in China, India and the ASEAN countries, (3) continuing to promote the company's growth strategy and (4) strengthening corporate financial base. The NOUVO released in 2002 was the first of measures aimed at the second of these goals and it is the product of a manufacturing system involving division of roles that includes mutual parts supply within the ASEAN region. In the two years since its release, it has been received with a demand of roughly 150,000 units.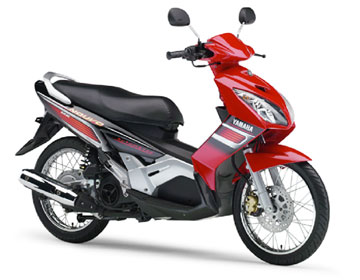 Yamaha "NOUVO" (Thai market spec)
Name:

Yamaha "NOUVO"

Release date:

September 2004

Coloring:

Cast wheel spec "Green, Silver
Spoke wheel spec "Blue, Red, Green, Silver , Black

Sales plan:

17,000 units (first year, annual, Thai market)


Market Background and Product Summary


Total annual motorcycle demand for the four Southeast Asian countries (Indonesia, Thailand, Malaysia and Vietnam) has continued to grow steadily to reach a level of about 5.8 million units in 2003, which represents roughly three times the demand in 1999. The outlook for the future is that growing personal income will cause the market to remain strong. The main demand in these markets centers in the 100-125 cc moped category models, which are widely used for daily commuting, business and as personal commuter bikes for young people. And, it is expected that models of this category will continue to lead the market in the future.
The original "NOUVO" model introduced in 2002 won a popular following among young men in their 20s with its moped-like performance afforded by its large 16-inch wheels, maneuverability and economy, plus the convenience of an automatic transmission that frees the rider from the bothersome task of changing gears, extra comfort and stylishness. The success of this initial NOUVO soon led to calls from present owners for a next-generation automatic model with an even more comfortable and enjoyable ride and even more stylish design.
To answer these kinds of demands, the new NOUVO was developed around the concept of an "Updated Quality NOUVO" by pursuing the development goals aimed at boosting product value, including (1) achieving a more comfortable and enjoyable ride through measures like an improved engine spec and new rear suspension, (2) new body styling with a futuristic design sense and (3) improved convenience and increased environmental friendliness through the addition of a catalytic converter.


Main Features


(1) New features that contribute to increased comfort

1) Crank balance optimized to reduce vibration to the rider
In order to get more comfortable performance out of the forced-air-cooled 4-stroke, SOHC 2-valve, single-cylinder engine with CVT transmission, known for its torque-y performance in the low- to mid-speed range, the crank balance was revised. This made it possible to greatly reduce vibration to the rider's body in combination with the effect of the existing linked type engine mount system. The result is greater riding comfort.

2) New-design rear suspension
A newly developed rear suspension has also been adopted to increase riding comfort. The stroke is increased to 62mm from the existing 50mm and, in conjunction with this, a softer spring coil is also adopted. Optimizing the structure of the valve that creates the damping force has also contributed to a softer, more comfortable ride.

3) Optimized riding position and new-design seat, etc.
The handlebar unit has been raised by 20 mm to produce a new riding position. Also, the shape of the seat in cross-section has been changed to provide a more comfortable ride as well as easier leg reach to the ground. At the same time, the position of the rear footrest has been revised and a new aluminum part adopted with a higher quality look.


(2) New exterior parts contributing to a new futuristic look
New designs have been adopted for all the exterior parts from the front assembly and leg shield to the side covers and tail cowling. Within an overall sporty image, each of the parts is given an impression of functionality, while the total design effect has a futuristic feeling in which each part retains a distinctive design of its own. Also, to further enhance the quality look of the body, a handsomely painted inner panel has been adopted for the leg shield (previously colored plastic). And, to match the new body design, a model with new-design five-spoke open-section cast wheels as standard equipment has also been prepared.


(3) Other features for convenience and environmental friendliness
Other new features include things like an automatic starter function (first time on a Yamaha ASEAN market model) and an inner pocket on the leg shield with the capacity to hold two 500cc plastic beverage bottles. Also, to heightened environmental performance a new muffler has been adopted that includes a tube type oxidizing catalytic converter. This functions in combination with the Yamaha air induction system to produce cleaner exhaust that clears Thailand's Stage 5 emissions standard.


2005 Yamaha "NOUVO" Specifications (Thai market model)


| | |
| --- | --- |
| Overall length x width x height | 1,935mm x 675mm x 1,090mm |
| Seat height | 770mm |
| Wheelbase | 1,280mm |
| Minimum ground clearance | 137mm |
| Dry weight / Curb weight | 103kg / 108kg |
| Engine type | Air-cooled, 4-stroke, SOHC, 2-valve |
| Cylinder arrangement | Single cylinder |
| Bore x Stroke | 50mm x 57.9mm |
| Compression ratio | 8.8:1 |
| Maximum power | 6.54kW(8.9 PS)/8,000rpm |
| Maximum torque | 8.63N-m(0.88 kgf-m)/7,000rpm |
| Starting system | Electric and Kick duo |
| Lubrication | Wet sump |
| Engine oil capacity | 0.9liters |
| Fuel tank capacity | 4.8liters |
| Carburetion | SU25 x 1 |
| Ignition system | DC-CDI |
| Primary / Secondary reduction ratio | 3.133 / 3.583 |
| Clutch type | Dry, centrifugal |
| Transmission type | V-belt stepless |
| Gear ratios | 2.369 - 0.820 |
| Frame type | Steel tube / Underbone |
| Caster / Trail | 25°00'/112 mm |
| Tire size(Front / Rear) | 70/90-16 / 80/90-16 |
| Brake type(Front / Rear) | Hydraulic single disc / Drum |
| Suspension type(Front / Rear) | Telescopic / Unit swing |
| Headlight | 12V 25W / 25W x 2 |


Yamaha NOUVO Feature map (Thai market spec)