Main Yamaha Display Models For the 37th Tokyo Motor Show
| | |
| --- | --- |
| | October 15, 2003 |
Yamaha Motor Co., Ltd. (YMC) mounts a booth under the theme of "The Art of Engineering" for the 37th Tokyo Motor Show (Organizer: Japan Automotive Industry Association / Venue: Makuhari Messe / Special Invitation (Press) Day: Oct. 24), which will run over the twelve days from October 25 (Sat.) to Nov. 5 (Wed.). On display at this Yamaha booth are 20 units of 19 different models, including export models, models planned for production and concept models.



XG250Tricker

YP250 Grand Majesty

MABRICE

FC06

Main models for display at the 37th Tokyo Motor Show
Japan Premiere Models
(7 units of 6 models)

World Premiere Models
(13 units of 13 models)

Export spec models
YZF-R1 2 units
FZ6-S "Fazer"
FZ6-N "FZ6"
XT660R
XT660X
XP500 TMAX

Planned Production models
XG250 Tricker
YP250 Grand Majesty
Vino
Vino DX
Special exhibition models
MABRICE
Grand Majesty
Tricker Pro
Chivicker
dolsa wind
DIVIDE
Pocke
FC06 (fuel cell powered model)
Passol L


Highlights of the Yamaha Booth


For the 37th Tokyo Motor Show, Yamaha Motor Co., Ltd. (YMC), mounts a booth under the theme of "The Art of Engineering." Here we introduce the contents of this booth and how it is designed to show the present and future of Yamaha Motor as a company striving constantly to fulfill its corporate mission of "Offering new excitement and more fulfilling life for people all over the world" through products that combine environmental friendliness and Kando.

In this year's Yamaha booth you will see displays of production models and special concept models that embody our ongoing pursuit of "man-machine sensuality," models employing state-of-the-art technologies and models that represent a high-level marriage of performance and design excellence. These will include 13 models making their world debut and six making their domestic debut, and they will be displayed as "The Art" of Yamaha's engineering in a fashion that draws on the art viewing experience of visiting a museum. These displays reflect Yamaha's corporate values, in which environmental friendliness is always a top priority as we propose new values and exciting new lifestyles. This means the proposal of new potential for "personal vehicles" for the 21st century.

Displayed at the center of the booth is a stage decked out with a more exciting array of models than ever before, grouped around the Yamaha flagship model YZF-R1. The first standouts are the new 2004 European models, including the reborn FZ6-S "Fazer" and the new high-function on-off model "XT660R" and its "XT660X" variation. Then there is the "Tricker," an entirely new-concept motorcycle with a dynamic extreme-sports image that makes it look as if it is about to bound off the stage at any moment with the lightness and agility of BMX bicycle. Sharing a place on the stage is the "Chivicker," a model that brings this "Tricker" concept to the familiar 50cc class.
On the stage highlighting the new "Grand Majesty," Yamaha proposes innovative new directions for the scooter genre. Here you will see the new (concept) model "MABRICE" that brings together young street trends and comfortable tandem riding performance with "long & low" styling and functionality that only a hybrid model can offer. Other corners feature the European model "TMAX" reborn for 2004 with even more mature performance and functions and the long-popular fashion scooter "Vino" in a full model change now mounting a liquid-cooled 4-stroke 50cc engine.

Front and center in this year's Yamaha booth is the Electric Vehicle (EV) corner displaying models that define Yamaha as the pioneer in the 2-wheeled EV sector. Here you will find Yamaha proposals for new vehicle potential and "enjoyable eco" lifestyles that only (zero emission) electric vehicles can make possible. Among these is the "dolsa wind," a concept model based on the image of slow, silent riding that lets you enjoy a world of sounds around you. This is a bike designed to combine the joy of riding with the joy of composing your own world of sound. Along side this you will see the "Pocke," a model that builds on our Passol technology to create a new sense of value based on minimum-body and multi-function, and the "DIVIDE," a collapsible model that takes the EV into the realm of art object. Also on stage here is the new "Passol L," a new longer distance version of the Passol. Another completely new Yamaha proposal is the "FC06," a business-use fuel cell (FC) commuter model that runs on a direct methanol type fuel cell system. This is a model that we have condensed into the compact 50cc size with multiple functions that enable it to be charged either from the ubiquitous household outlet and even to provide an emergency electricity source.


Outlines of the Main display models


| | |
| --- | --- |
| | Japan Premiere Models (7 units of 6 models) |
YZF-R1 (Export model)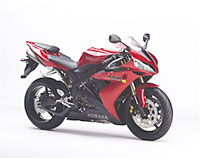 This is the 2004 European model YZF-R1 that debuted at the Milano Show of '03. Since its introduction in Europe in 1998, the YZF-R1 has won an outstanding reputation in the market as a model that offers "the full joy of handling a 1000cc machine" and as a "super cornering machine," establishing itself as the standard model in the supersport category. Having since undergone minor changes in 2000 and adopting a new frame and fuel injection in 2002, the YZF-R1 has continued to lead the category.

While maintaining the same basic model concept that has matured and evolved from the initial model (1998) through the 2nd generation (2000) and third generation (2002) models, this new YZF-R1 adopts state-of-the-art Yamaha technologies to achieve a high-level marriage of (1) styling, (2) performance and (3) cornering performance with the aim of creating a "beautiful, exciting sports machine that wins the title of fastest through the turns on secondary roads." All this lets the rider enjoy a sensational ride that brings the 1000cc supersport machine into a whole new dimension.
Fazer, FZ6 (Export models)
These are the new 2004 models for the European market that offer a balance of the "joy of true performance riding" and "convenient functions for daily use" in a 600cc middleweight sports bike. They mount a 600cc fuel injection power unit that has been developed directly from the YZF-R6 engine to ensure outstanding performance. The new frame is made with Yamaha's exclusive CF aluminum die casting technology that enables a big reduction in weight and fresh new styling while contributing to these model's high-level performance. The "Fazer" is a cowl models and the "FZ6" a naked model.
XT660R (Export model)
This model is designed to answer the next-generation big trail model needs by offering running performance that makes around-town riding even more enjoyable, high-speed cruising capability for the greater assurance that lets riders enjoy expressway riding, innovative new styling and environment-friendly performance. The fuel injection engine is a big-bore SOHC4-valve single featuring for the first time on a Yamaha motorcycle a roller type rocker arm for smoother valve action.
XT660X (Export model)
Based on the XT660R, this model recreates the excitement of the popular world of Super Motard. With features like a front brake combining a 320mm disc with 4-pot caliper, special outer tubes for the front fork and special tires (front: 160/60-17 with 4.25 rim, Rear: 120/70-17 with 3.50 rim), this model expands the world of XT performance.
XP500 TMAX (Export model)
The TMAX, which has been so popular in Europe and other markets for its "fun motorcycle-like ride" despite its automatic transmission, now reappears with even more impressive performance. The addition of fuel injection and features like radial tires front and rear, a double disc front brake and increased front fork tube diameter boost basic performance as well as improving in handling stability. Convenience is boosted with items like a theft-prevention immobilizer and parking lock, while the quality of the exterior parts upgraded as well.
| | |
| --- | --- |
| | World Premiere Models (13 units of 13 models) |
XG250 Tricker (Planned as production model)
Mounting an air-cooled 250cc SOHC single cylinder engine on a YZ85 size chassis with 19-inch front and 16-inch rear wheels, this model proposes a new world of motorcycling fun. Exuding a sense of the dynamic physical action of X-games competed with skateboards, BMX bikes and the like, this new machine has the performance to inspire fun riding in the trial image.
Tricker Pro (Special exhibition model)
Based on the Tricker, this prototype boasts an aluminum fuel tank and carbon parts in places like the seat cover and front fender for a significant reduction in weight that further boosts the performance potential in real action riding.
Chivicker (Special exhibition model)
This model brings the Tricker concept to the 50cc category. The result is a wedding of the BMX freestyle riding trend with 50cc sports. Featured here are unique design ideas like an aluminum in-frame fuel tank.
YP250 Grand Majesty (Planned as production model)
Mounting a new-design DOHC 4-valve fuel injection engine on a new frame with 14-inch front and 13-inch rear tires, the new Grand Majesty appears with higher overall performance specs. Advanced technologies are adopted, like the high-performance Yamaha DiASil cylinder and a wide frame built with CF aluminum die-cast parts that enables the inclusion of a 59-liter storage space under the seat. This is a new Majesty that achieves an even higher level of high-speed stability, comfort and convenience.
Vino, Vino DX (Planned as production model)
The popular fashion scooter Vino reappears with even cuter styling. The new environment-friendly liquid-cooled 4-stroke, 3-valve engine features the first plated cylinder ever on a Yamaha 50cc bike. The result is a combination of environment friendliness and performance on par with the 2-stroke model.
MABRICE (Special exhibition model)
Taking the Majesty as its base, this is a hybrid model that weds young "Long & Low" styling with outstanding performance in tandem riding. The main power unit is a 250cc engine that drives the rear wheel, while an in-hub electric motor in the front wheel adds extra power during acceleration for even more enjoyable running performance. This front wheel motor can also be used to make getting in and out of parking spots easier or when pushing the bike.
dolsa wind (Special exhibition model)
This model proposes an entirely new type of electric vehicle (EV) with a unique ride that summons up the combined images of riding on the wind and the enriching experience of playing a musical instrument. The riding position lets you enjoy the gentle flow of wind while a "sound space" envelopes the rider and gives the handling of the bike a feeling like playing a musical instrument. This "sound space" is created by sound generated from a speaker box under the seat and a speaker in the handlebar assembly with tones that change in response to the handling actions of the rider. In doing this Yamaha has created a new value we call "Pleasure riding, artful riding" that never would have been possible with a motorcycle powered by an engine that burns fossil fuel.
DIVIDE (Special exhibition model)
Based on Yamaha's "Passol" technology, this model has been developed around the concept of a "metal art commuter." The highly unique body proposes a new value sense. Featuring an electric motor-driven foldable function, this vehicle is with special design touches to make it easy to push when folded up so it can be taken right indoors and stand proudly as an "art object" in any room. In other words, Yamaha has taken the EV into the realm of art.
Pocke (Special exhibition model)
This EV model proposes a "multi-function minimum commuter." Features like fold-up handlebars, a pentagonal shaped aluminum frame, and operating sound selection function that lets you choose sounds like the downloaded sound contents you choose to personalize your cell phone bell and convenient functions like a storage space, have all been compressed into this minimum sized model that is small enough to fit in the trunk of a car. The wheelbase is a short 960mm (80mm shorter than the Passol) and the tires are 10-inch front and rear.
Passol L (Special exhibition model)
Taking the basic "Passol" functions and increasing the battery capacity with the adoption of a fixed type has created this long-distance model. With its built-in charger, this model can be charged anywhere there is a 100V outlet. The result is a Passol with extended range of use.
FC06 (Special exhibition model)
This model mounts a direct methanol type fuel cell (DMFC) unit with an output of 500W on a 50cc size bike to create a fuel cell commuter driven by a Passol-based motor. With a compact chassis that combines environment friendliness with sufficient running distance, this model proposes a new type of business-use bike for the near future. The fuel is an easy-to-handle methanol-water mixture. Other features include GPS navigation and camera-equipped rear-view monitor. With a 300W outlet, it can also serve as an electricity source for outdoor leisure or emergency use.