Concept Models Displayed at the Theme Zone of the Yamaha Booth at the Tokyo Boat Show
| | |
| --- | --- |
| | February 09, 2001 |
Yamaha Motor Co., Ltd. (YMC) will exhibit two concept models that propose new types of marine leisure, the "Free & Wheel" and the "Sea PAS" in the "Theme Zone" of the Yamaha Booth at the 40th Tokyo International Boat Show (Feb. 9 to 12 at the Tokyo Big Sight). Also displayed with these will be a scale model of the Yamaha-designed world's first unmanned ocean atmospheric observation boat, Kan-chan, and the world's largest-displacement 4-stroke outboard motor, the Yamaha "F225A."


"Free & Wheel" with built-in trailer-function.
A motorboat that runs on the water and on land


A 15-ft. motorboat has been fitted with wheels so it can be towed by an automobile like any trailered boat. But, on the water those wheels simply fold up to allow it to run like a normal motorboat. This makes it a new type of vehicle that goes anywhere, on land or water, and conveniently, to open up a new world of outdoor enjoyment on the lakes, rivers or sea of your choice. With sporty styling, this attractive new boat offers the unbeatable convenience of not needing a marina berth or a trailer.
| | |
| --- | --- |
| | |
| Running as a boat on the water | Towed as a trailer on land |

- Comment from the developer
--Yoshihiro Nagami (Product Development Div., Boat Operations)
We wanted to build a boat that was not for a single purpose like fishing but could be used in a variety of ways on a variety of waters, and for that reason cloud also be transported anywhere with ease. Mounting and dismounting a boat from a trailer is a big bother. So why not make the trailer function built-in? That was the point of departure for this project.
When using a trailer, once the boat is in the water you still need two parking spaces, one each for the car and trailer, but with the "Free & Wheel" you only need one. This makes it very good for Japan's crowded marinas. The interesting functional points are the way the wheels can be raised and lowered and the way the hitch member folds up and into the front deck area. The boat itself we want to build from a thermoplastic material (FRP) that is completely recyclable, and we want to use foam material in the hull structure to make the boat unsinkable while also increasing rigidity.
The way it will be used will be up to the individual user, but by using it for a wide range of purposes like fishing, hunting, cruising, wakeboarding, bird watching or outdoor parties, it should offer an extra fun aspect to any drive. We also want to develop some new graphics that fit this fun image.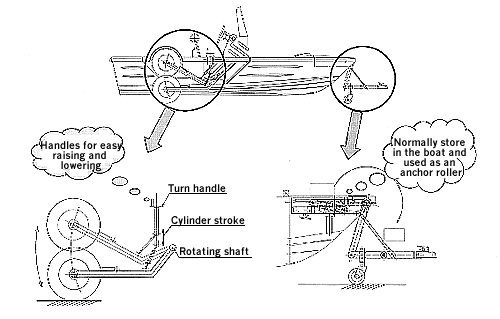 - Specifications for the "Free & Wheel" (planned):

Length:

4.52 m (5.115 m when towing)

Width:

1.99 m (includes wheels)

Full weight:

460 kg (mounting a 25 hp outboard.)