The 2001 European Models Debuting at INTERMOT, the world's largest motorcycle show Yamaha Sports "FJR1300," "FZS1000" and "YZF-R6"
| | |
| --- | --- |
| | September 13, 2000 |
Yamaha Motor Co., Ltd. (YMC) and Yamaha Motor Europe N.V. introduced and displayed the new 2001 European market models Yamaha Sports "FJR1300" "FZS1000 (FAZER)" and "YZF-R6" at the "INTERMOT Munich 2000" (2nd International Trade Fair for Motorcycles and Scooters) held from September 13 (Wed.) to 17 (Sun.) in Munich.
Yamaha "FJR1300"
('01 European model)

Yamaha "YZF-R6"
('01 European model)

Yamaha "FZS1000 (FAZER)"
('01 European model)


The Market and Aims of the Models


The annual demand for "Sports touring" models of the one liter displacement class in Europe has been holding steady at about 70,000 units. User need in this class are said to center primarily around 1) sports performance, 2) economy and 3) functionality as a tourer, and the various makers offer a range of diverse models in this class.
The new FJR1300 has been developed with the aim of achieving great functionality as a tourer, particularly to provide stress-free comfort and outstanding running performance in tandem riding. Reducing the weight of this model to 237 kg (dry weight), below the 300 kg (dry weight) norm for "big tourers," has helped give it exceptionally light and responsive handling. It also clears the "EU1" standard for exhaust emissions. The FJR1300 is also characterized by the completeness of its features aimed at providing optimum comfort in the type of long-distance tandem touring that is an integral part of Europe's unique motorcycle culture.
The FZS1000, on the other hand, is Yamaha's proposal of a multi-use "new 1000cc sports" that offers outstanding performance as sports bike while also satisfying a wider variety of needs for everyday riding. Developed around the key words "The Ultimate Strong FAZER," this model is the embodiment of a high-performance sports bike that combines ease of use in a variety of daily riding conditions with the performance to offer real enjoyment in weekend fun riding. A high-output engine that delivers 143 PS, a lightest-in-class body at just 208 kg (dry weight) and an impressive array of functional features come together in an ideal balance in the FZS1000.
Joining these models is the YZF-R6, which has enjoyed strong popularity in Europe's middleweight (600cc) super sports class since its debut in 1998. The new 2001 model features detail improvements throughout for greater maturity and design changes on the exterior, all of which combine to further heighten this model's unique racy image and increase product appeal.


Main Features


| | |
| --- | --- |
| | Yamaha Sports "FJR1300" - A high-level balance of running performance and comfort for tandem riding |
This model adopts a completely new design liquid-cooled 4-stroke DOHC 4-cylinder 1289cc engine with plated cylinders and a 2-axis balancer. The combination of electronic fuel injection, ternary catalyzer and Yamaha's air induction system give the FJR1300 emission levels equivalent to less than 80% of the "EU1" emissions standards while delivering a max. power output of 143.4 PS / 8,500 rpm and a maximum torque of 13.7 kgf-m / 7,000 rpm.

The frame is a cast aluminum type known for its exceptional rigidity balance. Chassis features like a 43mm diameter from fork, cast aluminum rear arm, a remote-control adjustable suspension, shaft drive and an electronically adjustable wind screen combine with the torque-y engine to create a machines that adapts with great flexibility to a variety of riding environments, from high-speed expressway cruising to winding roads. In addition, this model offers an abundance of features like a large 25-liter fuel tank, twin headlights with large reflectors, resin-composition grab bar and a two-part divided seat with urethane padding of different hardness for the front and rear halves to optimize comfort. All these features and more help make the FJR1300 the ideal, most comfortable bike for enjoying "long trans-European tandem touring."
| | |
| --- | --- |
| | Yamaha Sports "FZS1000 (FAZER)" |
This model was developed to be "a high-performance sports bike that combines ease of use in a variety of conditions with the performance to really enjoy weekend fun riding."

The engine on this model takes as its base the engine of the Yamaha YZF-R1, which won the attention of motorcycle fans worldwide and set a new standard for super sport bikes with its debut in the autumn of 1997. Modifications like a 10% increase in the crank's inertial mass and the adoption of a BSR37mm carburetor have changed the character of the engine, while other detail improvements have contributed to greater overall maturity. Other features include a new lightweight, compact clutch along with a new secondary reduction ratio, a buff-baking type exhaust pipe for new material presence on the exterior, Yamaha's "EXUP" system for flatter torque development and a lightweight 4 into 1 muffler.

For the chassis a wide type, high-rigidity double cradle frame has been adopted. The engine has been mounted with a lower center of gravity, with combines with the lighter overall design (lightest in class) to achieve an exceptionally nimble handling feeling within a stable base. Also, the half cowl that offers good protection even in cornering at high speeds, combines with the newly shaped fuel tank and tail section to define the sporty styling of the new FZS1000. What's more, the riding position has been set as a rather upright one that is well suited for a wide range of riding environments from winding roads to long-distance and tandem riding. Also, a fuller array of practical functions, like a main stand and hazard lamp, have been added.
| | |
| --- | --- |
| | Yamaha Sports YZF-R6 - Heightened performance and remodeled rear view strengthen racy image |
Two years since its sensational debut at the INTERMOT show in 1998, the popular YZF-R6 remains the new standard in Europe's middleweight (600cc) super sports class. The new 2001 model maintains the high level of sports performance while adding improvements for greater maturity and design changes on the exterior, all of which combine to further heighten this model's unique racy image.
Performance-related improvements include 1) adoption of a lightweight igniter, 2) a lightweight, compact battery, 3) a lightweight front fork, 4) optimization of the transmission and camshaft specifications for an improved shifting feeling, 5) new spec pistons and conrods that reduce oil consumption and improve throttle response, and 6) new tire pattern tread that achieves light steering feeling.

As for the exterior improvements, the tail light adopts the first "LED lamp" ever on a motorcycle, which gives the new R6 an even more distinctive rear view. Also adding to the combined feeling of dynamism and lightness in the rear end is the new number plate, which strengthens the fenderless image, and the full painted finish on the lower side (wheel side) of the rear cowling. For increased convenience, a space for a "U" lock has also been added.


2001 European model Yamaha "FJR1300" Technical Specification


Type

Overall length x width x height

Seat height

Wheelbase

Minimum ground clearance

Dry weight / fully equipped

Engine type

Liquid-cooled 4-Stroke DOHC 4-Valve

Cylinder arrangement

Displacement

Bore x stroke

Compression ratio

Maximum power

105.5kW (143.4PS) / 8,500 rpm

Maximum torque

134.4Nm (13. 7kgf-m) / 7,000 rpm

Starting system

Lubrication

Engine oil capacity

Fuel tank capacity

Carburetion

Ignition system

Battery

Primary / Secondary reduction ratios

Clutch type

Transmission type

Gear ratios

1st: 2.529, 2nd: 1.773, 3rd: 1.3484th: 1.077, 5th: 0.929

Frame type

Caster / Trail

Tire size (front / rear)

Brake type (front / rear)

Hydraulic double disc / Hydraulic single disc

Suspension type (front / rear)

Headlight

Halogen bulb / 12V60W/55Wx2


Yamaha "FJR1300" Feature Map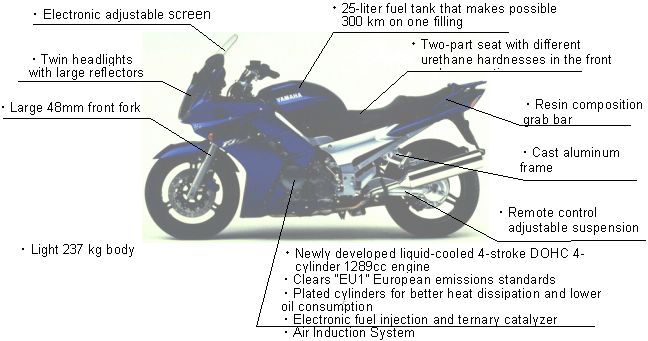 2001 European model Yamaha "FZS1000" Technical Specification


Type

Overall length x width x height

Seat height

Wheelbase

Minimum ground clearance

Dry weight / fully equipped

Engine type

Liquid-cooled 4-Stroke DOHC 5-Valve

Cylinder arrangement

Displacement

Bore x stroke

Compression ratio

Maximum power

105.2kW (143PS) / 10,000 rpm

Maximum torque

105.9Nm (10.8 kgf-m) / 7,500 rpm

Starting system

Lubrication

Engine oil capacity

Fuel tank capacity

Carburetion

Ignition system

Battery

Primary / Secondary reduction ratios

Clutch type

Transmission type

Gear ratios

1st: 2.500, 2nd: 1.842, 3rd: 1.5004th: 1.333, 5th: 1.200, 6th: 1.115

Frame type

Caster / Trail

Tire size (front / rear)

Brake type (front / rear)

Hydraulic double disc / Hydraulic single disc

Suspension type (front / rear)

Headlight

Halogen bulb / 12V60W/55Wx2


Yamaha "FZS1000 (FAZER)" Feature Map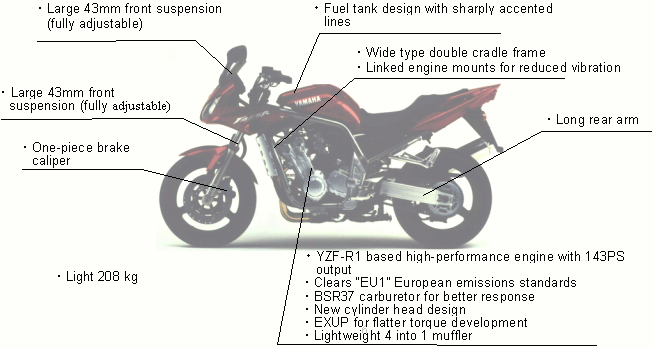 2001 European model Yamaha "YZF-R6" Technical Specification


Type

Overall length x width x height

Seat height

Wheelbase

Minimum ground clearance

Dry weight / fully equipped

Engine type

Liquid-cooled 4-Stroke DOHC 4-Valve

Cylinder arrangement

Displacement

Bore x stroke

Compression ratio

Maximum power

88.2kW (120PS) / 13,000 rpm

Maximum torque

68.1Nm (6.94 kgf-m) / 11,500 rpm

Starting system

Lubrication

Engine oil capacity

Fuel tank capacity

Carburetion

Ignition system

Battery

Primary / Secondary reduction ratios

Clutch type

Transmission type

Gear ratios

1st: 2.846, 2nd: 1.947, 3rd: 1.556
4th: 1.333, 5th: 1.190, 6th: 1.083

Frame type

Caster / Trail

Tire size (front / rear)

Brake type (front / rear)

Hydraulic double disc / Hydraulic single disc

Suspension type (front / rear)

Headlight

Halogen bulb / 12V60W/55Wx2


2001 Model Yamaha "YZF-R6" Feature Map (Main Changes)