Yamaha HPDI-mounted Outboard "Z200N"Wins 3 Awards in the U.S.A. High performance 2-stroke outboard recognized for achieving cleaner exhaust and better fuel economy
| | |
| --- | --- |
| | December 22, 1999 |
Yamaha Motor Co., Ltd. released the new 2-stroke outboard motor model "Z200N" mounting the High Pressure Direct Injection (HPDI) system as an emission regulation-compliant engine at the Tokyo International Boat Show held in February of 1999 and marketed it worldwide beginning in October of the same year. The Z200N's advanced technology, high performance and economy were highly acclaimed by people in the competitive US marine market, and has received three honorable awards during the course of the year 1999.
The Yamaha "Z200N" is the first outboard ever to win all three of these awards.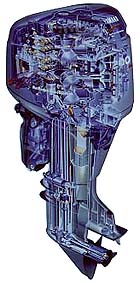 2-stroke outboard motor model "Z200N"

| | |
| --- | --- |
| | * IMTEC INNOVATION AWARDS |
Yamaha's Z200N outboard model won an IMTEC INNOVATION AWARD in the engine category at the world's largest marine show, International Marine Trades Exhibition & Conference, held in Orlando, Florida in August, 1999. The winners are chosen from among the products displayed in the show based on product excellence, which includes superior design and innovative technology.
| | |
| --- | --- |
| | * MOTOR BOATING & SAILING 2000 INNOVATION AWARDS |
The long-established American boating magazine "Motor Boating & Sailing" selected the Yamaha Z200N and its HPDI technology for one of its 2000 Innovation Awards in its November, 1999 issue. The awards are given for ingenuity, imagination and application in marine products with leading-edge technology. The Yamaha 4-stroke F100A outboard won the same award last year.
| | |
| --- | --- |
| | * POPULAR MECHANICS DESIGN & ENGINEERING AWARDS 2000 |
The HPDI-mounted Yamaha Z200N won the "Design & Engineering Award" of the famous American magazine "Popular Mechanics" in its December, 1999 issue. The winners are chosen by the editors in their respective fields in recognition of excellence in engineering, design and innovation.