Start of Motorcycle Production in Vietnam
| | |
| --- | --- |
| | October 07, 1999 |
Since the Vietnamese government issued official approval for the establishment of Yamaha Motor Co., Ltd.'s (YMC) motorcycle manufacturing and sales joint venture Yamaha Motor Vietnam Co., Ltd. (President: Takahiko Takeda; location: Hanoi City) on Jan. 24, 1998, preparations for the full-scale start of business operations have been carried on, including construction of the company's factory, product design and development and trial production and building a sales network. Now, with the line-off of the first unit of the company's 4-stroke 102cc underbone type sports model "SIRIUS" on October 7, mass production has gotten under way.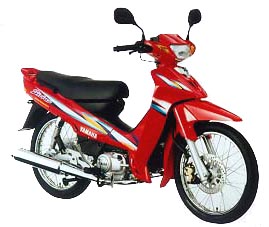 SIRIUS

Yamaha Motor Vietnam's starting capital of US$24.25 million (approx. 2.6 billion yen) has been invested 46% by YMC, 8% by Vietnam Forest Corporation (VINAFOR), a public company under the auspices of the Vietnamese Ministry of Agriculture and Rural Development, 22% by Co Do Mechanical Factory (Location: Hanoi City), a subsidiary of VINAFOR, and 24% by Hong Leong Industries Berhad, an investor in YMC's Malaysian motorcycle manufacturing joint venture Hong Leong Yamaha Motor Sdn. Bhd. (HLYM).
The new factory is located on a 10 hectare site in the Soc Son District of Hanoi (about 45 km north of the city center). It employs about 200 people and, in addition to its engine and chassis assembly lines, is also equipped with welding and painting facilities.
The SIRIUS model being manufactured here has a first-year local parts supply ratio of 32% and plans call for the production of 3,000 units from Oct. to Dec. of this year and 20,000 units in the year 2000. Long term, YMVN plans to be manufacturing a variety of models with a total production of 250,000 units after ten years of operations.

In Vietnam, motorcycles are an important means of transportation in the daily lives of the people, with total ownership said to be in the range of 4.5 million units. Reflecting the relatively healthy condition of the Vietnamese economy, some 300,000 new motorcycles were sold in 1998 and the trend is toward increasing sales. The SIRIUS now being introduced is a model that stresses high performance and fashionable styling and was developed on the basis of roughly two years of market studies and analysis. With lifestyles rapidly changing in today's Vietnam, this model is targeted primarily at the younger generation.
With the Vietnamese motorcycle market expected to grow in the future, we intend to see that YMVN continues to supply high quality motorcycles that fit the needs of the Vietnamese market with timely marketing and supply operations.
(Exchange rate: US$1=106 Japanese yen)


Profile of YAMAHA MOTOR VIETNAM


Name:

YAMAHA MOTOR VIETNAM CO., LTD.

Location:

Trung Gia Commne, Soc Son Dist., Hanoi

CEO:

Takahiko Takeda

Established:

April 1, 1998

Capital:

US$24,250,000 (Approx. 2.6 billion yen)

Investment:

Yamaha Motor Co., Ltd.

46%

Vietnam Forest Corporation

8%

Co Do Mechanical Factory

22%

Hong Leong Industries Berhad

24%

Site area:

Approx. 10 hectare

Employees:

Approx. 200

Business:

Manufacture and sales of motorcycles

Production:

First year (October to December, 1999) - 3,000 units

In the year 2000 - 20,000 units

In the year 2010 - 250,000 units


Main specifications of SIRIUS


| | |
| --- | --- |
| Name: | SIRIUS |
| Engine: | Air-cooled 4-stroke SOHC, single-cylinder, 102 cc |
| Maximum power: | 8.3ps/8,000 rpm |
| Maximum torque: | 0.87 kgf-m/6,500 rpm |
| Starting system: | Electric and kick-start duo |
| Fuel tank capacity: | 5.0 liters |
| Ignition system: | C.D.I. |
| Transmission: | Return type constant mesh 4-speed (forward), wet centrifugal clutch |
| Frame: | Underbone (Pipe) |
| Front/Rear tire size: | 2.25-17 33L/2.50-17 38L |
| Front/Rear brakes: | Hydraulic single disc/drum |
| Color: | Vivid Red, Cool Blue and Metallic Green |
| Main features: | 1) Adopts a high quality low fuel consumption, low vibration 4-stroke engine |
| | 2) Sporty and stylish body design and beautiful finish |
| | 3) Riding comfort and lively running performance one rank above existing models |

Reference

Profile of VINAFOR


| | |
| --- | --- |
| Name: | VIETNAM FOREST CORPORATION |
| Location: | Lo Duc, Hanoi |
| Established: | 1995 (operation began based on merger with public corporations) |
| CEO: | Le Ba |
| Business: | Coordination of operations of 48 companies involved in the production of forestry related products (wood products, machinery) under the auspices of the Vietnamese Ministry of Agriculture and Rural Development. |


Profile of CO DO MECHANICAL FACTORY


Name:

CO DO MECHANICAL FACTORY

Location:

Soc Son District, Hanoi

Established:

1971

CEO:

Do Van Lo

Business:

Manufacture of forestry equipment, machine processing.
One of VINAFOR's subsidiaries.


Profile of HONG LEONG INDUSTRIES


| | |
| --- | --- |
| Name: | HONG LEONG INDUSTRIES BERHAD |
| Location: | Kuala Lumpur, Malaysia |
| Established: | 1964 |
| CEO: | Kwek Leng San |
| Capital: | 112,268,000 Malaysian ringgit (Approx. 3.4 billion yen) |
| Business: | Manufacture and sales of motorcycles, ceramic tiles, steel and paper. |