Dividend Policy
Basic policy regarding return of profits to shareholders
Basic policy regarding return of profits to shareholders
The Company seeks to "create a stable financial foundation, and increase new growth investment and stock dividends," and sets the benchmark at dividend payout ratio of 30% of profit attributable to owners of parent.
1. Forecast for Cash Dividends
The Company intends to pay a full-year dividend of ¥90 per share (interim dividend of ¥45.0 ; year-end dividend of ¥45.0) for the fiscal year ending December 31, 2019 based on the forecast of consolidated financial results and a 30% dividend payout ratio (consolidated basis).
Forecast for December 2019 (Forecast)
Interim Dividend
Year-end Dividend
Annual Dividend
Dividend per share (Yen)
45.0
45.0
90.0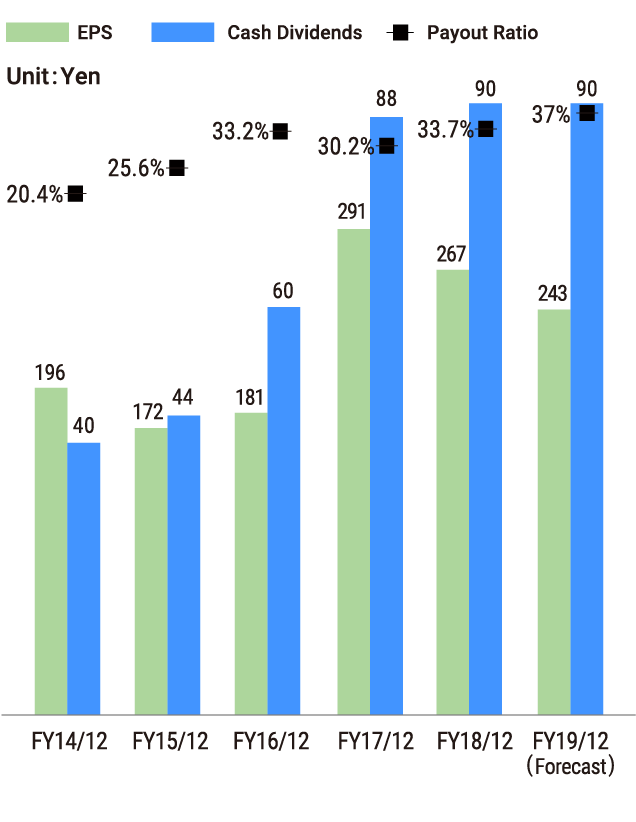 2. History of Dividend per Share (Yen)
| | Interim Dividend | Year-end Dividend | Annual Dividend |
| --- | --- | --- | --- |
| December 2014 | 14.50 | 25.50 | 40.00 |
| December 2015 | 22.00 | 22.00 | 44.00 |
| December 2016 | 30.00 | 30.00 | 60.00 |
| December 2017 | 39.00 | 49.00 | 88.00 |
| December 2018 | 45.00 | 45.00 | 90.00 |