Integrated Report 2022
Based on the Long-Term Vision for 2030 of "ART for Human Possibilities: Let's strive for greater happiness," Integrated Report 2022 provides details on specific initiatives for medium- to long-term strategies and measures focused on driving the new Medium-Term Management Plan announced in February 2022.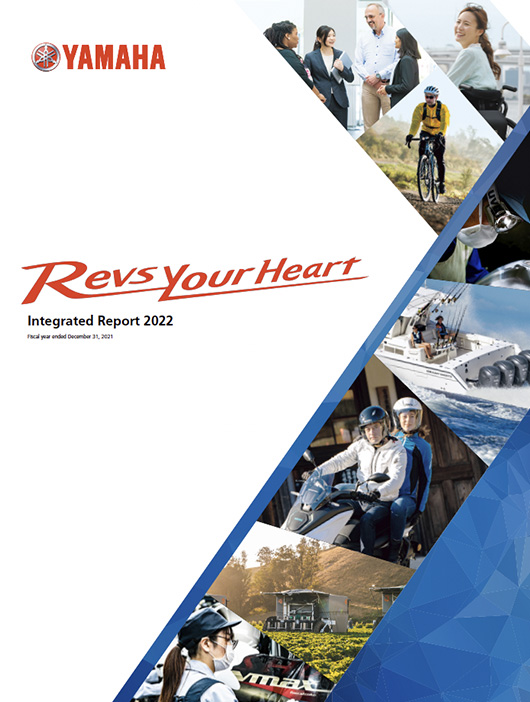 Yamaha Motor will practice diligent portfolio management with a focus on growth areas and our strengths to create new value contributing to a more sustainable world.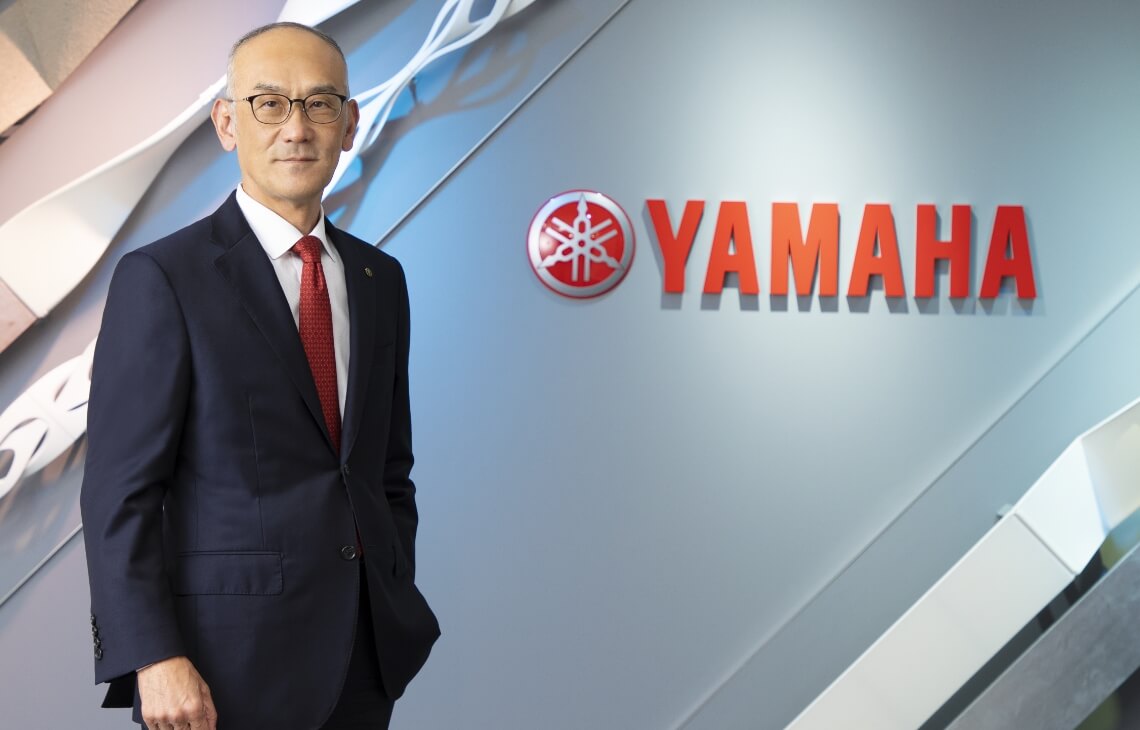 President, Chief Executive Officer and Representative Director
Yoshihiro Hidaka
Yamaha Motor formulated the new Medium-Term Management Plan—beginning in fiscal 2022—based on a review of the previous Medium-Term Management Plan. This report also provides information on the Company's direction regarding the implementation of a portfolio strategy to maximize its social, environmental, and economic value. Yamaha Motor is also reinforcing its sustainability initiatives and has revised its targets for reducing CO2 emissions under the Yamaha Motor Group Environmental Plan 2050 in order to accelerate progress toward carbon neutrality.
President, Chief Executive Officer and Representative Director
Yoshihiro Hidaka
Yamaha Motor Today
A Globe-Spanning Business Featuring a Diverse Range of Products
The powertrain, chassis and hull, electronic control, and manufacturing technologies and expertise we have accumulated since our founding serve as our core competencies, and as we continue refining them, we offer a myriad of products around the world that create Kando by leveraging our technologies and keen sensibilities based on the Company's unique Jin-Ki Kanno development ideal.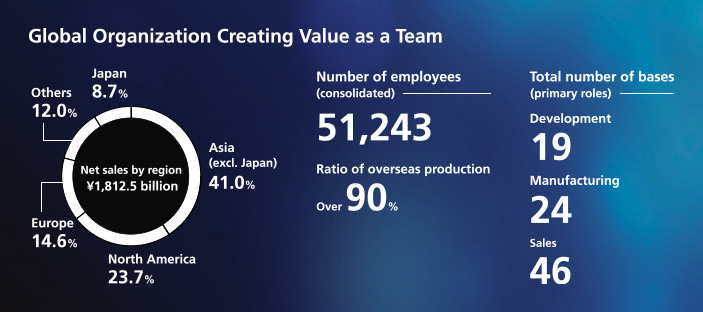 For more details
Yamaha Motor Today
PDF
1.8 MB
A History of Expanding Our Portfolio in Pursuit of

Kando

A Globe-Spanning Business Featuring a Diverse Range of Products
Maximizing Our Environmental and Social Value
Financial and Non-Financial Highlights
Medium- to Long-Term Strategies
Strategic Business Fields
Growth Businesses
Robotics Business

Supporting the Foundations of a Digital World, Further Expanding Business Scale as a Growth Business, and Strengthening Profitability

SPV Business

Capturing Market Expansion and Achieving Growth through Synergies between e-Kit Customization and New Models
New Businesses
Mobility Services

Creating employment opportunities through business and contributing to a better quality of life for people

Low-Speed Automated Vehicles

Aiming to create added value through mobility and enrich people's lifestyles

Medical & Healthcare

Reducing the burden on researchers with reliable technology and contributing to advances in the medical field

Agricultural Automation

Achieve increased productivity, laborsaving, and automation in industrial fields
For more details
Medium- to Long-Term Strategies
PDF
2.1 MB
Yamaha Motor's System of Strategic Policies
Important Societal Issues (Materiality Issues)
Medium-Term Management Plan (2022–2024)
Land Mobility
Marine Products
Robotics
Financial Services
From the Director in Charge of Corporate Planning and Financial Affairs
Initiatives to Achieve Carbon Neutrality (Disclosure Based on TCFD Recommendations)
Digital Transformation Strategy
Human Resource Development
Sustainability
Activities for Greater Functional Competitiveness
Yamaha Motor will accelerate its R&D efforts to solve various societal issues as well as trigger change, and by achieving our Long-Term Vision of "ART for Human Possibilities: Let's strive for greater happiness," Yamaha Motor will continue to offer new excitement and a more fulfilling life for people all over the world.
Electric Scooter E01

Electric Motors for Hyper-EVs
Management Platforms

from left
Takehiro Kamigama

Outside Director

Yuko Tashiro

Outside Director

Eriko Kawai

Outside Audit & Supervisory Board Member
Yamaha Motor's corporate governance is making sure-footed strides toward its goal to be a Kando Creating Company.
For more details
Management Platforms
PDF
702.7 KB
From the Chairman of the Board of Directors
Outside Officer Roundtable
Directors and Audit & Supervisory Board Members
Corporate Governance
Risk Management
Compliance
Facts and Data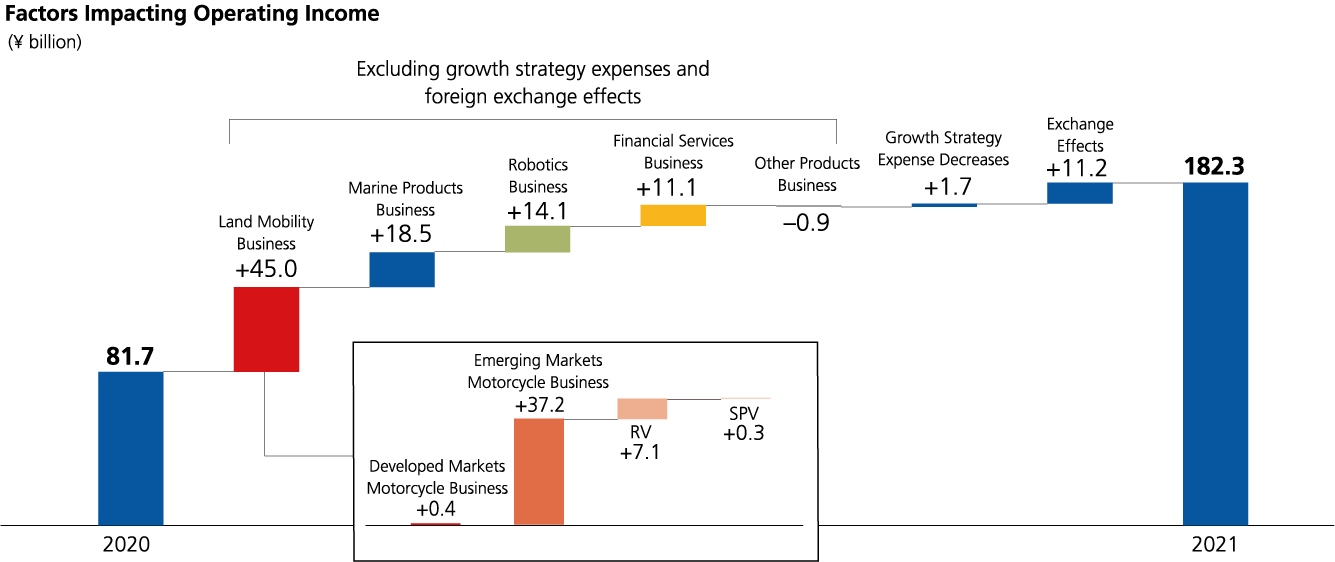 For more details
Facts and Data
PDF
766 KB
Environmental and Social Data
Eleven-Year Summary
Management's Discussion and Analysis of Fiscal 2021 Business Results
Global Group Network
Corporate Information / Stock Information
Editorial Policy
Structure for Information Disclosure
Financial Information
Non-Financial Information
Integrated Report 2022
This report was prepared and edited to give shareholders, investors, and other stakeholders a multifaceted understanding of Yamaha Motor's sustainable growth.
Financial, sustainability-related, product, and other information not contained in this report is available on Yamaha Motor's official website. Please note that the "2022" in the title refers to the year this report was published.
Scope
This report covers Yamaha Motor Co., Ltd., its 140 subsidiaries, and its 28 affiliates (as of December 31, 2021). Notification is given when the scope used in calculating the data provided in this report differs from this.
Reporting Period
This report covers the period from January 1 to December 31, 2021. Information on some activities taking place after January 1, 2022 is also provided.
Notice Regarding Forward-Looking Statements
The statements in this report, except for historical facts, are forward-looking statements about the future performance of the Company and its Group companies. These statements are based on management's assumptions and beliefs in light of the information currently available and involve risks and uncertainties. Please be advised that actual results may differ significantly from those discussed in the forward-looking statements.
Potential risks and uncertainties include, but are not limited to, general economic conditions in Yamaha Motor's major markets, changing consumer preferences, and currency exchange rate fluctuations.