Yamaha's First 125cc Engine
Introducing the stories behind Yamaha Motor's technologies.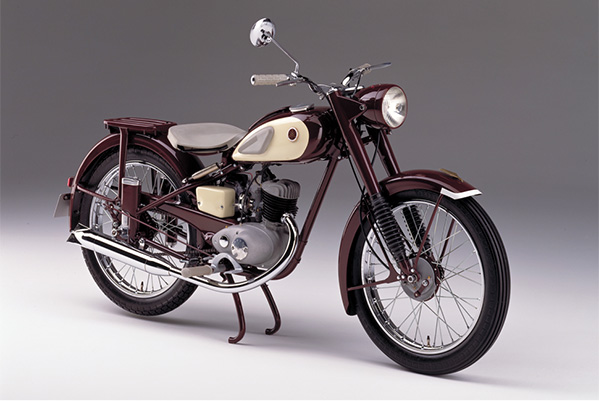 During World War II, Nippon Gakki Co., Ltd. (today's Yamaha Corporation) manufactured aircraft propellers and other equipment, but halted production after Japan's surrender. The machining equipment was kept and maintained at the company's evacuation center in Tenryu (part of today's Hamamatsu City) in Shizuoka Prefecture so they could resume use at any time. After the San Francisco Peace Treaty was put into effect in 1952, Japan's sovereignty was restored. Company president Genichi Kawakami was searching for ways to put the company's machining equipment to good use and decided to move the equipment to Hamakita (also part of today's Hamamatsu City) in May 1953. The machinery started right up with the first flick of the switch. So, what would the company build? Sewing machines? Three-wheeled automobiles? Scooters? Several ideas made their way onto and subsequently off of the drawing board.
After much research and consideration, it was decided that Nippon Gakki would enter the motorcycle business. The idea was that if the company could effectively utilize its existing facilities and equipment, it could surpass even European manufacturing quality. The sube (means) was to put dormant production facilities into use in order to start a new enterprise and search for new possibilities. The company's engineers used one of the top-class motorcycles at the time from German manufacturer DKW as a reference for their research and prototype trials.
In August 1954, less than ten months after development began, the first 125cc prototype of the "YA-1" was complete. That summer, the prototype machine also underwent a 10,000 km durability test. The factory was renamed the "Hamana Factory" and became the company's dedicated motorcycle manufacturing facility. Full-on motorcycle production began in earnest in December that same year. What they had produced was no mere copy of the German original. The YA-1's starting system was a "primary kick" type that allowed the user to kickstart the engine no matter what gear the transmission was in by disengaging the clutch, the first such system on a Japanese motorcycle. The team also developed a 4-speed gearbox for the machine instead of using the original 3-speed. Each and every YA-1 was painstakingly handcrafted and only those that had passed very rigorous quality inspections were released to the market.
The machine went on sale in February 1955 with this advertisement: "YAMAHA125 Manufactured by Nippon Gakki Co., Ltd.
Wonderful Acceleration! Elegant Styling! Stable Handling!" As Hamana Factory's production got on schedule, the motorcycle division of Nippon Gakki split off from the company on July 1st of that year, and Yamaha Motor Co., Ltd. was founded. The start of it all was a group of passionate engineers who revived their previously dormant machinery with their waza ("techniques and knowhow") and sube ("creative means") to craft Yamaha's first motorcycle.