The Waza: Combining Human Power and Electric Power
Introducing the stories behind Yamaha Motor's technologies.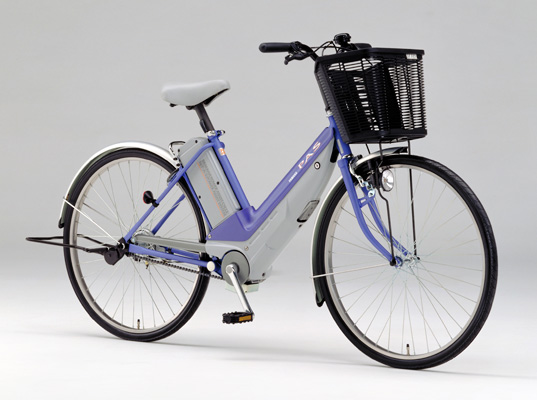 The idea of finding a solution to a bicycle's weakness in going uphill or into the wind had long existed at Yamaha Motor. "What if there was some kind of power source to help the person pedaling?" The company's efforts towards a solution took form in projects that produced a prototype mounting a small 25cc gasoline engine on a bicycle in 1973, and another prototype mounting a 35cc engine on a mountain bike in 1982.
However, what we were seeking was a personal commuter vehicle that placed top priority on performance in tune with human perceptions and sensitivities, and a vehicle that people who didn't ride motorcycles could still handle with ease. Eventually, the emergence of more compact, high-performance batteries and computers as well as a rapid succession of revolutionary advances in the field of electronics led us to begin research and development on the completely new concept of coupling human power and electric power, i.e., using an electric motor to "assist" the pedaling power of the rider.
Finally in 1989, we succeeded in developing a prototype mounting a new mechanism we called the "Power Assist System." This prototype became the base of what would become our PAS electrically power-assisted bicycles. The focus of our R&D efforts was on what would become the core technology for the lineup of PAS bicycles – the Power Assist System. The aim was to create an entirely new category of vehicle that could still be called a bicycle even though it utilized the power of an electric motor. This also meant creating a whole new standard of mobility and we steadily tackled and overcame an array of technological and regulatory obstacles during development.
The

Sube

: Getting Acceptance as a Bicycle
In order to commercialize the new product, one of the biggest issues was how to position it with regard to Japan's road vehicle and traffic laws. It was an issue that led Yamaha to repeatedly talk with and explain to officials at the related government agencies that the electrically power-assisted bicycle was a direct extension of a regular bicycle and that it would also contribute greatly to society in terms of energy-saving and reducing exhaust emissions.
After careful and prudent consideration, the involved agencies eventually recognized the social value of the vehicle and officially approved its classification as a bicycle in 1993. Then in July of that year, we unveiled the Yamaha PAS (with built-in 3-speed gear system) as a "world's first product" and sales began on a limited basis in the three prefectures of Kanagawa, Shizuoka and Hyogo in November. This was followed by the start of nationwide sales in April 1994. After Yamaha pioneered this new category, Japan's established bicycle manufacturers later began making their own offerings of "electrically power-assisted bicycles" and the market grew rapidly.