Red Dot Award
Introducing products that have won Red Dot Award.
Electric trials motorcycle
TY-E 2.0

Winner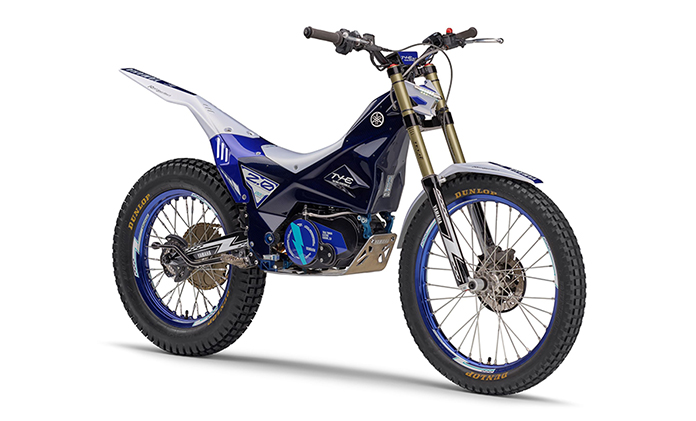 To develop an electric vehicle that delivers a level of fun surpassing vehicles with conventional internal combustion engines, Yamaha Motor chose trials as the field of competition for its approach as it is a motorsport that requires incredibly high and wide-ranging performance characteristics, and this R&D prototype motorcycle was created to achieve these goals. The TY-E 2.0 is equipped with sophisticated electronic control algorithms unique to its electric powertrain and a large-capacity lightweight battery. It will compete in a round of the Trial World Championship alongside motorcycles using internal combustion engines.
Electric scooter
NEO'S

Winner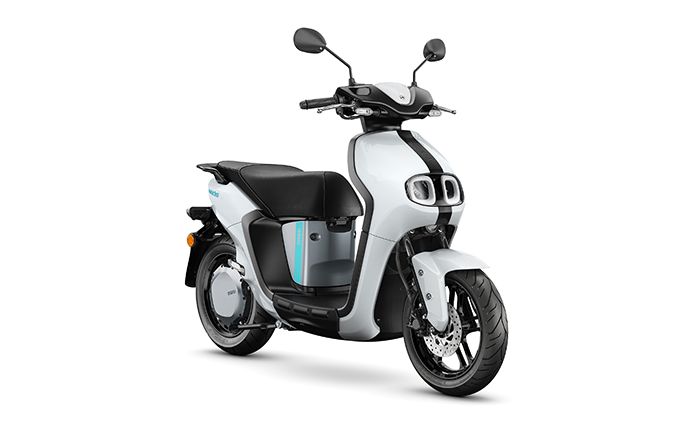 The NEO'S was developed under the concept of a "New Standard of Mobility for the Next Generation." It features a removable 50.4V battery and a brushless motor packaged into a stylish body design, providing the smooth and agile performance feel electric vehicles (EVs) are known for. The range from a fully charged battery is about 37 km (tested in WMTC Class 1 in STD mode using a single onboard battery) and a second battery (sold separately) can also be mounted. The NEO'S is an alternative solution for urban areas beset with chronic traffic congestion, a shortage of parking spaces, traffic restrictions and the like.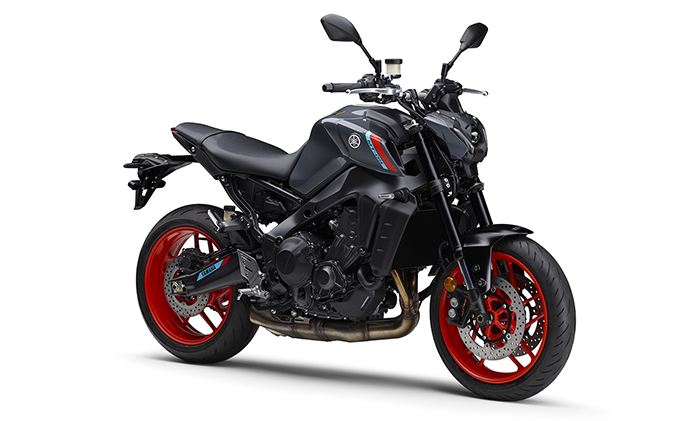 Based on the concept of "torquey and agile," the new MT-09 was developed with an emphasis on "feel," weight reduction, and power increase, and as a model that can be used for a wide range of activities from commuting to school to weekend riding. The styling is stripped down to the bare essentials, and the functional beauty of the parts themselves is the key to its success. It is packed with new features and innovative technology, including a newly designed 889cc "CP3" 3-cylinder engine, lightweight chassis, SpinForged aluminum wheels, and YZF-R1-like onboard electronics.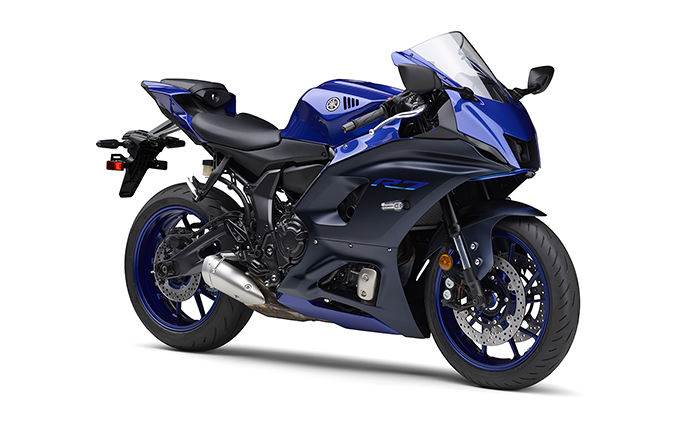 The latest model in the "R" series that leads the Supersport (SS) category. It offers the excitement of the SS and the joy of owning the coveted "R" to a larger and wider range of motorcycle enthusiasts around the world. Utilizing existing components that excel in basic performance, the new model delivers the fun of riding and a one-rank higher sense of ownership at an affordable price.
Personal Watercraft
Super Jet

Winner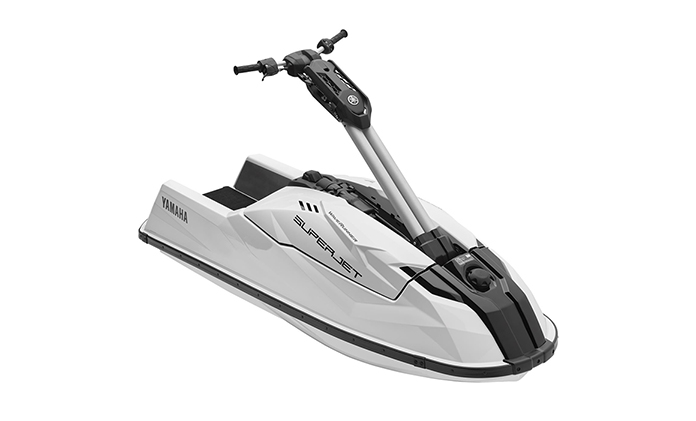 The SuperJet is the first fully remodeled one-seat stand-up model watercraft in 30 years. It features a 4-stroke, 3-cylinder engine that complies with current emission regulations, a radical race-inspired design, and a wide-front hull shape. It is equipped with a handlebar adjustment function to suit body size and preference, an extended foot tray, and an engine suppression mode.
Commuter vehicle
TRICITY300

Winner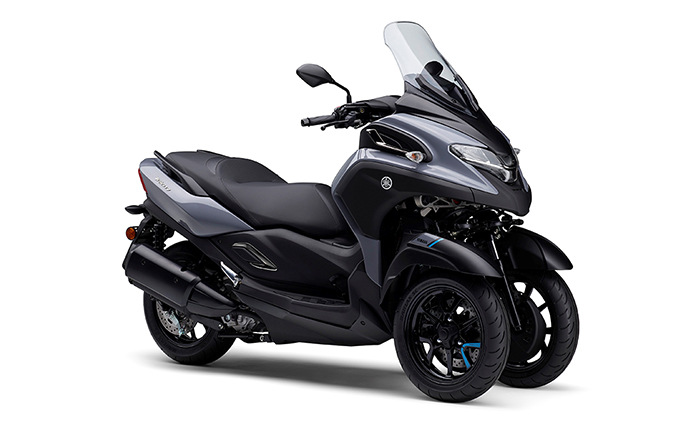 This three-wheeled 300cc commuter model for global markets employs Yamaha's proprietary LMW design and was developed to be the "Smartest Way to Commute" under a design concept of "Your Right-Hand" (for supporting your work/business), featuring front-end confidence, reliability, maneuverability and a high-quality ride to make trips between the suburbs and downtown more convenient and comfortable.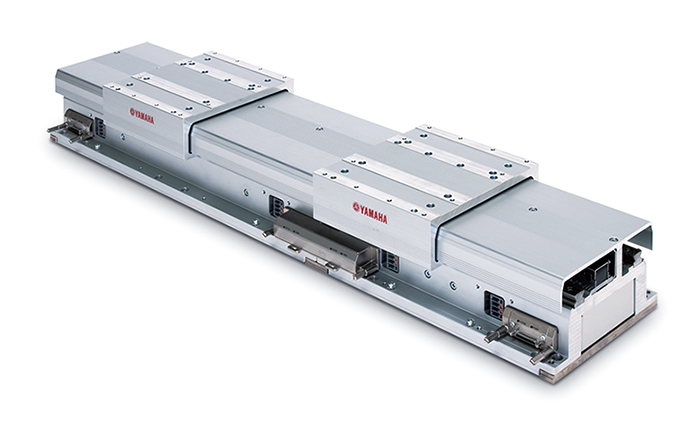 The LCMR200 employs a linear motor for fast, precise movement and a space-saving modular construction for conducting transfer operations at factories. As product lifecycles shorten, the need for multi-product and variable-volume production is growing and the LCMR200 brings greater flexibility for line layout, quicker response to production changes, and easy storage and reusability.
Also, instead of flashy colours, the anodized aluminium body beautifully blends in with and complements peripheral factory equipment.
Motorcycle
Ténéré 700

Winner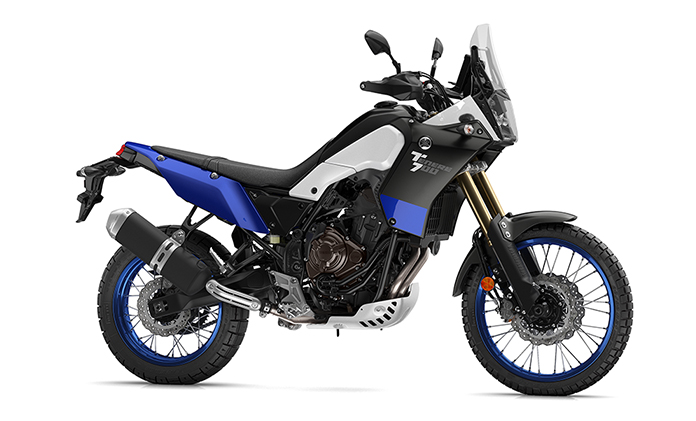 The Ténéré 700 is an adventure tourer in the best traditions of the Ténéré brand, drawing on its brilliant history of success in one of the world's toughest rallies - the Dakar - in the 1980s-90s. The Ténéré 700 features a 689cm³ water-cooled in-line 2-cylinder 270° crank engine mounted on a lightweight body. With a high degree of freedom in riding posture, high durability and ease of maintenance, along with high adaptability under load, this new model balances off-road, adventure, and touring performance to a high level. With the design concept of "Exciting Adventure Ténéré," this model has a high-positioned face that incorporates a three-piece shield on a distinctive headlight and tank, creating a design which expresses a spirit of adventure.
Industrial Drone
YMR-08

Winner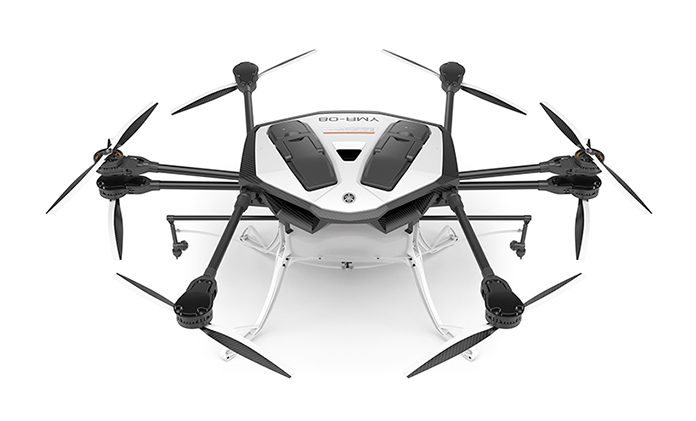 The YMR-08 is a remote-operated industrial-use drone developed primarily for airborne agricultural pest control. To answer the needs of small or suburban farms, it features a lightweight carbon fiber fuselage and eight rotors powered by an electric motor for quieter operation than a conventional engine. The exterior and individual parts were designed in an ardent pursuit of functional beauty that would please the eye of farmers and spray operators.
Motorcycle
NIKEN

best of the best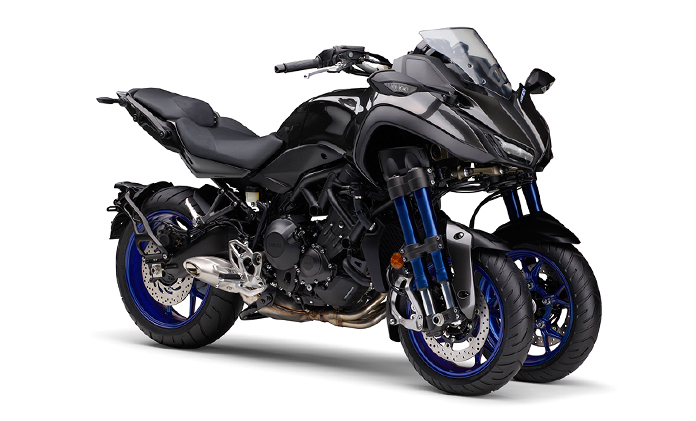 The NIKEN is a large-displacement Leaning Multi-Wheeler (LMW) powered by a liquid-cooled in-line 3-cylinder engine. Its LMW technology reduces the effects of changing ride environments and inspires front-end confidence when cornering. Taking advantage of the unprecedented front suspension that pairs the 15-inch front wheels with dual-tube inverted forks mounted to the outside of the wheels, the body design visually accentuates the machine's sporty performance.
Low-speed mobility vehicle (Concept model)
YNF-01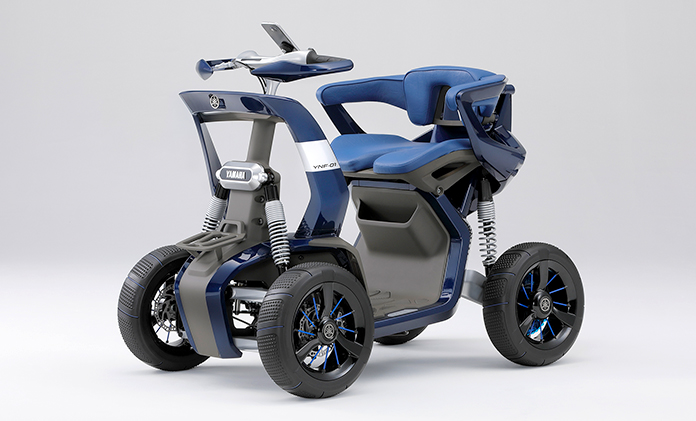 The YNF(Yamaha Next Field)-01 is a low-speed mobility vehicle featuring outdoor-influenced styling, such as large-diameter tires and 4-wheel independent suspension, which enable travel across a variety of road surfaces. The compact form belying its sturdy undercarriage and the frame design elegantly enveloping the rider provide a sense of both being securely held and freedom. The design inspires users to impulsively head outdoors through high-quality packaging and styling which evokes a feeling of adventure.
Motorcycle (Concept model)
MOTOROiD

Luminary Award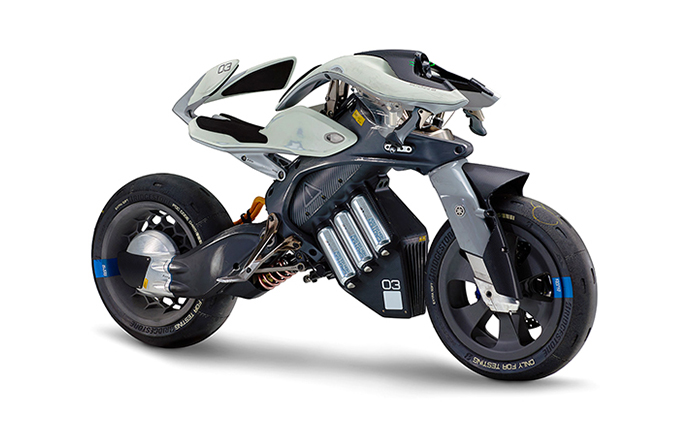 The MOTOROiD concept model aims to demonstrate personal mobility in which the rider resonates harmoniously with the machine. Equipped with high-precision balance control via artificial intelligence and autonomous technology, the MOTOROiD can sense its own state and adjust its center of gravity accordingly to stand up off its kickstand and remain upright unassisted. It can also recognize its owner and move forward to meet him/her, as well as react based on its rider's actions thanks to its human-machine interface (HMI). These, among several other functions, allow MOTOROiD to behave like a true partner of its owner. MOTOROiD inspires a vision of future mobility that takes vehicles beyond simple "tools for movement."
Sport Commuter
TMAX530 DX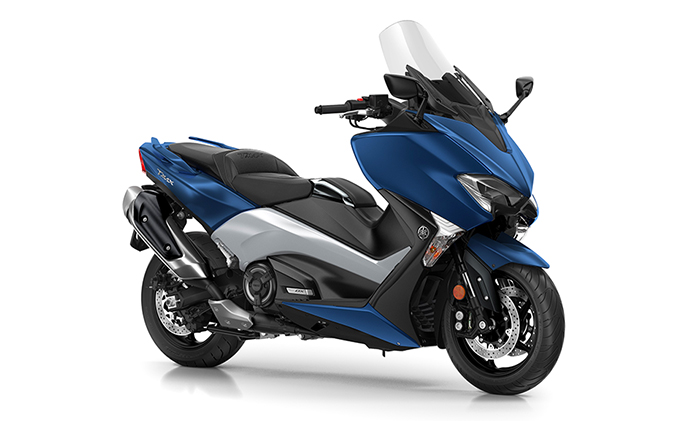 The TMAX530 DX brings the ultimate fusion and balance of two sometimes-conflicting styles in one package, with its sports performance enabling "dynamic acceleration, deceleration, and handling as the rider intends" that is equivalent to that found in traditional sports bikes, as well as a comfortable ride - a commuter motorcycle's key feature - realized through its range of equipment and functions.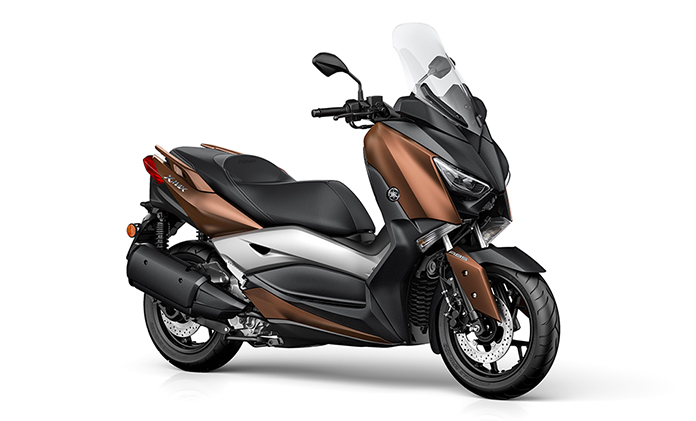 The XMAX 300 is the successor to the XMAX 250 which has enjoyed great reviews and popularity in Europe for many years thanks to its fun ride and sporty styling, along with its combination of comfort and practical functionality for city travel and commuting. The model offers further improvements in comfort and practical functionality, while delivering high-quality styling and agile - yet comfortable - performance that work to satisfy the pride of ownership demands of today.
Motorcycle
XSR900

best of the best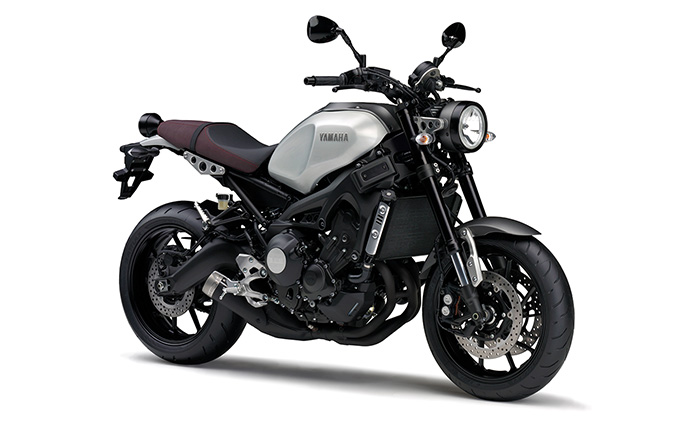 For developed markets that have an established culture of enjoying motorcycles as a hobby, the XSR900 was designed targeting riders who prefer a bike with a more traditional look and style. With its attractive new combination of a simple, "retro" exterior design and modern performance through state-of-the-art technology, this model offers both pride of ownership and a genuinely fun motorcycling experience.
Electrically Power Assisted Wheelchair (Concept model)
&Y01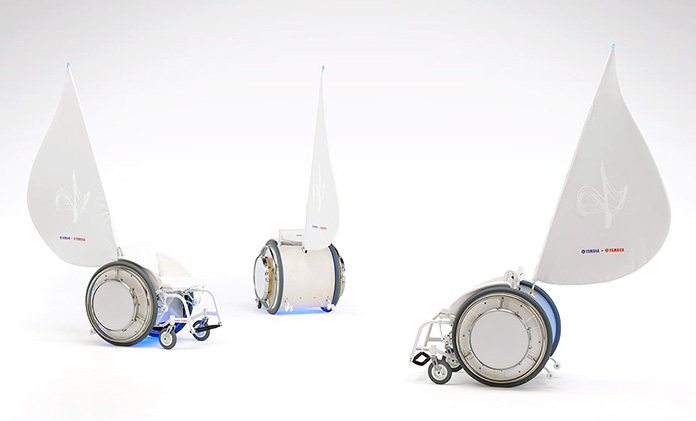 &Y01 (Andy 01) is a working concept model co-created by Yamaha Corp. and Yamaha Motor designers with an image of a white yacht sailing through the waves. A JW Swing electric wheelchair mounts a TLF (Thin, Light, Flexible) Speaker shaped like a boat's sail or a musical note's flag on the back, and slim percussion instruments on the wheels to create the new experience of "riding a musical instrument."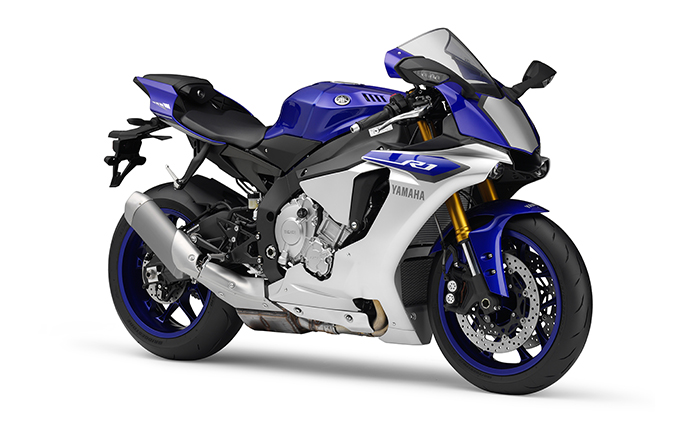 The market-leading YZF-R1 1,000cc supersport model has been completely redesigned with a new focus primarily on riding on a racetrack. It features a new high-performance engine, electronic control systems employing a six-axis attitude sensor unit and a chassis using magnesium and aluminum parts throughout, all combining to achieve an incredible level of performance. The exterior design has improved aerodynamics and also adds new individuality to the model's appearance.
---
Sport Boat
242 Limited S

Honourable Mention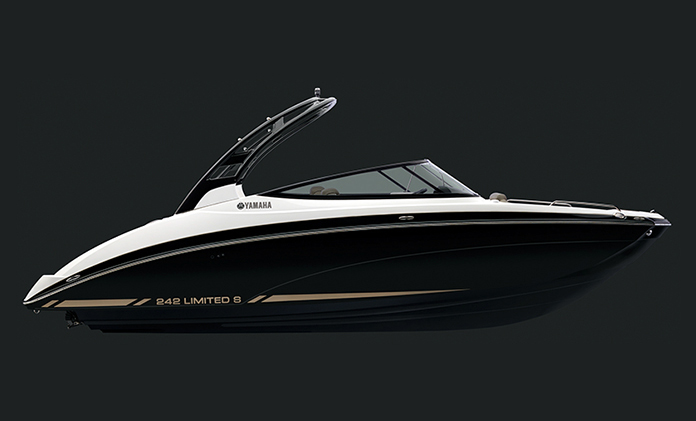 This boat is Yamaha's top-of-the-line jet-propulsion Sport Boat model. With a newly designed hull and an articulating keel, the boat has improved straight-line stability and handling. Features like a new digital display system add greater convenience and enjoyment. The result is a boat that offers the fullest enjoyment of the North American style of marine leisure, including everything from cruising and towing for watersports to spending time relaxing onboard at the dock.
Motorcycle
MT-07

best of the best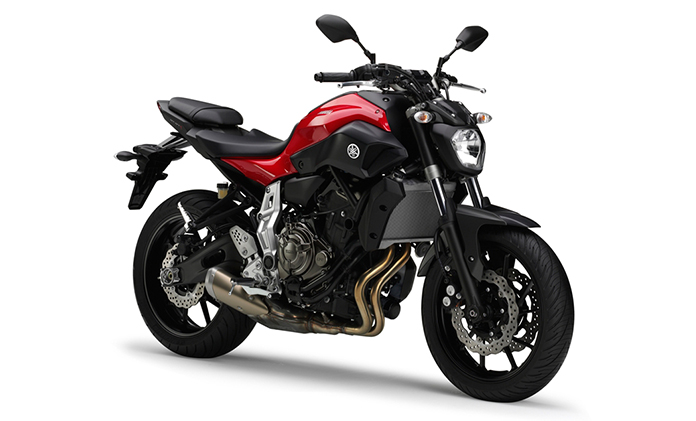 The MT-07 is a motorcycle that blends fun riding and fashionable styling that turns heads on urban streets, while also providing value for money. Featuring an engine that is both powerful yet easy to handle for daily use, as well as being lightweight, slim, compact, and stylish, the MT-07 offers excellent handling as well as premium feel.
---
Electric Power Assist Unit for Wheelchair
JWX-2

best of the best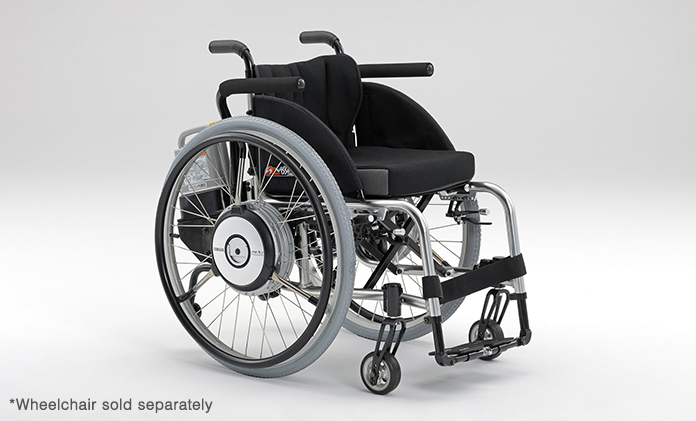 The JWX-2 applies the power assist system technology from Yamaha's PAS electrically power assisted bicycles to wheelchairs, to create a power assist unit that adjusts the level of assistance based on the wheelchair hand rim input load. It can be installed on a variety of wheelchair shapes, and features the dedicated 'JW Smart Tune' software, which allows detailed setting of assist force, response, linear advancement capability, left-right balance, etc. to suit the user's condition.
---
Automatic Commuter
TRICITY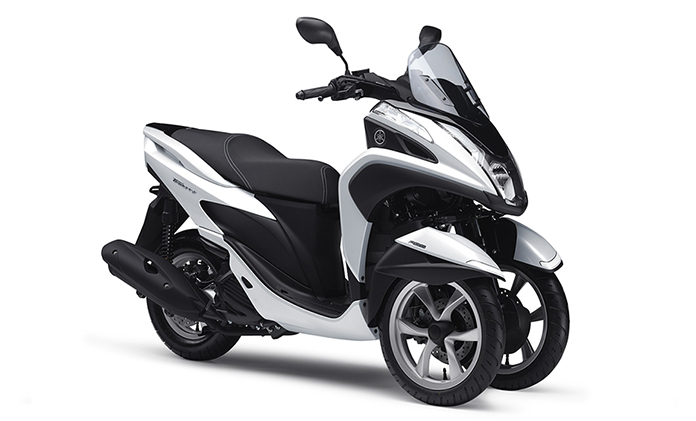 The TRICITY is a 125cc city commuter which features a double front wheel configuration. Employing Yamaha Motor's unique LMW mechanism, in which the front two wheels tilt in sync with the vehicle body while turning, each wheel has independent suspension and link mechanisms, which together with the optimized front-rear weight balance provide a comfortable ride and a new dimension in riding enjoyment.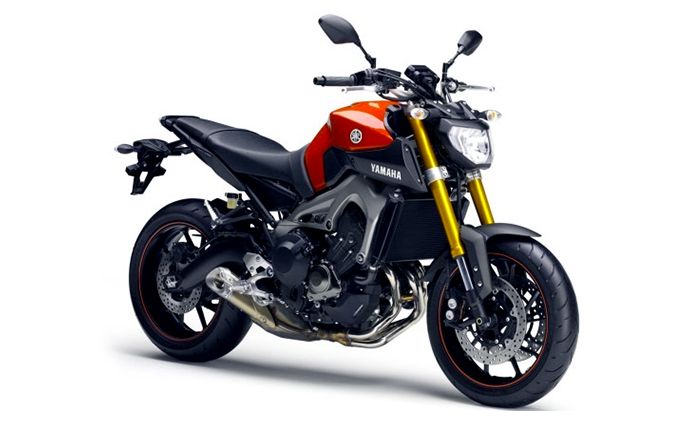 A synchronized-performance motorbike, equipped with a three-cylinder engine and developed in accordance with the cross-plane concept.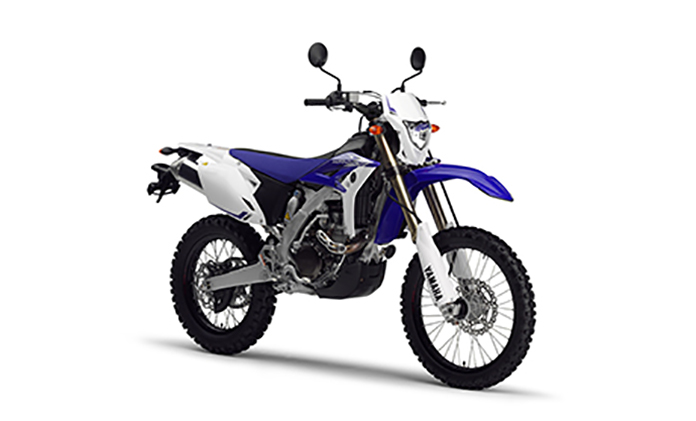 A model for enduro events that boasts outstanding turning performance and staying power, and that is very easy to set up.
---
Motorcycle
FJR1300A

Honourable Mention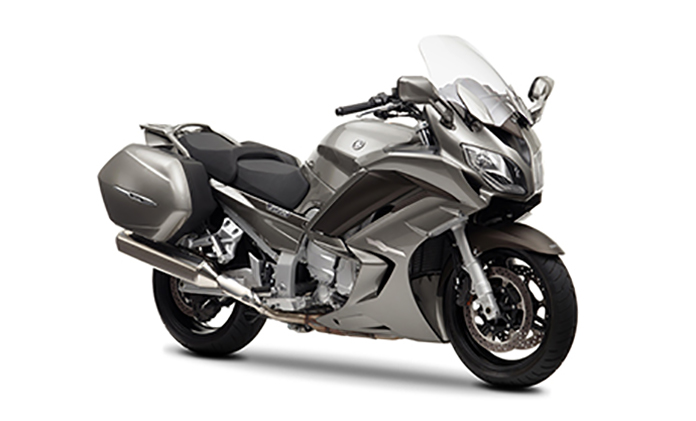 A model that combines sportiness with long-distance touring capability under the concept of "dynamic touring."
---
Commuter Vehicle
Xenter 125

Honourable Mention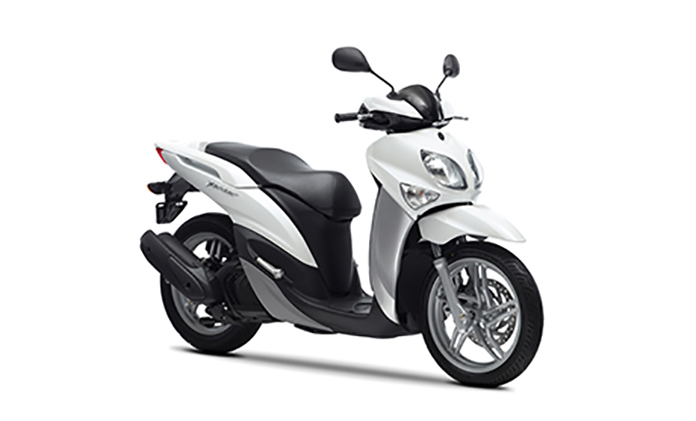 A large-wheel-diameter scooter (16 inches, front and back) designed to offer convenience, comfort, and reliability for use around town-principally aimed at the European market.
A sports scooter designed to offer the convenience of a sporty commuter bike as well as to create a unique impression.
Awards Top
Design Top