For Reliable and Rich Marine Life
More powerful outboards and the new boat Control systems

In addition to its large-horsepower 4-stroke outboards, Yamaha continued its efforts to develop and market 2-stroke outboards in line with the global movement to preserve the environment, employing proprietary technologies like the High-Pressure Direct Injection (HPDI) system to improve their eco-friendliness. However, once its 4-strokes were able to surpass at all horsepower ranges the inherent advantages of 2-strokes like acceleration, compactness and lightness, Yamaha shifted to an all-4-stroke lineup for its recreational-use outboards. Then in 2018, Yamaha released the F425A. Mounting an all-new V8 engine, it is the first 4-stroke outboard to use gasoline direct injection, which sprays fuel with high pressure and precision directly into each combustion chamber. Also, the adoption of strengthened parts for the gearcase, brackets, camshafts, and other parts like plasma-fused sleeveless cylinders, iridium spark plugs, and other new technologies and materials from Yamaha helped create a 4-stroke outboard with outstanding top-range power, but also excellent reliability and durability. With a displacement of 5,559cc and putting out up to 425 hp, this model boasts monstrous power, but attention was also given not only to ease of mounting for different setups, but also to user-friendliness in operation. It brought a revolutionary rethinking of what outboards deliver when powering big offshore boats.
In 2010, eight years before the release of the F425A, Yamaha announced an agreement for joint development of outboard-based boat control systems with Swedish boat equipment manufacturer, Volvo Penta. This later led to the release of the Helm Master boat control system in 2012. This system enables 360° maneuvering and turns for low-speed navigation by means of a joystick for intuitive operation, thus vastly improving the ease of docking, leaving dock and navigating through marinas and narrow waterways. Making piloting easier and more fun with large, outboard-powered boats greatly increased the range of potential owners. And in 2017, Yamaha also developed and released the CL7 color touchscreen display that further increases the ease and convenience of operating large, outboard-powered boats.
In this way, reducing weight and achieving greater compactness, good fuel economy, low noise and excellent environmental friendliness—all while retaining reliability—became the primary aims for all Yamaha 4-stroke outboard development.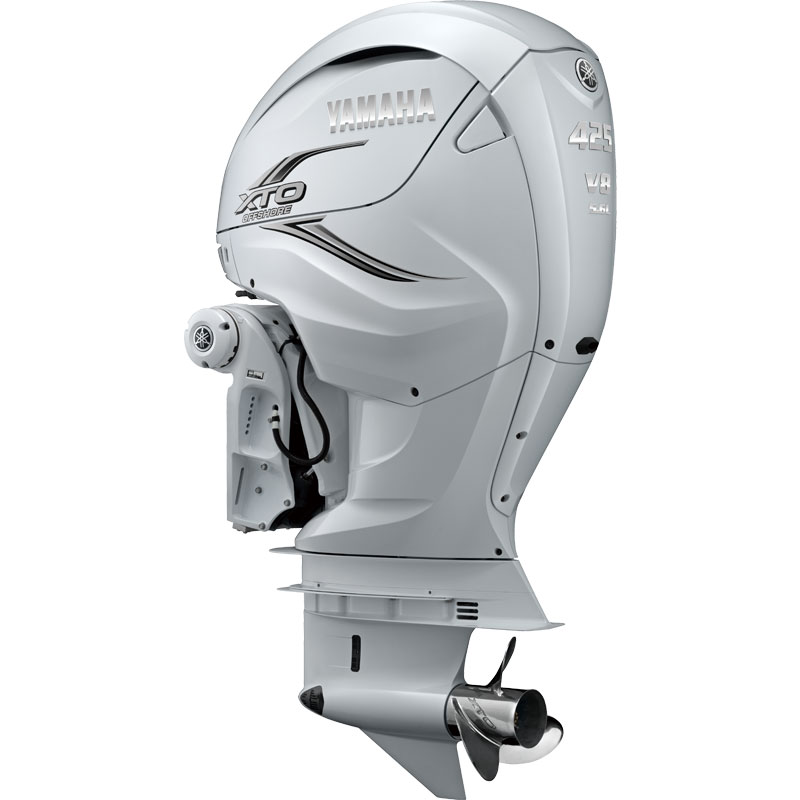 Yamaha's F425A flagship outboard adopts new technologies and materials to further reduce weight and increase the range of boats it can be mounted on.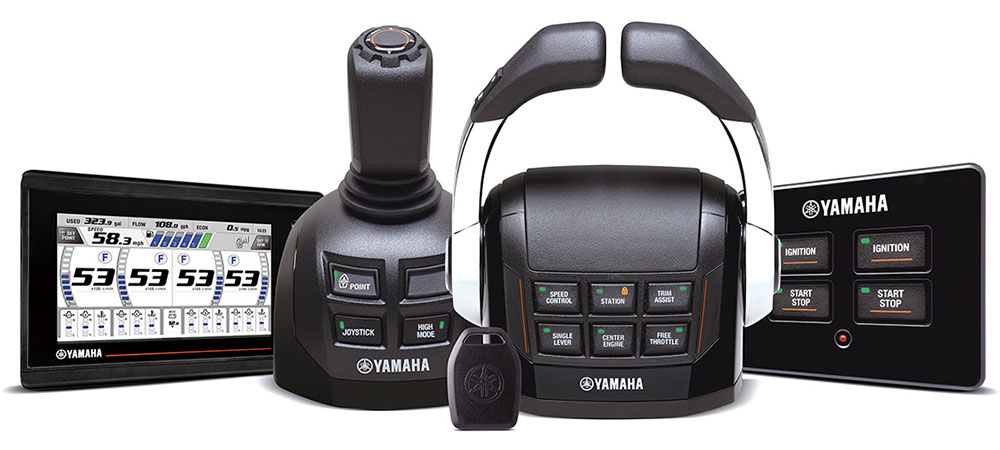 The Helm Master increases the ease of large outboard operation, and in 2017, it gained the SetPoint® feature, which automatically keeps the boat in a set position on the water.
Yamaha Outboard Stories