75-40ps Enduro Models
Main specifications of the 75 to 40 horsepower Enduro models
E75B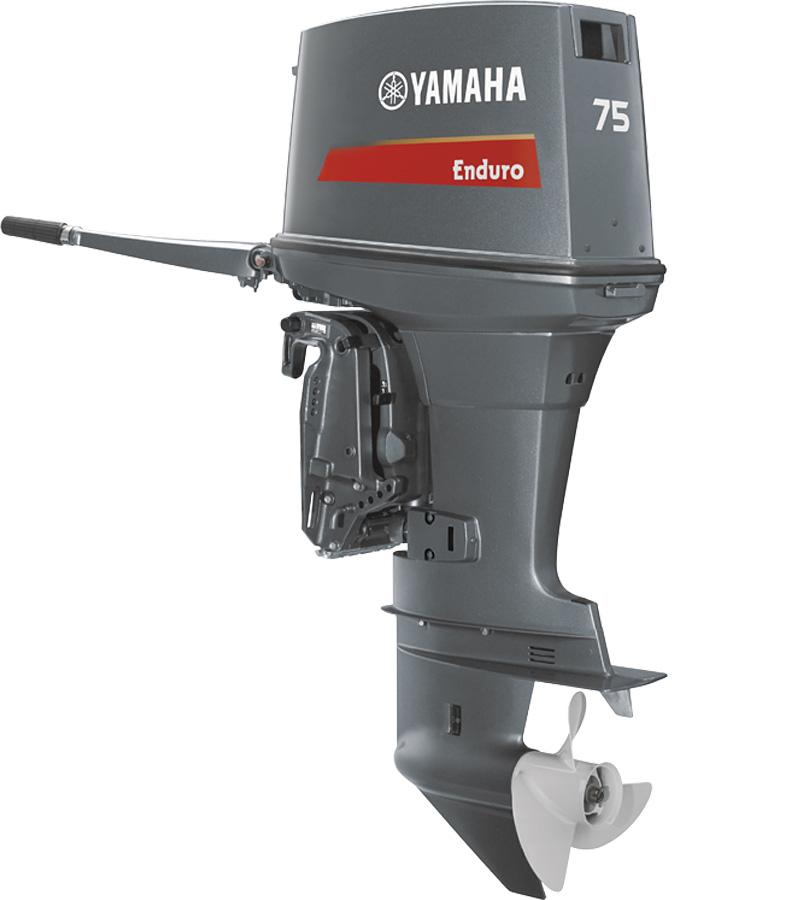 | | |
| --- | --- |
| Engine Type | In-line 3 |
| Displacement [cm3] | 1140 |
| Bore x Stroke [mm] | 82.0 × 72.0 |
| Max. Prop Shaft Output [kW (ps)] @r/min | 55.2 (75) @5000 |
| Fuel Induction System | Carburetor |
| Engine Transom Height[mm (inch)] | L: 516 (20.3) or 521 (20.5), Y: 572 (22.5), X: 643 (25.5) or 648 (25.5) (*depending on model) |
| Dry Weight [kg] * | 112-121 |
| Starting System | Manual Starter or Electric Starter (*depending on model) |
| Controls | Remote Control or Tiller Handle (*depending on model) |
| Tilt System | Hydro Tilt |
| Lubrication System | Pre-mixed Fuel and Oil |
E60H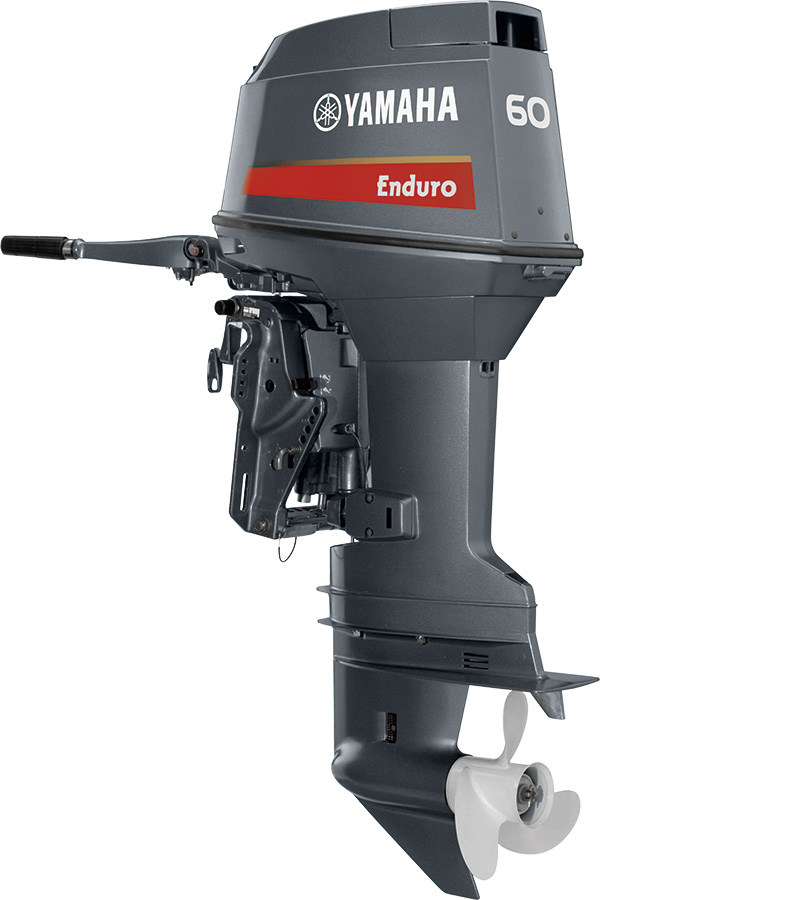 Engine Type
In-line 3
Displacement [cm3]
849
Bore x Stroke [mm]
72.0 × 69.5
Max. Prop Shaft Output [kW (ps)] @r/min
44.1 (60) @5000
Fuel Induction System
Carburetor
Engine Transom Height[mm (inch)]
S: 450 (17.7), L: 571 (22.5), X: 648 (25.5) (*depending on model)

Dry Weight [kg] *
96-105
Starting System
Manual Starter or Manual &

Electric

Starter (*depending on model)
Controls
Remote Control or Tiller Handle (*depending on model)
Tilt System
Hydro Tilt
Lubrication System
Pre-mixed Fuel and Oil
E40X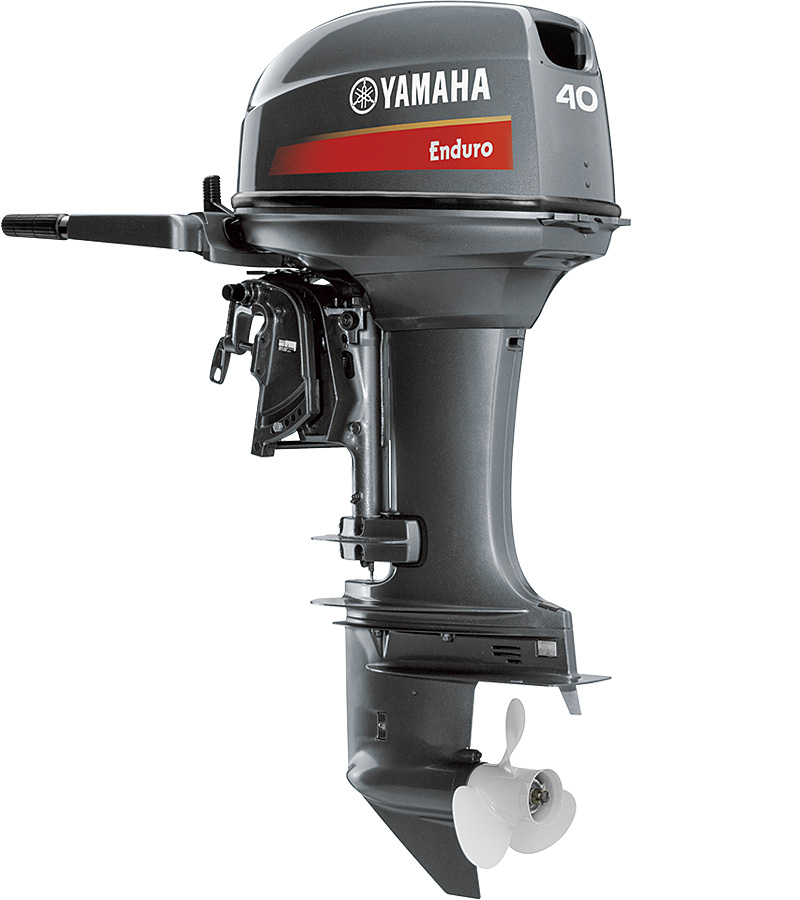 Engine Type
In-line 2
Displacement [cm3]
703
Bore x Stroke [mm]
80.0 x 70.0
Max. Prop Shaft Output [kW (ps)] @r/min
29.4 (40) @5000
Fuel Induction System
Carburetor
Engine Transom Height[mm (inch)]
S: 424 (16.7), L: 550 (21.7), X: 649 (25.6) (*depending on model)
Dry Weight [kg] *
72-81
Starting System
Manual Starter or Manual &

Electric

Starter (*depending on model)
Controls
Remote Control or Tiller Handle (*depending on model)
Tilt System
Manual Tilt or Power Trim & Tilt (*depending on model)
Lubrication System
Pre-mixed Fuel and Oil
E40G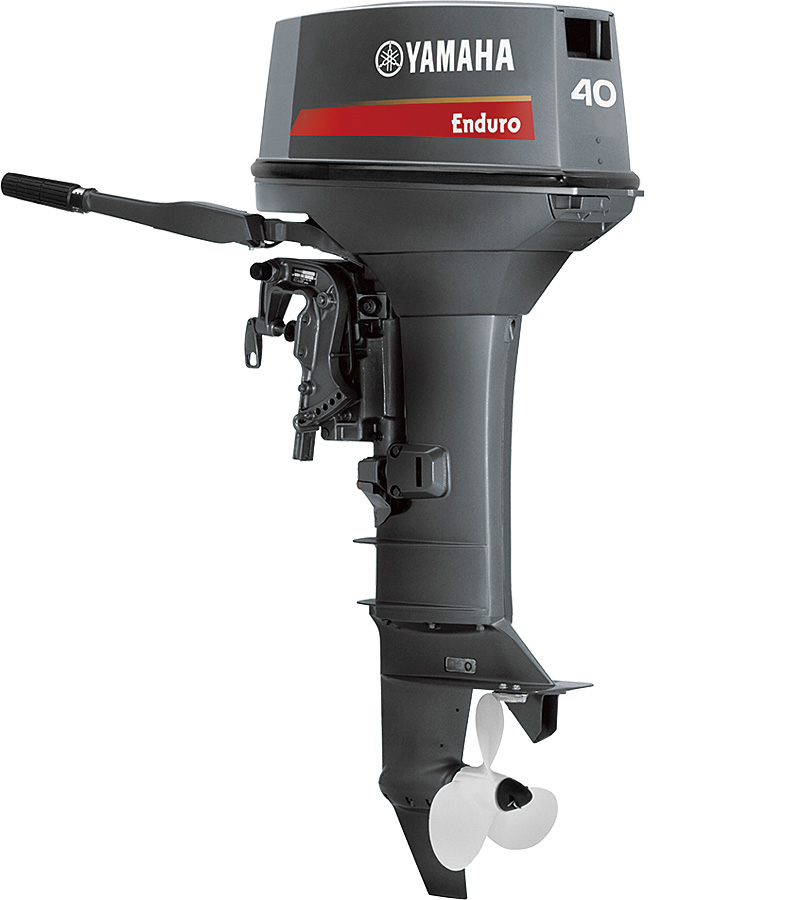 Engine Type
In-line 2
Displacement [cm3]
669
Bore x Stroke [mm]
78.0 x 70.0
Max. Prop Shaft Output [kW (ps)] @r/min
29.4 (40) @5000
Fuel Induction System
Carburetor
Engine Transom Height[mm (inch)]
S: 444 (17.5), L: 571 (22.5) (*depending on model)
Dry Weight [kg] *
65-71
Starting System
Manual Starter or Manual &

Electric

Starter (*depending on model)
Controls
Tiller Handle
Tilt System
Manual Tilt
Lubrication System
Pre-mixed Fuel and Oil
E40J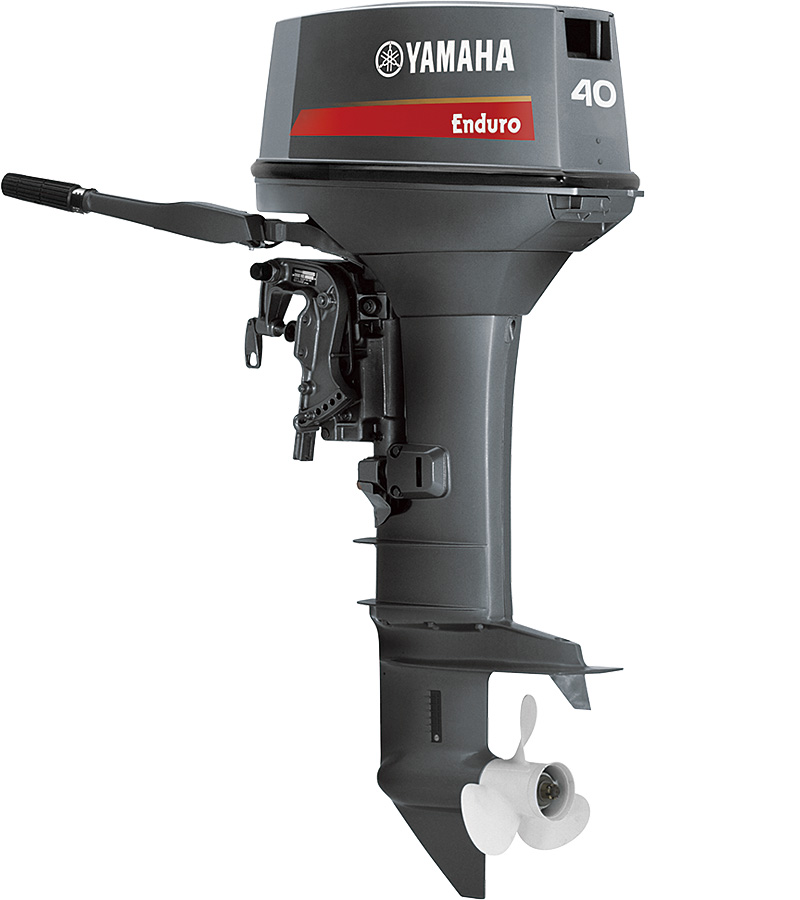 Engine Type
In-line 2
Displacement [cm3]
669
Bore x Stroke [mm]
78.0 x 70.0
Max. Prop Shaft Output [kW (ps)] @r/min
29.4 (40) @5000
Fuel Induction System
Carburetor
Engine Transom Height[mm (inch)]
S: 421 (16.6), L:548 (21.6), Y: 598 (23.5) (*depending on model)
Dry Weight [kg] *
65-71
Starting System
Manual Starter or Manual &

Electric

Starter (*depending on model)
Controls
Remote Control or Tiller Handle (*depending on model)
Tilt System
Manual Tilt
Lubrication System
Pre-mixed Fuel and Oil
* : with propeller
Propellers are sold separately for some outboard motor models.
The lineups of outboard models offered differ by country or area. Product names, coloring and graphics may also differ. The specifications of outboards shown on this website may be changed or production discontinued without notice.
Always read your owner's manual before using the outboard and be sure to use it properly.
Direct inquiries concerning Yamaha outboards to your country's distributor or local dealership..