L4 200-115ps
Yamaha's In-line 4 are not only much lighter but are also capable in a wide range of applications

The in-line 4-cylinder models deliver high performance in a lightweight and compact package. These are multi-functional outboards with excellent fuel economy and great versatility.
Power & Performance
16-valve DOHC engine
The cylinder head features four valves per cylinder, which makes 16 valves in total. Smaller valves weigh less and allow high-speed operation. They supply more air and allow smooth exchange of intake fuel and exhaust gas for more power.
VCT: variable camshaft timing (F200F/F200G/F200N/F200P/F200Q)
The VCT, which advances and retards the camshaft timing according to the engine rpm, the electronically controlled single throttle system and a pulse tuned long intake manifold increase intake efficiency, thereby boosting low and mid-range torque foroptimum acceleration.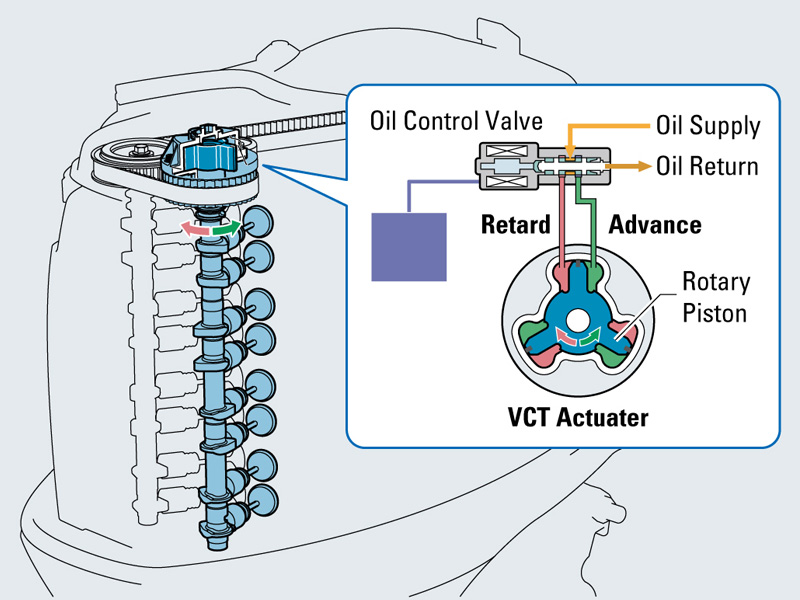 Long intake manifold
*Except F150D/ F150F / F150L
The skillfully designed durable plastic intake manifold provides noise reduction as well as low speed stability.
*The type of manifold used differs by model.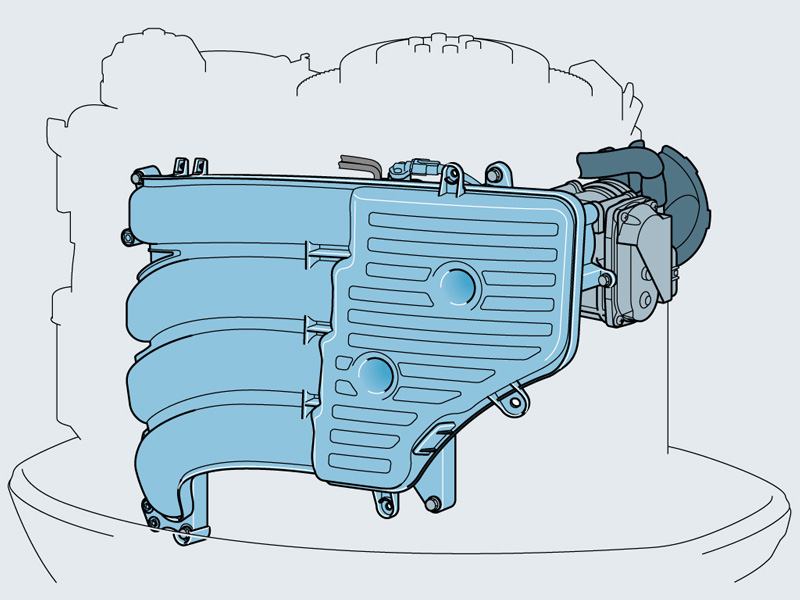 Reliability & Durability
Intake Air Drainig System
*Except F115A
Trendy side intake designed top cowling foreseen latest technology incorporated power head. Superior water separation ability has been inherited in.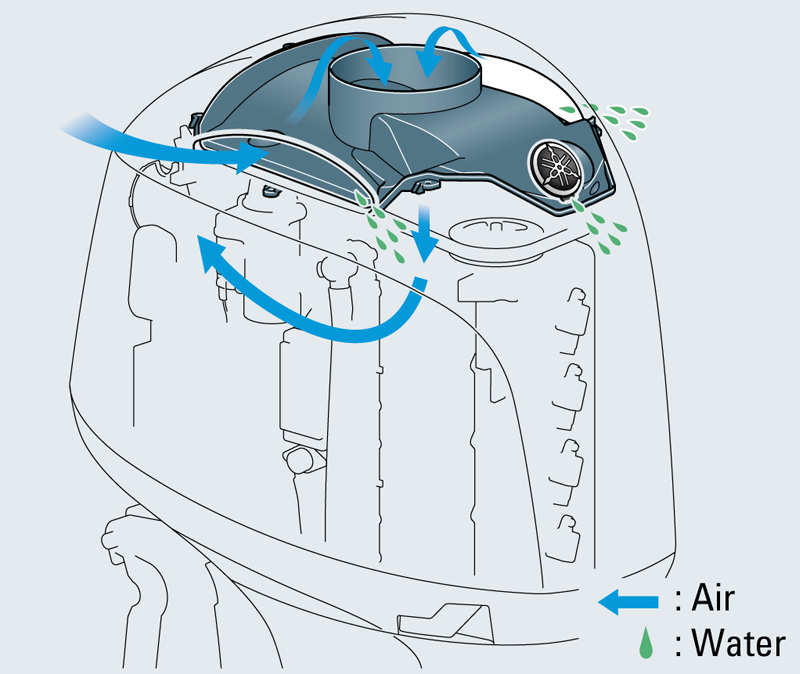 Multi-point electronic fuel injection
The ECM controlled multi-point electronic fuel injection system precisely measures the fuel and injects it into the combustion chamber at the optimum timing to increase performance and assure quick engine start in various environmental conditions such as temperature, and after long storage periods.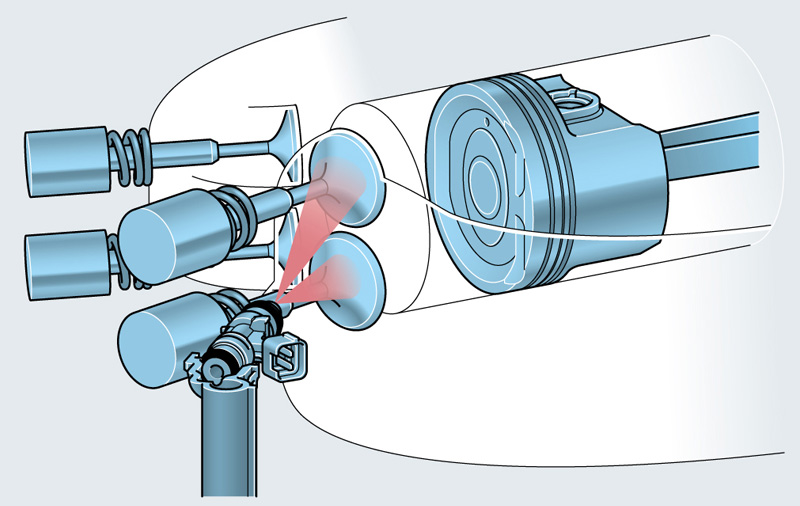 Comfort & Economy
Twin balance shafts
*Except F150F/F130A/F115B
Engine vibration is minimized by the twin balance shaft engaged with the crankshaft and the damper fitted to the flywheel. Best tuned mount system reduces boat vibration transmitted from the engine.
Labyrinth exhaust system
Yamaha's proven labyrinth exhaust system which gradually expands exhaust gases through a labyrinth greatly suppresses engine noise at low to medium speeds.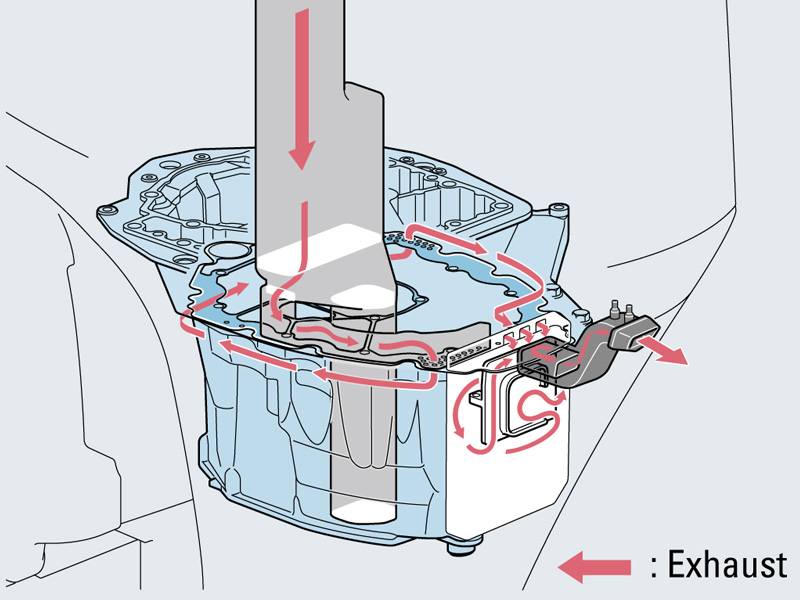 Integrated Electro-Hydraulic Steering system (DES)(F200N/ F175D/ F150H)
This plug and play system uses less rigging component real estate. The electric helm employs steer-by-wire technology to engage the low profile, under cowling Steering Control unit and to control the hydraulic pump that's tucked neatly into the bracket, outside of the boat.
Electro-Hydraulic Steering-equipped outboard motors offer smooth, responsive power steering that's fully compatible with the complete Helm Master™ EX system, including the Full Maneuverability Joystick package. The compact construction of integrated Electro-Hydraulic Steering system also provides more bilge, splash well, and transom space than conventional steering systems.
Integrated Hydraulic Steering system (F200P/ F175F/ F150J/F200Q/ F175G/ F150L)
Featuring the same new streamlined look as the Electro-Hydraulic Steering models, these outboard motors combined a conventional hydraulic helm and lines*1 with an integrated hydraulic cylinder.
Simple in design yet offering all the space-saving, premium benefits of integrated steering, they offer a fresh look and smooth, precise non-powered control. Available for single and twin outboard motor applications*2.
This control system is available for both Digital Electronic Control (DEC, F200P/F175F/F150J and Mechanical control (F200Q/F175G/F150L).

*1: Helm and hydraulic lines from helm to outboard motor purchased separately.
*2: A tie bar are required for twin applications.
TotalTilt™ Function(F200N/ F175D/ F150H/F200P/ F175F/ F150J)
These model are equipped with Yamaha's exclusive TotalTilt™ feature for faster, easier engine tilting. It allows complete tilt up from any position with a simple double-push of the "UP" trim/tilt button, or full tilt down (until trim ram contact) by the same double push of the "DOWN" trim/tilt button. For safety, a warning horn will sound just before and during these operations. Movement and the horn can be stopped anywhere in between by pressing the tilt button again.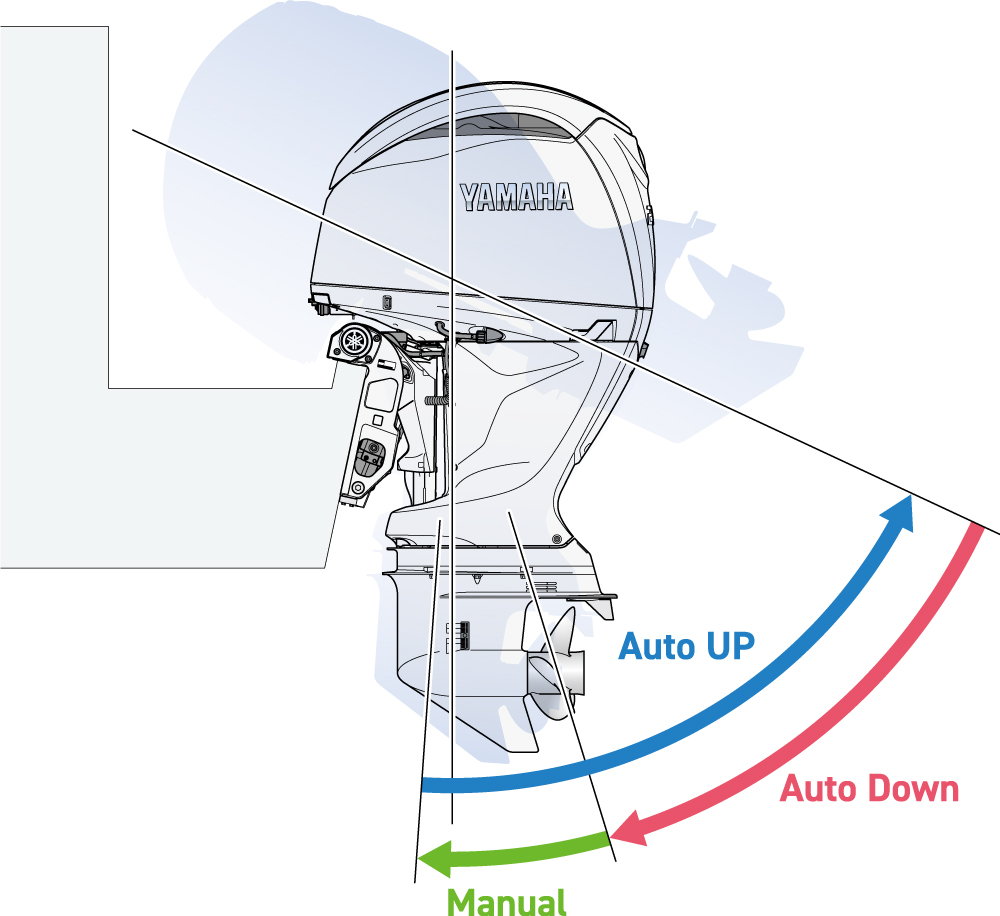 Adapter interface with tilt limit (F200Q/ F175G/ F150L)
These model are equipped with an adapter interface. Analog gauges are also supported.
The gauge display can be fine-tuned by adjusting the volume.
A tilt limiter function is also standard, which can be set by the volume to limit the tilt-up angle.
Styling
New Shape of Cowling (F200N/ F175D/ F150H/ F200P/ F175F/ F150J /F200Q/ F175G/ F150L)
The styling of the new generation is a bold expression that expresses power and thrust with absolute elegance.
The surface lines and style lines are imbued with a sense of unity that expresses elegance.
Looking at the boat from a rear view, the two style lines that start at the top and continue down vertically give an overall slim impression.
Factory Color (F200N/ F175D/ F150H/ F200Q/ F150L)
The factory color for F200N/ F175D/ F150H/ F200Q/ F150L is available to select from Yamaha's traditional gray or pearl white.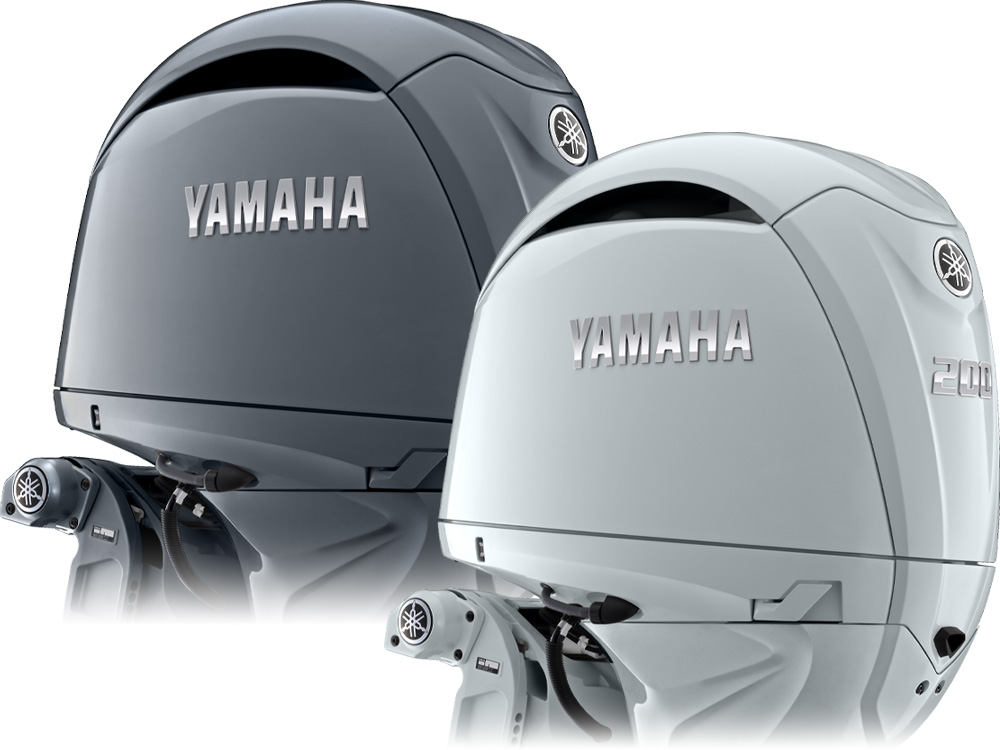 Propeller Light (For F200N/F175D/F150H Optional)
Optional for boats featuring the F200N/ F175D/ F150H with Helm Master™ EX Full Maneuverability, there is an available Integrated propeller light. The light mounts directly in the rear apron of the outboard motors rather than requiring independent lights on the transom. These clearly indicate the boat is actively in Set point mode to anyone approaching from stern.
The lineups of outboard models offered differ by country or area. Product names, coloring and graphics may also differ. The specifications of outboards shown on this website may be changed or production discontinued without notice.
Always read your owner's manual before using the outboard and be sure to use it properly.
Direct inquiries concerning Yamaha outboards to your country's distributor or local dealership..