Detail
Yamaha press releases on our motor sports racing activities
Katsuyuki Nakasuga Wins 12th Career JSB1000 Title
September 25, 2023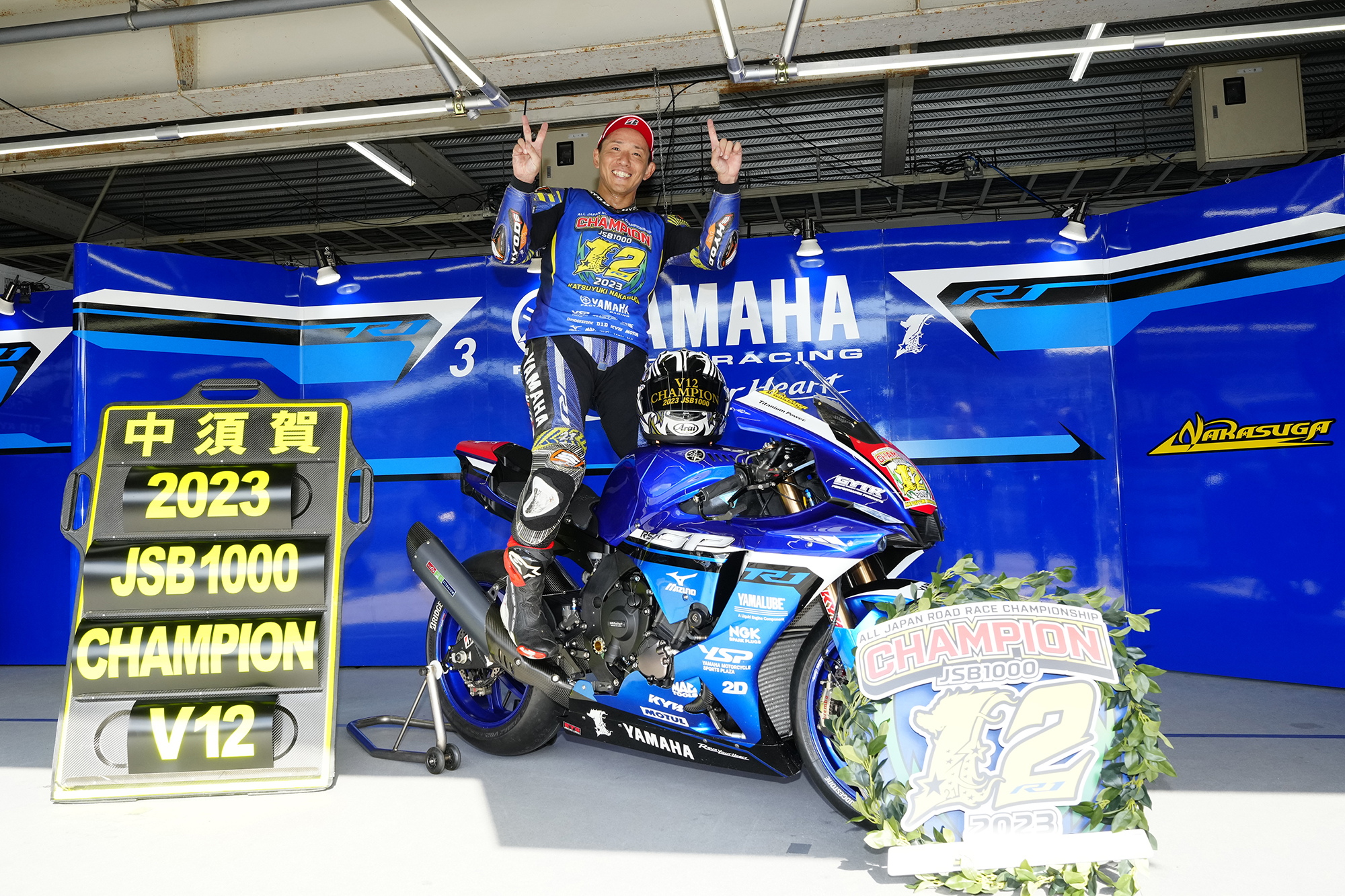 September 25, 2023—On Sunday, September 24, 2023, Round 7 of the All Japan Road Race Championship was held at Okayama International Circuit in Okayama Prefecture, Japan. There, the Yamaha Factory Racing Team's Katsuyuki Nakasuga won his 9th victory of the season in the premier JSB1000 class and in the process secured his third consecutive JSB1000 title since 2021, which was the 12th in total for his career. The title is Yamaha's sixth in a row since 2018 with Nakasuga winning five and Kohta Nozane winning one.
This season, Nakasuga got off to a great start with two wins in the season opener at Mobility Resort Motegi, extending his winning streak to 24 since it began in 2021. He went on to take two wins at the following round at Suzuka Circuit, making it four in a row for 2023 and giving him a 20-point lead over rival and teammate Yuki Okamoto.
At Sportsland SUGO for Round 3, Okamoto took his first-ever JSB1000 win in Race 1 as Nakasuga finished 2nd to end his winning streak at 26. This meant that the pressure was off for Nakasuga, who went on notch up his fifth win for the season in the following Race 2. Two rounds later at Mobility Resort Motegi, Nakasuga scored win number six as Okamoto crashed out, resulting in a 45-point lead in the championship standings for the veteran rider.
In Round 6 at Autopolis, Nakasuga won both races in close contests over Okamoto, which increased his championship lead to 55 points.
Nakasuga set a scintillating lap for a new track record and pole position in qualifying practice at Round 7 at the Okayama International Circuit. In the race, he triumphed in a fierce battle with Okamoto for his ninth win of the season and 85th career win, and in the process clinched his 12th career JSB1000 title.
There is only one round left in the 2023 All Japan Road Race JSB1000 season: The 55th MFJ Grand Prix at Suzuka Circuit scheduled for October 14 and 15. There, the Yamaha Factory Racing Team is aiming to carry on a winning streak that began with the opening round in 2020 and currently stands at 41 consecutive wins as of Round 7.
Katsuyuki Nakasuga
"I knew from the pre-event test that Okamoto was riding well here, so I was expecting a tough battle. That's why I knew I had to get to the front quickly, so I concentrated on the start and knew I had to put pressure on him with a fast pace from the beginning. I was able to do that, so I'm happy because it was a really nice way to clinch the title.
Even before the season started, I had the feeling that Okamoto would be a strong opponent, and he was for sure. He got faster with each race and really surprised me. But his growth has made me grow as well. This is racing, so I think it's really important to have a friendly rivalry like this. I knew racing against him would make me faster, too.
I lost to Okamoto in Race 1 at Sportsland SUGO, but I believe that both winning and losing helps you grow. I think it's because of him that I was able to win the championship in a strong way, and I'm sure that as Okamoto gets even faster in the future, we'll both be able to progress further.
We still have one round left to go with Suzuka coming up, so we can't relax yet. I'll do my best to ride an even better race there in the final round. I have to say thank you to everyone who has supported me so far, as it was thanks to you that I won the title. Thank you from the bottom of my heart."
Wataru Yoshikawa – Team Manager
"This is Nakasuga's 12th title, and I'm amazed at the record he's set. This year, even more than in previous years, he's gotten stronger throughout the season, and I think one of the reasons for that is Okamoto's growth as a rider.
Okamoto owes much of his current form to Nakasuga, who has taught him a lot of things and raised his level up to the point where he's now close to being on par with Nakasuga. But Nakasuga has watched Okamoto's riding get better and better as he's overcome obstacles, so I think it's fair to say that as a team we're at our best right now thanks to the friendly rivalry between these two.
I'm so happy that Nakasuga won the title this year and it gives me a lot of joy to be able to report that to all of our supporters this year. We have to remember that there's still one more round to go, so we'll keep pushing and fight as hard as we can, so I ask for everyone's continued support until the end of the season."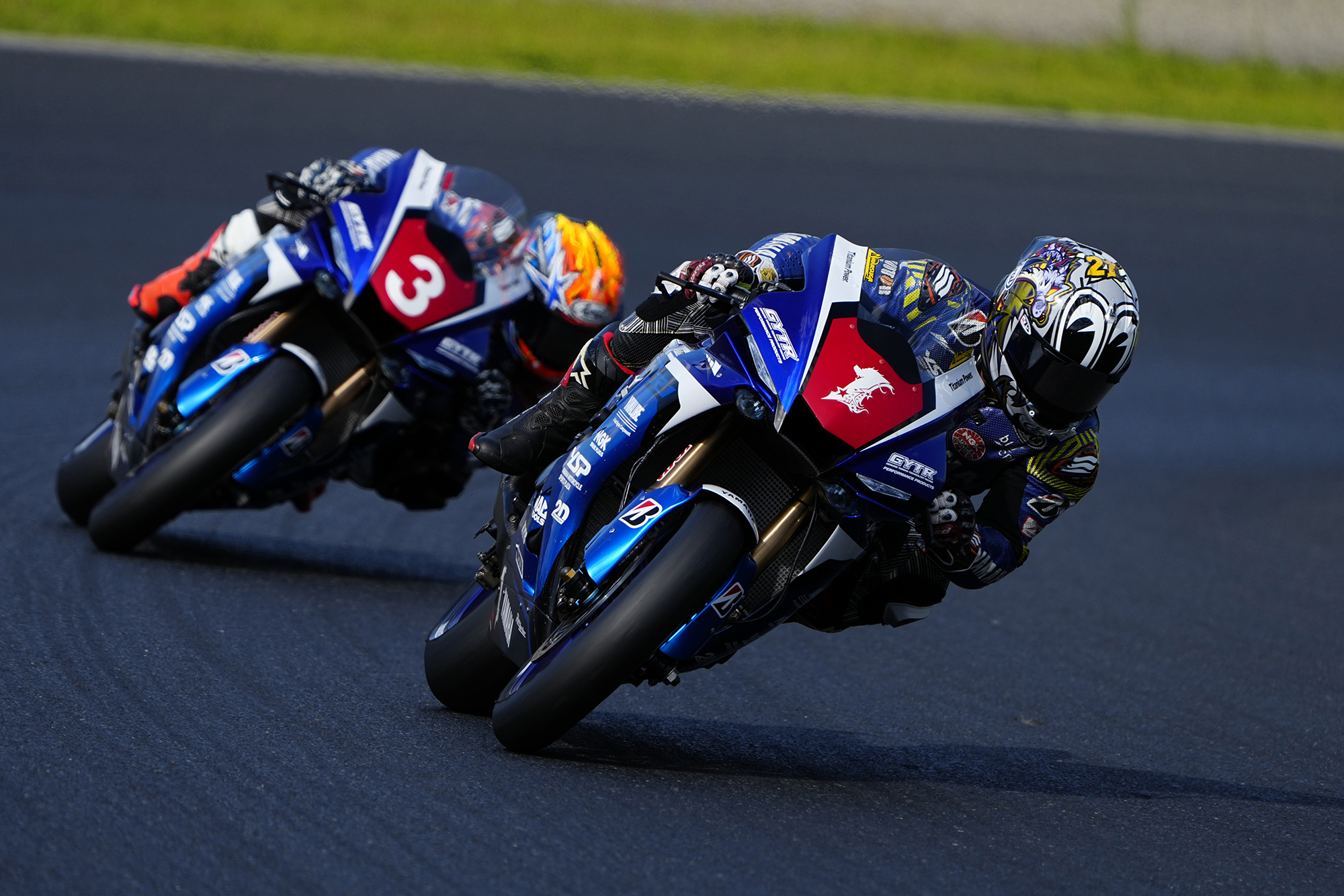 Katsuyuki Nakasuga's 2023 Season Results (as of September 25, 2023)

| Date | Round | Result |
| --- | --- | --- |
| April 1-2 | Round 1 Twin Ring Motegi (Tochigi Pref.) | 1st/1st |
| April 22-23 | Round 2 Suzuka Circuit (Mie Pref.) | 1st/1st |
| May 20-21 | Round 3 Sportsland SUGO (Miyagi Pref.) | 2nd/1st |
| June 18 | Round 4 Tsukuba Circuit (Ibaraki Pref.) | No JSB1000 |
| August 19-20 | Round 5 Twin Ring Motegi (Tochigi Pref.) | 1st |
| September 2-3 | Round 6 Autopolis (Oita Pref.) | 1st/1st |
| September 23-24 | Round 7 Okayama (Okayama Pref.) | 1st |
| October 14-15 | Round 8 MFJGP Suzuka (Mie Pref.) | Yet to be held |