Detail
Yamaha press releases on our motor sports racing activities
2016 All Japan Road Race Championship JSB1000 Class Katsuyuki Nakasuga Secures Fifth Consecutive Premier-Class Title and Seventh of His Career
November 8, 2016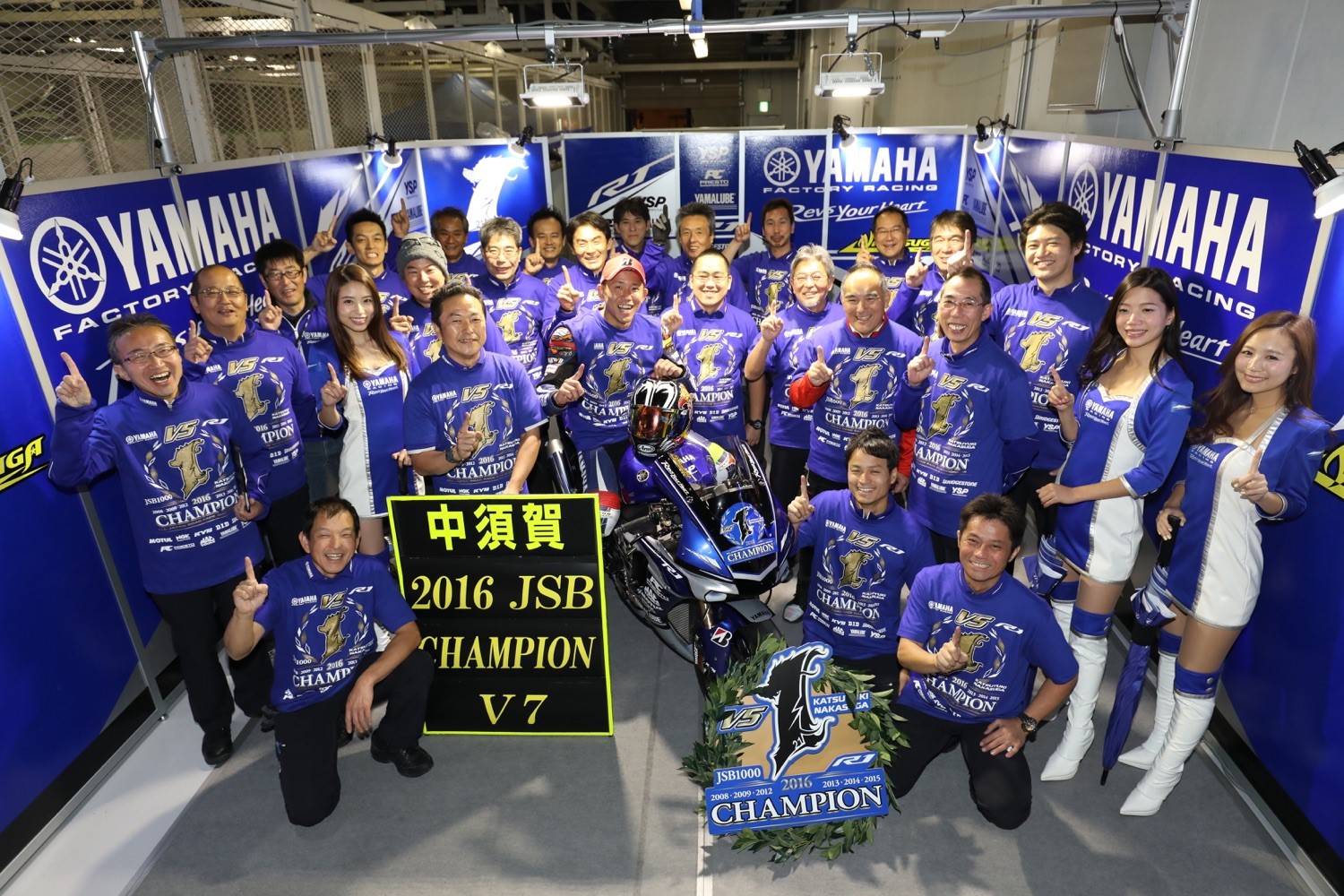 On November 6, 2016 at Round 9 of the All Japan Road Race Championship—the 48th MFJ Grand Prix—held at Suzuka Circuit in Mie Prefecture, the Yamaha Factory Racing Team's Katsuyuki Nakasuga rode the YZF-R1 to victory in Race 1 of the premier JSB1000 class. In doing so, he surpassed his own unprecedented record of four consecutive championships by taking a fifth title and his seventh overall in the class. The Yamaha Factory Racing Team also secured the top spot in the team ranking for the second year in a row.

Nakasuga got his season off to a good start by taking victory at Round 2, the 200 km "2&4"endurance race at Suzuka, and notching up his 30th career win in All Japan competition (1 win in the former GP250 class and 29 wins in the JSB1000 class) at Round 3. Round 4 had been scheduled to be held at the Autopolis Circuit in Oita Prefecture, but was cancelled due to an earthquake that had damaged the track. Round 5 saw Nakasuga take victory yet again, stretching his record of pole-to-win victories since Round 2 of the previous season to 10 in total. The JSB1000 class does not participate in Round 6, and Round 7 at the Autopolis was also cancelled, resulting in a roughly three month interval between races. During that interval the Suzuka 8 Hours Endurance Race took place, where Nakasuga played a pivotal part in the Yamaha Factory Racing Team taking a second consecutive victory at the event before heading into the final half of the All Japan season.

Two races were held at Round 8, of which Nakasuga won the first. The conditions were wet for Race 2 and Nakasuga went on to finish 3rd, bringing his dominant streak to an end with 11 wins, but placing him well within reach of a fifth consecutive title. At the final round at Suzuka, the MFJ Grand Prix, Nakasuga engaged in a fierce battle for the lead in Race 1 before making his move to the front with two laps remaining and stayed there to take the checkers. He secured a record five consecutive premier-class championship titles and brought the total number of national titles for his career up to seven.

Also, the Yamaha Factory Racing Team took team championship honors for the second year in a row. In proving Yamaha's technological prowess, the high level of the team and that the YZF-R1 is "the fastest machine on the racetrack," together with this year's participation in the Suzuka 8 Hours and the Japan round of MotoGP, we believe Yamaha has succeeded in delivering the unique excitement and appeal of motorsports to more people than ever before.
Katsuyuki Nakasuga
"In Race 1 I got nervous and my body tensed up just like I expected it would, but when [Leon] Haslam passed me that flipped my switch and got me going. I was comparing which parts of the circuit I was faster and which he was faster, so it was a very strategic but really enjoyable battle, which I haven't had in a while. I took my fifth JSB1000 title in a row and my seventh overall, so it was a great race. I got a slow start in Race 2 but was able to gradually improve my lap times and eventually take the win just as I'd planned. I'm proud to say it was the kind of riding expected from a champion. Until this point, my most worrying experience was when trying to take a third consecutive title in 2014 after my mistake in my first attempt in 2010. Both last season when I took four in a row and this season, I've accomplished something nobody in the class has done before and I've done it with the mentality of a challenger, which allowed me to approach this season with some margin for error in my mind. I really appreciate all the fans, sponsors and everyone involved who has supported me this year, and I was happy to be able to repay them in the best way with a championship win. It looks like next season our rivals will be entering some new and updated bikes so I think it will be a challenge, but we'll work on improving the R1's performance and reliability as well, so we can aim to extend our record further next season."
Team Manager Wataru Yoshikawa
"We got the machine set up spot-on in the morning free practice, so the team was very confident when we sent Nakasuga out for the races. Though he had a close battle with [Leon] Haslam, Nakasuga was able to put together a solid race and take his fifth consecutive JSB1000 title and the seventh of his career. Looking back on the season, we didn't have any major issues with the bike and Nakasuga put on an amazing performance. Especially at Race 2 in Okayama where we had wet conditions, he missed out on the win but moved one step closer to the title, so I feel like that was a very important 3rd place finish. We were able to achieve this incredible fifth consecutive title thanks to a full year of support from our fans, sponsors and team staff. Thank you all very much. We'll continue our work to put on performances worthy of a factory effort, and work together as a team to contribute to the advancement of motorsports through racing. Please continue to cheer for us again next season!"
Katsuyuki Nakasuga's 2016 All Japan Season Results

| Date | Round | Result |
| --- | --- | --- |
| Apr. 24 | Rd. 2 Suzuka 2&4 (Mie Pref.) | 1st |
| 29-May | Rd. 3 Motegi (Tochigi Pref.) | 1st |
| 12-Jun | Rd. 4 Autopolis (Oita Pref.) | Cancelled |
| 26-Jun | Rd. 5 SUGO (Miyagi Pref.) | 1st |
| Sept. 11 | Rd. 7 Autopolis (Oita Pref.) | Cancelled |
| Sept. 25 | Rd. 8 Okayama Intl. (Okayama Pref.) | 1st/3rd |
| Nov. 6 | Rd. 9 MFJGP Suzuka (Mie Pref.) | 1st/1st |
*The JSB1000 class does not participate in Rounds 1 and 6.