Detail
Yamaha press releases on our motor sports racing activities
| | |
| --- | --- |
| Parkes quickest ever at Misano | Apr. 20, 2006 |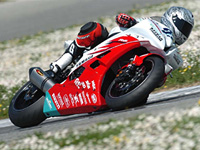 Yamaha Motor Germany rider Broc Parkes finished the second official test of the 2006 WSS season at the top of the timing sheets, with a new Supersport circuit record of 1'36.411 to his credit. His team-mate Kevin Curtain was fourth quickest, having set his fastest lap on the first day of testing, concentrating most of his efforts on machine set-up in preparation for the Misano WSS race in June.

In addition to the regular set-up work on the all-new R6 machine carried out by the team, new and existing specifications of Pirelli control tyres were worked through by both Yamaha Motor Germany riders, with Parkes pleased to see the return of his favourite front tyre at this test.

Yamaha Team Italia rider Gianluca Vizziello was an impressive third fastest overall, his best of 1'36.892 set in the very last of four Supersport sessions. He was one of three riders under the previous circuit best of former Yamaha rider Simone Sanna during the last session of the Misano test. Christian Zaiser (Ducati) was second fastest, with Vizziellos team-mate, Massimo Roccoli, sixth.


Broc Parkes, Yamaha Motor Germany
"On top today and happy. The bike was awesome. The main difference for me today was the front tyre, that and getting to know the bike a lot better. At the end of last year we had a particular front tyre that I really liked but for some reason it was not in the allocation for the first races, but for me, as soon as I get it, I can go. This is also a pretty enjoyable track to ride around."

Kevin Curtain, Yamaha Motor Germany
"This was a very good test for us, and we made the bike a lot better than it was last time we rode. We worked through heaps of stuff on the bike and a whole lot of front and rear tyres. There are no prizes for pole position at a test so I am not bothered about setting the fastest time. The main thing was improving the whole package, and we did that."

Gianluca Vizziello, Yamaha Team Italia
"Today's performance was the result of some very good development work. At the first two races of the year we had not had the bikes for very long, so most of the engine work was done just before the Valencia tests. Then is Spain we must have tried about ten different settings on the suspension, to find the best. We have put all the best parts together now and the bike was great at this test. I like Misano very much and the whole team did a very good job."
Lap times:
| | | | |
| --- | --- | --- | --- |
| Pos. | Rider | Team | Time |
| 1 | B.Parkes | Yamaha | 1'36.411 |
| 2 | C.Zaiser | Ducati | 1'36.507 |
| 3 | G.Vizziello | Yamaha | 1'36.892 |
| 4 | K.Curtain | Yamaha | 1'36.927 |
| 5 | K.Fujiwara | Honda | 1'37.339 |
| 6 | M.Roccoli | Yamaha | 1'37.372 |
| 7 | G.Nannelli | Ducati | 1'37'483 |
| 8 | Y.Tibero | Honda | 1'37.682 |
| 9 | D.Checa | Yamaha | 1'37.745 |
| 10 | A.Aldrovandi | Honda | 1'38.238 |