Detail
Yamaha press releases on our motor sports racing activities
| | |
| --- | --- |
| Nakatomi joins three-man Yamaha Motor France squad | Nov. 18, 2005 |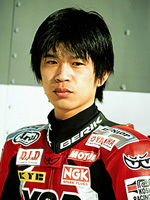 Shinichi Nakatomi
Yamaha Motor France will enter the 2006 Superbike World Championship with a three-rider line-up that sees former Japanese 250cc champion Shinichi Nakatomi join the team's 2005 riders Norick Abe and Sebastien Gimbert.

Twenty-seven-year-old Nakatomi is an experienced R1 pilot, having ridden for Yamaha's YSP Racing Team in the Suzuka Eight-hour and Japanese JSB1000 championship since switching to four-strokes in 2003. Having never raced outside his native Japan, Nakatomi is looking forward to the adventure of racing in the world championships, experiencing the western culture and racing the YZF-R1 at world level.

Yamaha Motor France's squad will again be run by experienced tuner Martial Garcia, whose company is responsible, in conjunction with Yamaha's Japanese headquarters, for the development of Yamaha's YEC racing kit parts development programme for the YZF-R1 and YZF-R6. The team expects to use these parts as the base of their 2006 machines and will use the series as well as an opportunity to test and develop the 2007 range of customer race parts.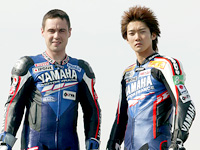 Gimbert and Abe
Completing the squad are Abe and Gimbert, both of whom are looking to improve on their Superbike rookie seasons in 2005. Experienced Grand Prix rider Abe ended his first superbike season in 13th place but, having learned the circuits and the characteristics of the YZF-R1 and championship controlled Pirelli tyres, is looking to become a regular feature in the battle for podium finishes in 2006. Gimbert suffered an injury-plagued 2005 campaign but showed his speed early in the year with a lap record in Qatar and a sixth place in Valencia. The Frenchman will again also feature in Yamaha Motor France's squad at the classic 24-hour races of Le Mans and Bol d'Or.


Shinichi Nakatomi
"Although I still haven't finished the big task of winning the All-Japan JSB1000 title on the YZF-R1, I am going to start a new next season in world superbike and try to focus everything I have learned over the past three years with Yamaha and do the best I can. I don't intend to use my first year in the championship just as a year for learning. I intend to go out there and race aggressively, and I hope to be up there in the race for the championship."

Norick Abe
"This year was my first season racing in the world superbike series and there was a lot that I had to learn. But now, with this season of experience behind me, I am anxious to work on improving the things I wasn't able to do in the off-season and during the season this year so that I can approach the coming season better prepared. Our overseas tests will begin in December and my first aim is to do the best preparation possible during these tests."

Sebastien Gimbert
"I am looking forward to a second year in world superbikes and also staying with the Yamaha Motor France team. My leg injury weakened my performances last season but now I am fully fit and feeling strong. The experiences of myself and the team will allow us to go to each circuit with invaluable knowledge and I believe that we can give a greater representation of our abilities."