Pre-orders in Japan to commence for eve auto, a new transportation service using autonomous EVs ― jointly developed by eve autonomy, Tier IV and Yamaha Motor ―
September 1, 2021
Tokyo, September 1, 2021 – Yamaha Motor Co., Ltd. (Tokyo: 7272) announced today that Yamaha Motor and Tier IV (Headquarters: Nagoya, Aichi, President: Kazuya Takeda), and eve autonomy which was established in 2020 as a joint-venture company have newly developed an autonomous EV. At the same time, eve autonomy (the company) is pleased to announce that it will accept pre-orders from today for the autonomous transportation service eve auto, which is in development for release next summer.

eve auto is an autonomous transport service developed to meet the needs of automated transport in confined spaces, including those required in indoor and outdoor environments. Based on feedback from operations at multiple factories, including Yamaha Motor's Hamakita Plant, this service has been developed to meet the autonomous transportation needs of customers who require running performance, traction and loading capacity.

In line with this service rollout, the company has newly developed a compact EV with a view to mass production for autonomous transportation services. The project was developed by combining the technology of the open-source autonomous driving OS, Autoware, developed by Tier IV, and the highly reliable vehicle body development technology of Yamaha Motor. The unit is capable of handling certain kinds of steps and slopes, and is resilient to changes in the weather and the surrounding environment, while also having a towing capacity of up to 1,500kg, or a loading capacity of up to 300kg.
*Autoware is a registered trademark of the Autoware Foundation

This service is offered as a subscription-type contract with the aim of eliminating the main initial introduction hurdles of high initial costs and extended implementation processes that often hinder the adoption of automation. The company also provides fleet management system and after-sales support.

Due to the growing needs for high-mix low-volume production and chronic labor shortages in logistics at monozukuri-manufacturing sites, it can be difficult to maintain high efficiency in production systems using conventional equipment and operations that assume the availability of workers. By introducing these types of autonomous transportation services, the company can expect to achieve more efficient operations in the factory while reducing the number of accidents caused by human errors.

The service can be used in various places, including manufacturing sites and factories where production lines are subject to significant changes, plants that have transportation needs over large sites, and distribution bases that require automation of transportation, including tackling slopes, travelling between buildings, etc. In addition to commercial service, it can also be used as a research and development platform for autonomous driving technology.

While leveraging each other's strengths, the three companies will provide automated transportation services that are easy for anyone to use under the concept of "Autonomous from today" that eve autonomy advocates.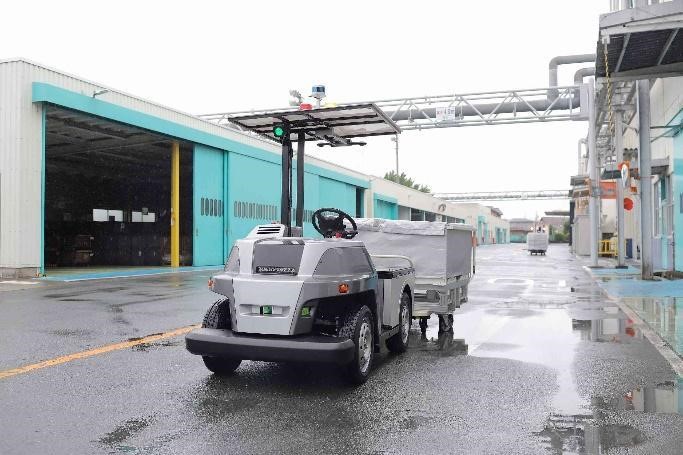 Masanori Yonemitsu, CEO of eve autonomy
"It's a thing of the past that autonomous driving is deemed to be too difficult. We have been able to create an automated transportation service that is easy-to-use for anyone. As we have received inquiries from many customers, not just in the manufacturing industry, we will work to further promote our business in order to meet those expectations."
Shinpei Kato, Founder and Chief Technology Officer (CTO) of Tier IV
"With the vision of 'Intelligent Vehicles for Everyone' using open-source, Tier IV aims to realize a society where everyone can contribute to the development of technology and therefore everyone can benefit from it. By teaming up with Yamaha Motorーwhich boasts the highest manufacturing capacity in Japanーwe will start providing autonomous transportation solutions with the idea of 'bringing the possibility of autonomous driving to all factory types.' We will continue to work on taking a big step toward creating greater social value through the democratization of autonomous driving."
Minoru Iida, Senior General Manager of Research & Development Section, Technical Research & Development Center, Yamaha Motor
"We are working toward greater labor saving and autonomy for short-distance transportation. We look to provide unprecedented services by combining the vehicle technology and control technology cultivated by Yamaha Group using our reliability backed up by our past achievements, together with the latest technology that Tier IV, as a startup, is uniquely positioned to provide. We will also continue working to provide more efficient solutions not only at manufacturing sites like ours, but in a wide range of other fields as well."
About eve autonomy
Representative: CEO, Masanori Yonemitsu
Headquarters: 3001-10 Kuno, Fukuroi, Shizuoka, Japan
Capital: 800 million yen (including capital reserves)
Business Range: Development, sales, leasing, and rental of autonomous-driving vehicles and transport trolleys providing autonomous transportation solutions, various support, and maintenance services, etc.
URL:https://eveautonomy.com/en/
About Tier IV
Tier IV, a deep-tech startup based in Japan, is the creator of Autoware, the world's first open-source software for autonomous driving, and provides full-stack solutions for the commercialization of intelligent vehicles based on the Autoware-defined Autonomous Driving Kit (ADK) running on multiple platforms.
As a founding member of the Autoware Foundation, Tier IV is dedicated to sharing technology with ecosystem partners for safe intelligent vehicles that will benefit all of society. Our aim is to empower individuals and organizations to overcome barriers of time and space to collectively make autonomous vehicles a reality.
About Yamaha Motor
Beginning with its foundation in motorcycle business, Yamaha Motor has leveraged its core competencies of small-engine technology, vehicle body/hull technology, and control technology to span a diverse range of businesses such as the marine business (boats, outboard motors, etc.), power products business (snowmobiles, generators, etc.), industrial robots, electrical power assisted bicycles, and automobile engines. The Yamaha Motor Group includes 140 companies across 30 countries and regions worldwide, which work through product development, manufacturing, and sales, to realize the Corporate Mission of being a "Kando* Creating Company."

*Kando is a Japanese word for the simultaneous feelings of deep satisfaction and intense excitement that we experience when we encounter something of exceptional value.