Yamaha Motor receives its first design award for electric personal mobility TRITOWN — Winning Excellent Product Design at "German Design Award 2021" —
September 30, 2020
IWATA, September 30, 2020—Yamaha Motor Co., Ltd. (Tokyo: 7272) announced today that its electric personal mobility concept model TRITOWN has been given the title "Winner" in the Excellent Product Design category of the "German Design Award 2021." This is the first time that TRITOWN has won a design award.

TRITOWN is a compact electric two-front-wheeled stand-up riding mobility style unit equipped with a LMW (Leaning Multi Wheel) * mechanism. The simple structure in which the rider's posture controls the balance of the unit looks to provide fun-filled last one mile mobility. The models design is characterized by an exquisite sense of unity with its rider and machine combination. Inspired by the shapes and structures that exist in nature, the models Biomimicry design approach has realized a more compact, lighter, and stronger vehicle body. The batteries and components used in the model are also smaller and presented in a stylish package.
As TRITOWN is light and small and can be used by a wide range of people with easy operation; we are conducting testing to verify its usefulness, customer attraction, and commercial value at leisure facilities and parks in Japan.

In the German Design Award, the German Design Council recommends products from around the world which have already been evaluated as of a high design standard. Only after receiving that recommendation can an application be made for this internationally-prestigious design award.
* A general term for a vehicle with three or more wheels which can lean (incline) like a motorcycle.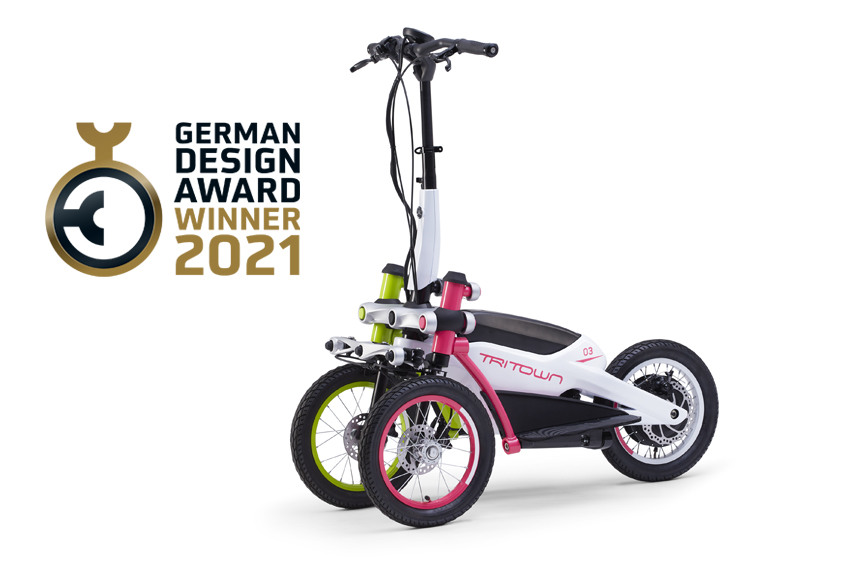 Yamaha Motor Design Award Website https://global.yamaha-motor.com/about/design/awards/