Siam Yamaha Motor Robotics to Launch Pesticide Spraying Service Using Unmanned Helicopters in Thailand - Yamaha Motor's FAZER R model to be deployed in effective, efficient spraying solutions -
August 26, 2020
IWATA, August 26, 2020—Yamaha Motor Co., Ltd. (Tokyo:7272) announced today that Siam Yamaha Motor Robotics Co., Ltd. (SYMR), a joint-venture company in which subsidiary Thai Yamaha Motor Co., Ltd. is a part owner, will launch a pesticide spraying service in Thailand using Yamaha Motor's FAZER R industrial unmanned helicopter, on August 2020.

SYMR will deploy the FAZER R to deliver spraying solutions that help to meet the increasing need for enhanced pest control in Thailand. The solutions will also contribute to more efficient cultivation in line with the Thai government's policy to increase sugarcane and corn production through enhanced weed and pest control and application of growth promoters and sugar enhancers.

In 2015, Thailand introduced its "Thailand 4.0" guidelines aimed at achieving stable growth as a developed economy, including through digitalization and improved productivity in growing core industries such as agriculture and automobiles. In particular, agriculture employs about 40% of the national labor force and accounts for the world's fourth largest sugarcane production volume, so the demands are strong for high-efficiency spraying with unmanned helicopters for more effective weed and pest control and improved sugar content in sugarcane. Since 2015, Yamaha Motor has been conducting research and tests to develop advanced aerial spraying solutions that are more efficient and achieve better outcomes than those of current methods. The initiatives have been carried out in collaboration with the Ministry of Agriculture and Cooperatives of Thailand, including the Office of the Cane and Sugar Board, as well as sugar manufacturing companies and pesticide manufacturers. SYMR is the first company to be licensed by the Ministry of Transport for aerial spraying with an unmanned aircraft in Thailand.

Yamaha Motor's development of unmanned helicopters, drones and robotics technologies is creating new value by improving productivity, labor savings and industrial automation as well as by addressing needs in modern society, including increased sustainability.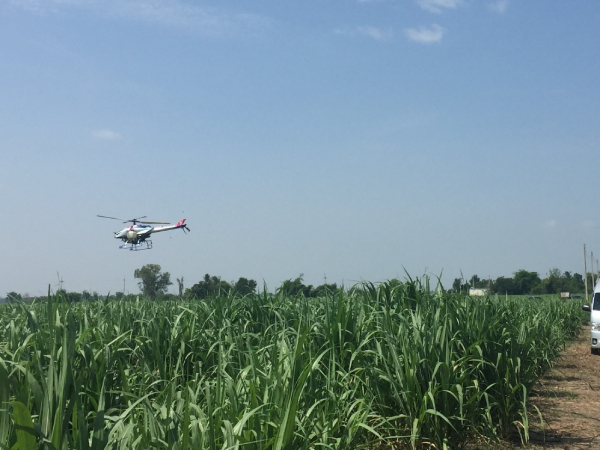 About Siam Yamaha Motor Robotics
Siam Yamaha Motor Robotics Co., Ltd., a joint venture based in Bangkok, Thailand, was established by a conglomerate of Thai and Japanese partners in May 2019. The company supports agricultural advancement through spraying solutions implemented with unmanned helicopters and other technologies. It also conducts studies aimed at increasing agricultural productivity in Thailand.
Yamaha Motor's extensive experience and know-how in providing diverse solutions that incorporate unmanned helicopters, including:
-

More than 30 years of agricultural chemical spraying centered on rice,
-

Observation of disaster sites, such as volcanic eruptions and landslides,
-

Observation of forest growth, and
-

Transportation of materials to maintain transmission-line towers in mountainous areas.
Effectiveness of "unmanned helicopter" for sugarcane
Yamaha Motor's unmanned helicopter enables spraying operations that have been difficult until now. For example, spraying sugarcane with fertilizers and hormones for increased quality and weight becomes difficult once the crops reach a certain height, and spraying ripeners for increased sugar content must be finished quickly within a certain timeframe before harvest.