— Anti-Vibration Device for Automobiles Controls and Absorbs Distortions and Vibrations — Yamaha Motor Produces Two-Millionth Yamaha Performance Damper — Total Damper Production Increases from One to Two Million in just Three Years —
January 22, 2020
IWATA, January 22, 2020 —Yamaha Motor Co., Ltd. (Tokyo: 7272) announced that it has today produced its two-millionth "Yamaha Performance Damper*" anti-vibration damper for automobiles since manufacturing began in 2004. A ceremony to mark this milestone was held at the Numazu Factory of Yamaha Motor Hydraulic System Co., Ltd., a subsidiary manufacturing products such as shock absorbers, whose headquarters is in Morimachi, Shūchi, Shizuoka, Japan.

The Yamaha Performance Damper is a chassis damping component that is installed in the main structural areas of vehicles. It is a device designed to control and absorb minute distortions and vibrations, contributing to improvements in stability and comfort in a wide variety of vehicle types. The Performance Damper was first used in a mass-production model in April 2004, four years on from its basic concept development in 2000. Since reaching the one-million-unit milestone in November 2016, the two-million mark has been achieved only three years and two months later.

The Yamaha Performance Damper has received numerous awards. In 2005, it was chosen for the "Chairman's Award" at the "3rd New Machinery Promotion Awards," hosted by the Japan Society for the Promotion of Machine Industry. In 2006, it received the "Technological Development Award" at the "56th JSAE Awards," hosted by the Society of Automotive Engineers of Japan. In 2008, it was selected for the 40th "Ichimura Prize in Industry for Distinguished Achievement," hosted by the New Technology Development Foundation.
*Yamaha Performance Damper: Trademark registration 5434506.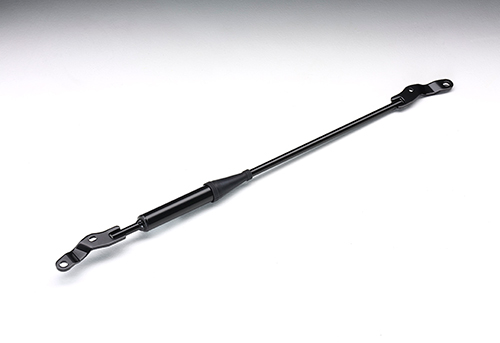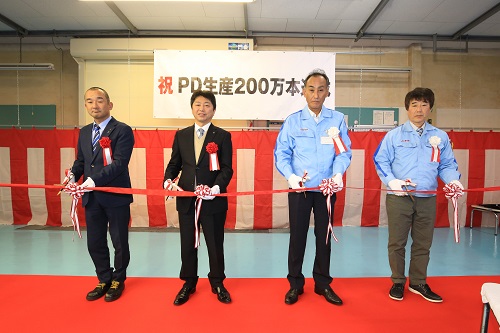 Yamaha Performance Damper (left) and ceremony to mark the two-million-unit milestone (right)
Features of the Yamaha Performance Damper
Normally, when a passenger vehicle is in motion, micro distortions of less than 1mm occur in the body. A metal vehicle body has elastic characteristics and lacks damping force, meaning that external distortion energy is accumulated and released almost unchanged, repeating the cycle of distortion at a natural frequency.
The Yamaha Performance Damper adds a damping element to the chassis, thereby absorbing the distortion energy and releasing it as heat. Along with the expectation of curbing an excessive rate of distortion on the chassis, providing greater mobility and stability at high speeds as well as superior maneuverability when the chassis is subjected to relatively high chassis distortion, the Yamaha Performance Damper also contributes to greater comfort.
For details relating to the Yamaha Performance Damper, please visit
https://global.yamaha-motor.com/business/pd/