Yamaha Motor: Investment and Technology Partnership with Tokyo Robotics Inc. - Entering the "Collaborative Robot" Field to Expand Industrial Robots Business -
January 21, 2020
IWATA, January 21, 2020 - Yamaha Motor Co., Ltd. (Tokyo: 7272) announced today that it has signed a contract with Tokyo Robotics Inc., a startup which grew out of Waseda University. The companies have agreed that Yamaha Motor will become the convertible bondholder of Tokyo Robotics, and will also provide investment and technology. Yamaha Motor intends to build on Tokyo Robotics' strengths in the collaborative robot field to expand the scale and coverage of its industrial robotics business.

Collaborative robots, or "cobots," are designed to interact with human operators. With a background of labor shortages and increasing personnel expenses as well as requirements for advanced automation in new fields such as IoT and CASE, the demand for cobots is increasing not only in developed markets, but also in emerging markets such as China.

Tokyo Robotics Inc. has strengths in joint flexibility (force control) technology, which is essential for increasing the sophistication of cobots. Through its extensive manufacturing experience, Yamaha Motor has capabilities in achieving mass production which delivers high quality, low cost, and timely supply. The two companies are aiming to enter the cobot market by leveraging their combined strengths.

This initiative is part of "ART for Human Possibilities, Advancing Robotics," which is one aspect of Yamaha Motor's long-term vision. With the aim of freeing up new time for customers, we are applying our technology in the robotics field to provide solutions to issues in sectors that include Monozukuri (engineering, manufacturing and marketing), agriculture, and medical research. Particularly in the field of Monozukuri, we plan to utilize our strengths in the industrial robots business - where markets are growing strongly and the range of applications is broad - to strengthen our product variations (including cobots) and thus provide total solutions to our customers.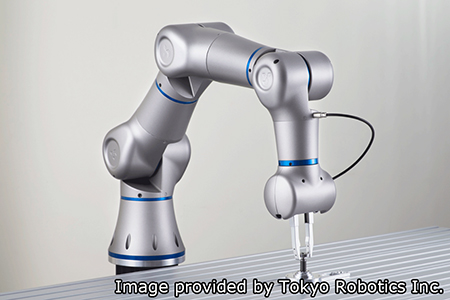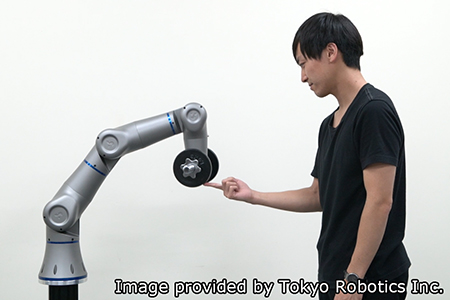 Overview of Tokyo Robotics
Representative
:
Yoshihiro Sakamoto (President)
Headquarters
:
Waseda Incubation Center #05,
Nishi-Waseda 1-22-3, Shinjuku, Tokyo
Established
:
January 2015
Capital
:
14.04 million yen (including capital reserves)
Business Details
:
Robot system development, manufacturing, sales