Yamaha Motor & WASSHA Evaluate Logistics Business — Utilizing Tanzania Retail Network Platform Created by UTokyo Start UP —
December 24, 2019
IWATA, December 24, 2019—Yamaha Motor Co., Ltd. (Tokyo: 7272) today announced that the company in association with WASSHA Co., Ltd. (WASSHA), a University of Tokyo-based startup aiming to build the largest retail network platform in East Africa, will evaluate a logistics business utilizing a retail network platform created in Tanzania from 2020.

Since 2015, WASSHA has partnered with a small grocery stores (kiosks), which are the starting point for the everyday life and purchasing behavior of general consumers in Tanzania, to build a retail network platform for residents in yet to be electrified areas. Here the work is focused on an Energy as a Service (EaaS) type of business that rents lanterns for LED lighting.

In Tanzania and other African countries, highly efficient logistics systems are not yet fully available, which is one of the main factors hindering economic growth.
Through the partnering with WASSHA, the two companies hope to help solve this social problem and further contribute to the economic growth of emerging countries by improving the efficiency of last mile logistics through agile mobility, delivery tracking, and delivery route optimization technology.

To date, Yamaha Motor has continued to contribute to help resolving social issues in the African market by selling and servicing motorcycles, fishing boats and outboard motors, boats, generators, small water purifiers, and also providing technical guidance.
In the last few years, through investment in Nigeria's on-demand motorcycle taxi company MAX and in cooperation with Kenya's drone service company Astral Aerial Solutions, Yamaha Motor has been promoting business development that can contribute to improving some of the social issues in Africa and also booster the progression toward sustainable growth.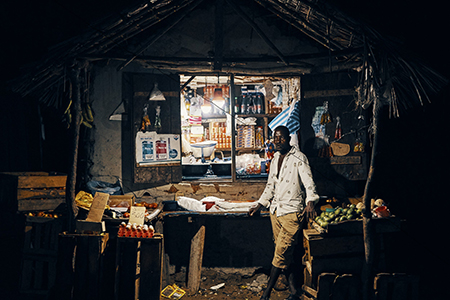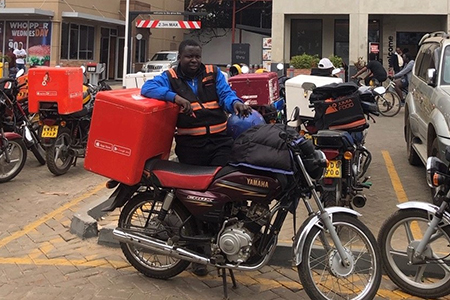 WASSHA
President and Representative Director
:
CEO Satoshi Akita
Headquarters
:
Room 305, Entrepreneur Plaza, University of Tokyo 7-3-1 Hongo, Bunkyo-ku, Tokyo
Established
:
November 28, 2013
Capital
:
2,013.5 million yen (including capital reserves)
Business Details
:
Platform business utilizing kiosks
Energy as a Service (EaaS)
(Provision of electricity services to yet to electrified areas using IoT technology)
Notable Achievements
:
Affiliated stores: Approximately 1,500 stores (as of December 2019)
Main Overseas Offices
:
Tanzania branch (Japanese Staff: 3, Tanzanian Staff: 150)
Uganda Branch (in preparation)
*As of December 2019