Yamaha Motor Assists in Marine Plastic Survey
December 11, 2019
IWATA, December 11, 2019—Yamaha Motor Co., Ltd. (Tokyo:7272) announced today that it will participate as a survey support partner in the "Scientific Survey of Marine Plastic Pollution" being run by the Japan Agency for Marine-Earth Science and Technology (JAMSTEC).

Held in conjunction with the 2019-2020 Japan–Palau Goodwill Yacht Race (hosted by the Kanagawa Prefecture Sailing Federation etc.), which starts on December 29, 2019 at the Yokohama Bay Bridge, this survey involves scientific study of marine plastic pollution by the yachts competing in the race as well as support vessel, the tall ship "Miraie" . In support of the survey's aims, Yamaha Motor is sponsoring the survey costs and sending one of its staff to participate. This staff member will principally be in charge of survey records, organizing and managing photos and data so that the JAMSTEC researchers on board Miraie can focus on their specific surveys, but also provide communications about the state of marine plastic on the waters they sail through.

At the end of 2018, Yamaha Motor announced its long-term vision until 2030, as part of which specifying resource and environmental issues as one of the important issues which Yamaha Motor should address. As one of Yamaha Motor's major business areas, Marine Business operations have also formulated the Marine Long-Term Vision, aiming to be a business which further increases the value of the ocean. This survey is one initiative in sync with this Vision.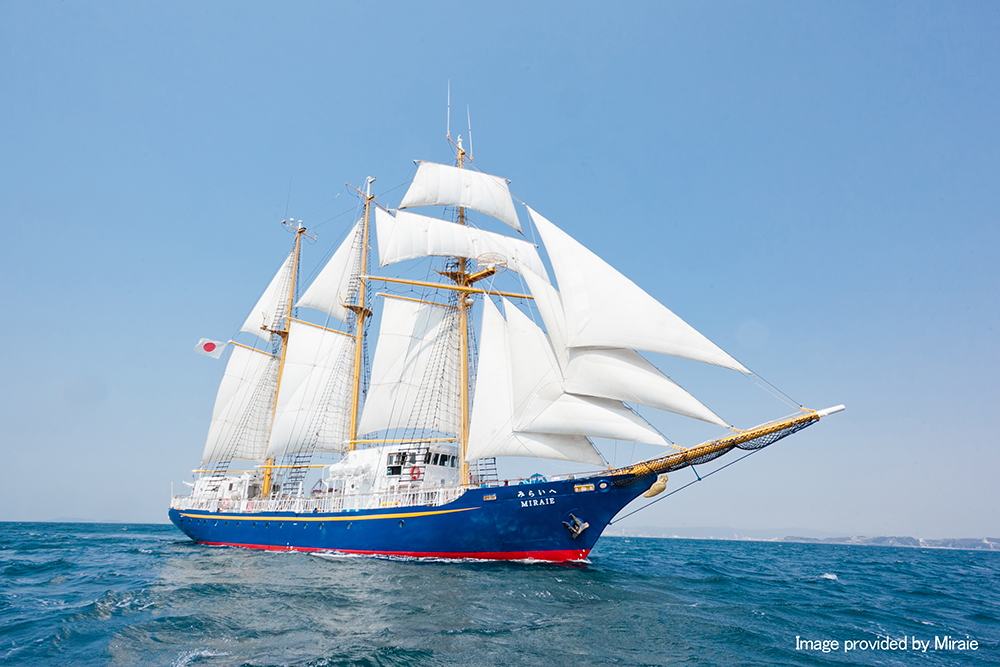 Survey Overview
*Source: Materials published by JAMSTEC
● Vessel: Tall ship Miraie, gross tonnage 230 tons (domestic), overall length and width: 52.16m x 8.60m
● Starting on December 29, 2019 at the Yokohama Bay Bridge, heading south into the Pacific
Sailing 1,726 nautical miles (3,197km) to the south seas tropical island nation of Palau
● Microplastic collection devices will be installed on the yachts competing in the race as well as on the support vessel Miraie, gathering microplastic from the waters the yachts sail through
● JAMSTEC researchers will be part of the Miraie's crew, conducting several surveys including plastic collection via a plankton net
● The crew of the Miraie is also planned to include young people and other members of the general public from the Republic of Palau, for whom educational programs related to the marine environment such as observing the survey work will be provided.
● After the race, this initiative will be publicized through a range of channels, including the showcasing the survey results at an awards ceremony hosted by JAMSTEC.
Partner Company and Organization Outlines
Co‐operating institutions (alphabetical order, as at November 1, 2019) *Source: Materials published by JAMSTEC
● Japan Agency for Marine-Earth Science and Technology: Conducting surveys http://www.jamstec.go.jp/j/
● Promotion of Global Human Resource Development Organization: Provision of survey opportunity (sailing of the Miraie) http://www.miraie.org/
● Mitsui O.S.K. Lines, Ltd.: Survey support partner https://www.mol.co.jp/
● Japan–Palau Goodwill Yacht Race Committee: 
Provision of survey opportunity https://japan-palau-yachtrace.com/
Sources:
- http://www.jamstec.go.jp/j/jamstec_news/20190730/