Yamaha Motor Opens Orders for YAMAHA 470 CPH — Launch of Newly-Developed International 470 Class Yacht Model —
May 8, 2019
IWATA, May 8, 2019—Yamaha Motor Co., Ltd. (Tokyo:7272) today announced the development of the YAMAHA 470 CPH new model of international 470 class yacht, with orders being accepted from May 30, 2019.

Designed in France in 1963, the 470 class is a compact two-person racing yacht. Internationally, the class features in the Sailing World Cup, contested by the world's elite sailors, and in Japan, it is used in university and company regattas, as well as being an official event (for adult males) at the National Sports Festival.

Within the framework of the design and construction specifications set by the World Sailing, the YAMAHA 470 CPH was designed to optimize the balance between rigidity and moment of inertia, delivering a high level of both durability and maneuverability, and aiming to improve performance across all wind conditions.

470 class yachts are constructed under the "International 470 Class Rules" by boat builders licensed after screening by the World Sailing, and Yamaha Motor is one of only two companies in Japan licensed to produce 470 yachts.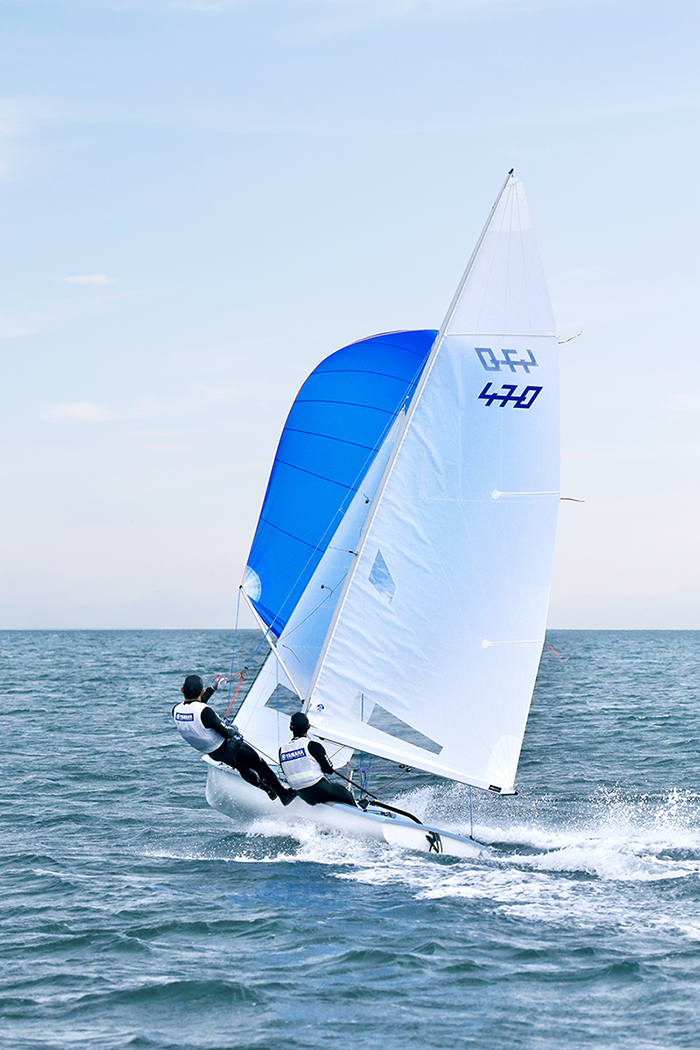 The International 470 Class
Designed by André Cornu in France in 1963, the 470 class is a compact two-person racing yacht. The name 470 ("Four-Seventy") is derived from the overall length of the boat, 4.7 meters.

It became an international class in 1969, and since then has been used in many international regattas, now featuring as a category in the Sailing World Cup, a racing series held in many venues around the world.

The appropriate total weight of the two crew members is around 130kg, which is considered to be suited to Japanese sailors, who are generally smaller in stature than their Western counterparts. Because of this, the 470 is an official class in university, company, and National Sports Festival regattas, and is one of the most popular types of racing dinghy in Japan.

In addition, the 2019 470 World Championship (for men and women) and Sailing World Cup will be held in August 2019 at Enoshima Yacht Harbour, Japan (Fujisawa City, Kanagawa Prefecture).
Key Dimensions
| | |
| --- | --- |
| Specifications | YAMAHA 470 CPH |
| Overall Length | 4.75 m |
| Waterline Length | 4.44 m |
| Overall Width | 1.73 m |
| Bare Hull Weight | 86 kg |
| Full Weight | 120 kg |
| Draft (centerboard up/down) | 0.15m/1.05m |
| Total Sail Area | 12.7 m2 |
| Crew | 2 Persons |
【Contact】
Okumura Boat
TEL:+81-792-54-5630 / E-mail: info@okumuraboat.co.jp
For orders and sales , Okumura Boat (Himeji City, Hyogo Prefecture) will handle on behalf of Yamaha Motor Co., Ltd..