Yamaha Motor in Cooperation for Smart Agri Software Services — Working with experts in observation and analysis to bring smart pesticide spraying and fertilization management —
March 13, 2019
IWATA, March 8, 2019—Yamaha Motor Co., Ltd. (Tokyo:7272) announced today the beginning of a cooperation between three expert companies in observation and analysis as they work toward the start of supplying the "Yamaha Motor Smart Agriculture Platform (YSAP)," a software service run on smartphones or personal computers that can easily manage agricultural chemical spraying & fertilization work data from the agricultural multi-rotor "YMR - 08" drone or from industrial unmanned helicopters.

YSAP is a service planned and developed based on the concept of taking "New agriculture created from the sky and advancing spraying services one step further ahead." This service enables management of pest control and top-dressing work plans, work history and flight position information of aircraft in operation etc. in an easy to manage screen with excellent operability. By using this service together with a YMR - 08 and/or an industrial unmanned helicopter etc., we aim to increase the efficiency and value of spraying work through managing data of highly efficient and high-precision pest control, top-dressing, as well as spaying work.

In starting this experiment, the Company is working to improve this service and its utilization value in areas such as growth analysis of agricultural crops, soil analysis in the field, optimum fertilization plans, and load reduction of pesticide spraying work; the Company is also in cooperation with Kokusai Kogyo Co., Ltd, a company that offers "Appare" - a service that works to improve farming productivity using satellite image analysis -, TOPCON Corporation with its "Crop Spec" - laser-based growth sensors indispensable in the operation of a variable top-dressing system -, and Water Cell Co., Ltd. with its "agri-note" - an agricultural support system that can unify the management of process data for a series of agricultural work.

The provision of this smart agricultural service is part of the "ART for Human Possibilities, Advancing Robotics," which is one of the Company's med-long-term growth strategies headed toward 2030. Through accelerating the development of robotics technology and unmanned systems, the Company aims to respond to the increasing need for higher value-added agricultural management and labor saving & automation in the agricultural field.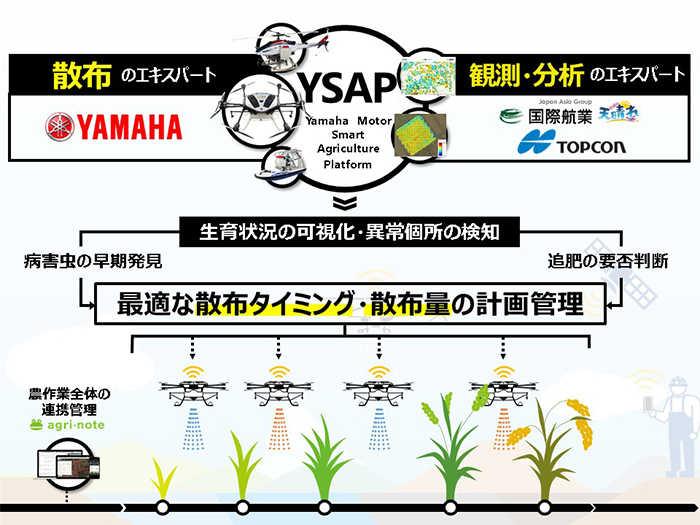 Market Background and Product Outline
The average age of Japanese agricultural workers now exceeds 66 where it was 50 in 1990, and the number of agricultural workers has decreased from 4.8 million to around 2 million throughout the same period. This has led to a strong demand for further labor saving and greater efficiencies.
In response to these social issues, Yamaha Motor is accelerating the acquisition of knowledge in the smart agriculture field while contributing to the promotion of advanced agriculture by working with companies that enhance the functions of products. We have UMS (Unmanned Systems) starting with industrial-use unmanned helicopter ("unmanned helicopter" herein after) that is engine-driven to cover long range and large payload, drones that are lightweight, powerful, and nimble, and that realize a high spraying quality comparable to unmanned helicopters, and unmanned boats which can be operated remotely in paddy fields for spraying herbicides, as well as a wide range of other unmanned product groups including agricultural UGV (Unmanned Grand Vehicles) that support further automation in areas such as fruit growing etc.
The commencement of this "YSAP" demonstration experiment is part of initiatives aimed at enhancing the added value of unmanned helicopters and drones in improving efficiency and accuracy for spraying work.
What's possible with YSAP
Planning and management of spraying work through simple operation
Spraying managers use an application based on our systems built on Yamaha Motor's long-term experience in spraying, to easily manage spraying schedules, operators, and other spraying equipment etc. As the work schedule is shown on mobile devices, the spray operator can work more efficiently.
Simultaneous application of spraying and fertilization combined with image analysis and field observation help to increase farm work efficiency
YSAP can easily collect data from and visualize growth progress etc. through image analysis and field observation. These more appropriate data-based fertilization designs enable producers to reduce their workloads in field checks and fertilization work.
Increased yields and lower production cost through high efficiency, high-precision spraying and fertilization
As field management for areas such as crop growth can be done more appropriately based on data, producers can expect greater returns by the ability to apply spraying and fertilizing (top-dressing) to meet the specific requirements at the field. Using only the optimum amount of top-dressing product also leads to the cost savings on fertilizer.
Partner Company Outlines
Kokusai Kogyo Co., Ltd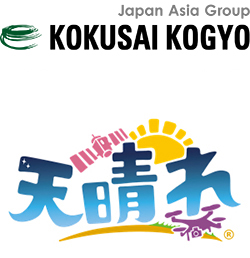 Kokusai Gogyo is a spatial information consulting company positioned as a pioneer in aerial photogrammetry with more than 70 years of experience.
The company helps to contribute to solving social issues, and in leading the creation of safer and securer city planned "green communities" through information obtained from aerial surveys and its analysis, and by supporting energy development, as well as maintenance and construction of social infrastructure, disaster prevention, and environmental conservation.
In recent years, through the application of aerial imaging know-how to the agricultural field, the company has provided its "Appare" service - a farming support service designed for diagnosing growth levels on fields, farms, and crops using artificial satellites and drones helping contribute to improved agricultural production, and lower costs nationwide.
Kokusai Kogyo Co., Ltd Company Overview:
http://www.kkc.co.jp/english/index.html
"Appare" Service Overview(Japanese only):
https://agriculture.kkc.jp/
TOPCON Corporation:

A manufacturer of precision optical equipment that is globally developing positioning products (surveying instruments and ICT construction) and ophthalmology related medical equipment.

For automatic tractor steering systems, TOPCON provides worldwide solutions for agricultural businesses realizing greater efficiency in farming processes such as planning, seeding, cultivation/management, and harvesting.

In addition, we have a solution to optimize pesticide spraying and fertilizer application by combining a non-contact growth sensor "Crop Spec" which can accurately and precisely measure the growth of crops in real time without being influenced by sunlight, and a variable spraying system.
TOPCON Corporation - Company Overview:https://www.topcon.co.jp/en/
Crop Spec Product Overview: https://www.topcon.co.jp/positioning/products/product/agri/CropSpec_J.html
Water Cell Co., Ltd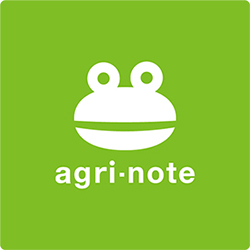 This is an IT solution company that develops and provides "agri-note," a platform for agricultural operations, field and staff data management.
In addition to PC browsers, agri-note can easily input, view, or output farm work and crop growth records from smartphones and tablets through dedicated apps for easy data-based field management and quick formulation of operation plans.
Water Cell Co., Ltd - Company Overview:
https://water-cell.jp/
Agri-Note Service Overview:
https://www.agri-note.jp/
YMR-08 Overview
The YMR - 08 is a product developed with the basic design philosophy of "What is really needed in the actual spraying site?" - The YMR-08 has the aim of being a device capable of spraying specific areas as the operator intends and achieving continuous spraying of up to one-hectare areas in one flight* realizing high quality spraying comparable to our unmanned helicopters.

YMR-08 is equipped with 1) a powerful downwash spraying function by counter-rotating blades, 2) three flight mode selection functions aiming to reduce operator workload and uneven spraying, and 3) a Japanese quality cartridge type battery and motor etc.

In 1988, Yamaha Motor began selling unmanned helicopters used for spraying chemicals, and the number of our unmanned helicopters held in Japan as of the end of 2017 exceeded 2,700 aircraft.
In 2017 unmanned helicopters sprayed over one million hectares, covering more than 40% of Japan's domestic rice paddy cultivation areas.
*Based on continuous spraying on flat land. Varies depending on the field conditions.