Yamaha Motor to Exhibit at "SLAS Europe 2018"— Offering Automation of Testing Processes Using the CELL HANDLER—
IWATA, June 25, 2018
IWATA, June 25, 2018—Yamaha Motor Co., Ltd. (Tokyo:7272) announced today that it will exhibit the CELL HANDLERTM cell handling device at the inaugural SLAS1 Europe 2018 Conference and Exhibition to be held from June 27 to 29 in Brussels, Belgium. The focus of this conference is on laboratory automation and screening devices. The Yamaha Motor exhibit will introduce the CELL HANDLER, a revolutionary system that delivers automation of spheroid/organoid screening as utilized in, among others, anti-cancer agent sensitivity tests and biomarker discovery research.

The CELL HANDLER provides an innovative high speed and ultraprecision platform which enables automated, rapid target cell transfer, imaging, and digitization to replace the conventional manual method of 3D cell culturing. It can select iPS cells and transfected single cells, efficiently, rapidly and accurately pick target spheroids/organoids cultured in gels, and be applied to Ex vivo tissue2 image selection and direct picking.

The benefits of the CELL HANDLER, which enables high-throughput screening and testing of single cell and multicellular aggregates, will attract many visitors who are specialists in medical research fields. Yamaha Motor aims to spread awareness of the CELL HANDLER, and contribute to the development of high-efficacy therapeutic drugs, as well as the acceleration of precision medicine and cost reduction of developing future medicines.
*1: Society for Laboratory Automation and Screening.
*2: Tissue or organ is extracted from an organism by surgery or biopsy for experimentation in vitro. After slicing and processing, the CELL HANDLER can select the target tissue pieces.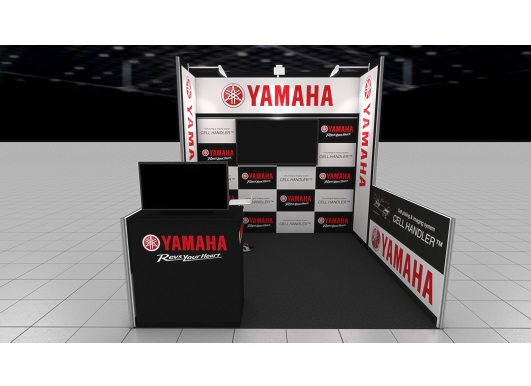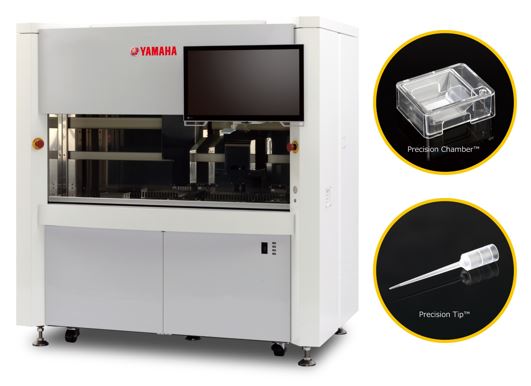 Overview of Yamaha Motor Exhibit
Exhibition Features:
◎Products Exhibited
Precision ChamberTM
Precision TipTM
◎Introduction of joint research examples
Exhibit Space:
#513 Floor plan