Release of the New YSi-SP High-speed 3D Solder Paste Inspection Machine, Long-awaited SPI from Yamaha: Providing a one-stop solution from printer to AOI
January 11, 2018
IWATA, January 11, 2018—Yamaha Motor Co., Ltd. (Tokyo: 7272) announces the April 1, 2018 release of the YSi-SP, a high-speed 3D solder paste inspection machine that enables high-speed high-accuracy inspections based on our "1-head solution" concept for using a single type of head to handle various inspections.

The YSi-SP is Yamaha Motor's first solder paste inspection (SPI) machine. It is used to inspect the printing quality (volume, height, area, misalignment) of solder paste after it has been printed onto PCBs.

The YSi-SP handles various high-speed and high-accuracy solder paste inspections with a single head, including high-precision inspections employing a Yamaha-exclusive algorithm combining 2D and 3D-based measurements, and image resolution switch-over utilizing super-high resolution technology.

Tapping into our expertise as a comprehensive manufacturer of a full lineup of surface mounting machinery, the YSi-SP can swiftly coordinate with other Yamaha machines, such as performing automatic setup changes, automatically adjusting solder misalignment, and automatically converting adhesive inspection data from the dispenser.

While offering Statistical Process Control (SPC) to perform a wide range of statistical processing, the YSi-SP can also be equipped with various optional features, including bonding inspection and foreign matter inspection.

The launch of the YSi-SP enables us to supply all of the primary machines required for mounting processes under the Yamaha brand, from printers and dispensers to solder inspection machines, surface mounters and automated optical inspection (AOI) PCB inspection machines. With all the machinery fully coordinating with each other, clients are able to build a production line with even higher efficiency and quality.

The YSi-SP will be on display at the 47th Internepcon Japan electronics manufacturing and mounting technology exhibition to be held at the Tokyo Big Sight (Koto-ku, Tokyo) from January 17 to 19, 2018.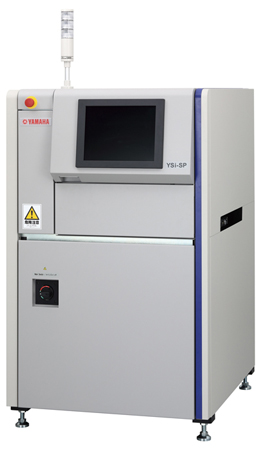 Model
Launch date
Target sales
YSi-SP
April 1, 2018

100 units

(First full year from release, domestic and international sales)
Market Background and Product Outline
Ultra-small chips, narrowly spaced electrodes, etc., are being utilized on a greater level in factories during the electronic component mounting process to meet the demands for miniaturization, higher density, higher functionality and diversification. Consequently, the quality of solder paste printing has grown more important to where it may even affect the quality of the entire mounting process.

A solder print inspection (SPI) machine detects faults in the solder print before components are mounted on the PCB, and relays inspection data back to the printer in real-time so that parameters and other settings can be adjusted to prevent printing errors before they are made.

Not only must SPI machines quickly and accurately inspect solder print, they must also coordinate well with the various other machines on the mounting line via machine-to-machine (M2M) technology to eliminate waste and improve production efficiency.

As a comprehensive manufacturer of a full lineup of surface mounters, printers, dispensers, inspection machines and more, Yamaha Motor has sought to improve total line efficiency and production quality. By launching the YSi-SP as our first high-speed 3D solder print inspection machine, Yamaha is poised to further strengthen inter-machine coordination and raise the productivity of the entire mounting line together with our Intelligent Factory management software, an IoT/M2M integrated system that can be used for one-stop management of individual machines, every line, the entire factory or even an entire company.
Product Features
1) "1-head solution" to perform various inspections with a single head
As with Yamaha Motor's other surface mounting machinery, the YSi-SP is based on the "1-head solution" concept to handle various inspections with a single head, saving time, costs and reducing other losses while enhancing productivity.

2) Achieves high-accuracy high-speed inspections using 3D+2D inspection, image resolution switch-over and more
The YSi-SP uses a Yamaha-exclusive 3-stage algorithm to achieve high-precision 3D inspections: 1) auto-focus adjustment to correct camera height to account for PCB warpage of ±5 mm, 2) a 2D ring light to accurately identify the contour of the solder paste and measure the surface area and 3) use of the phase shift method to measure the height of the solder paste and calculate the volume.

Also, by using Yamaha's proprietary super-high resolution technology, the resolution of each view can be switched between standard and high-resolution modes as needed for a component. A single YSi-SP can be used for both high-speed and high-resolution inspections.
3) A thorough and extensive machine-to-machine (M2M) solution
By taking advantage of the full lineup of key machinery we offer for surface mounting, clients can bolster coordination among machines and improve the work efficiency of the entire line. For example, the following functions are available:


•

Automatic setup changes: By reading the ID on the instruction sheet, PCB barcode, etc., settings for PCB data, conveyor width and more for the line can be automatically changed sequentially from the upstream machines.
•

Bad mark data feed forward: Once the YSi-SP recognizes a bad mark on a PCB, it transmits the information to the mounter downstream to eliminate redundant recognition by the mounter so that it can focus on component mounting, thereby reducing cycle time.
•

Print position feedback: Misaligned solder print data is relayed to the printer to ensure high-precision re-positioning.
4) Statistical Process Control (SPC) for diverse statistical processing
All pad images and measurement data can be saved and statistically analyzed in various ways. Up to six SPIs can be connected to one PC (software).
5) Optional features to enable handling various products
Yamaha offers several options to meet the needs of various production lines, including a super-high resolution spec YSi-SP for print inspections on super-small 0201 (0.25 × 0.125 mm) to 03015 (0.3 × 0.15 mm) size components, bonding inspection for checking dispenser adhesive application quality and foreign matter inspection for detecting the presence of foreign matter stuck on PCBs.
Basic Specifications
Model
YSi-SP
Applicable PCB dimensions
L510×W460 mm to L50×W50 mm (single lane spec)
*No dual lane specification available. 
Horizontal resolution
(FOV size)
1) 25 µm / 12.5 µm (approx. 50×50 mm)
2) 20 µm / 10 µm (approx. 40×40 mm)
3) 15 µm / 7.5 µm (approx. 30×30 mm)
*All are standard selection type.
Height resolution
1 µm
Inspection items
Solder paste printing quality
(volume, height, area and misalignment)
Power supply
Single-phase AC 200V–230V ±10%
Air supply
Airless specification
Exterior dimensions (excluding protrusions)
L904×W1,080×H1,478 mm
Weight
Approx. 550 kg