Addition to YHX Series FA Universal Controller Lineup, Yamaha Motor Launches YHX-HCU-HP High-Functionality/Performance Host Controller Unit, Delivers 3 x Processing Capability of Existing Units, Enabling Smooth Building of Larger and More Complex Systems
November 15, 2017
IWATA, November 15, 2017—Yamaha Motor Co., Ltd. (Tokyo:7272) announced today that it will launch the YHX-HCU-HP host controller unit, an addition to the YHX series of FA1 universal controllers with enhanced functionality and performance, from February 1, 2018.

The YHX Series are universal controllers which unite all elements of automated production lines, including transport system control, peripheral IO2 control, HMI3, and communication between devices, in addition to robot control. One YHX Series device can comprehensively centralize, coordinate, and conduct synchronous control of all robots and peripheral devices in the "Advanced Robotics Automation Platform"universal control robot system. Since its launch in December 2016, the YHX Series has been very popular in the building of automated lines across a wide range of industries.

With the ever-expanding and advancing functionality of the robots and peripheral devices requiring synchronous control, the YHX-HCU-HP host controller unit announced today delivers a CPU processing capability approximately three times more powerful than existing units4. With greater program creation efficiency and processing capabilities, the new model enables the smooth building of larger and more complex systems under one unit. The YHX-HCU-HP is fully compatible with the previous YHX-HCU, so transition is possible simply by replacing the unit as programs etc. can be reused unchanged.
In addition, as with the previous model, the HX-HCU-HP includes a built-in high-performance real-time motion PLC5 based on the international IEC61131-3 standard6, enabling control of 64 robots containing up to 255 motors.


1 Abbreviation of Factory Automation
2 Abbreviation of Input/Output
3 Abbreviation of Human Machine Interface. Refers to devices and software for exchange of information between people and machines
4 Yamaha Motor data
5 Abbreviation of Programmable Logic Controller. A control device modeled on relay circuits.
6 International PLC programing standard issued by the International Electrotechnical Commission (IEC).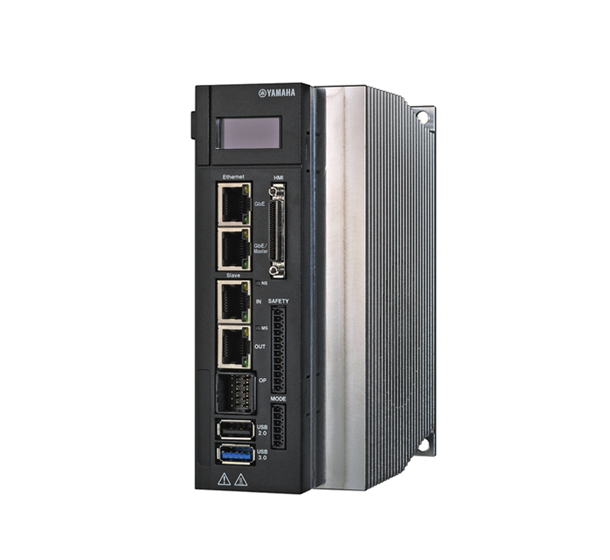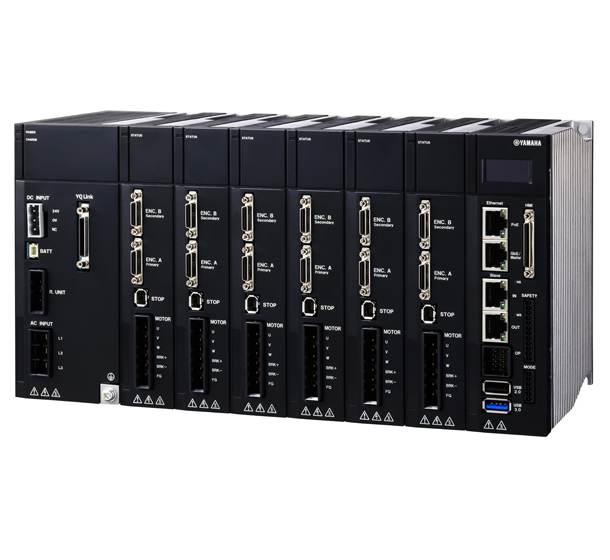 Model
Launch Date
Recommended Retail Price
Target Sales
YHX-HCU-HP
February 1, 2018
Discretionary
Price
12,000 Units


(first full year from release, both within Japan and internationally)
YAMAHA's Universal Controller YHX series
YHX-HCU and YHX-HCU-HP Main Specifications
 
YHX-HCU
YHX-HCU-HP
CPU performance comparison1
1
3.2
Memory
4GB
8GB
Storage
64GB
Size
H150mm x W41.6mm x D125mm
H150mm x W61.6mm x D125mm
Weight
Approx. 0.75kg
Approx. 1.1kg
External I/F
LAN1
10/100/1000BASE-T, with PoE
10/100/1000BASE-T, no PoE 
LAN2
10/100/1000BASE-T, no PoE
Field Network Slave IN/OUT
10/100BASE-TX / 10/100BASE-TX
IO connector (for CC-Link)
1 port
USB2.0/USB3.0
1 port/1 port
OLED/indicator LED
1 port, dot matrix (128 x 64) Yellow/NS (green, red),
MS (green, red)
Programing Pad
HMI 1 port (HDMI, USB2.0)
SAFETY/MODE
12 pin 1 port/6 pin 1 port
Internal I/F
YQ-Link
1 system
Power supply
24V±10%
Usage/Storage temperature
0°C-40°C/-10°C-65°C
1 Comparison of Yamaha Motor standard operations