Yamaha Motor Releases the Cell Picking & Imaging System CELL HANDLER - CELL HANDLER aims to provide the medical field with solutions, using Yamaha Motor's applied surface mounter technology
September 1, 2017
IWATA, September 1, 2017-Yamaha Motor Co., Ltd. (Tokyo:7272) announced today that it has developed the Cell* Picking & Imaging System CELL HANDLERTM. This device performs part of the testing process to evaluate pharmaceutical efficacy, such as in the development of new drugs and anti-cancer agents. The first unit was delivered to Fukushima Medical University on August 31, 2017

*In this release "cell" refers to a single cell and/or aggregated cells including spheroid and organoid.
CELL HANDLERTM
enables one-by-one selection of target cells and transfers them to a microplate (e.g. 384-well), while simultaneously capturing/digitalizing images - a process that was very difficult with high throughput and accuracy using the conventional manual method.
Using Yamaha Motor's applied surface mounter ultra high-speed and high-precision pick & place technology, newly developed picking & dispensing technology, and image processing technology works to process even small and fragile cells. A unique and specialized disposable tip and chamber have also been developed by Yamaha Motor to suit the
CELL HANDLERTM
system.
The development of the
CELL HANDLERTM
system is part of an objective to accelerate and strengthen growth strategies under the three-year New Medium-Term Management Plan started in 2016. In addition to this newly-released hardware, Yamaha Motor is working on the enhancement of related services, and aims to contribute to fields such as personalized medicine and the research and development of new drugs.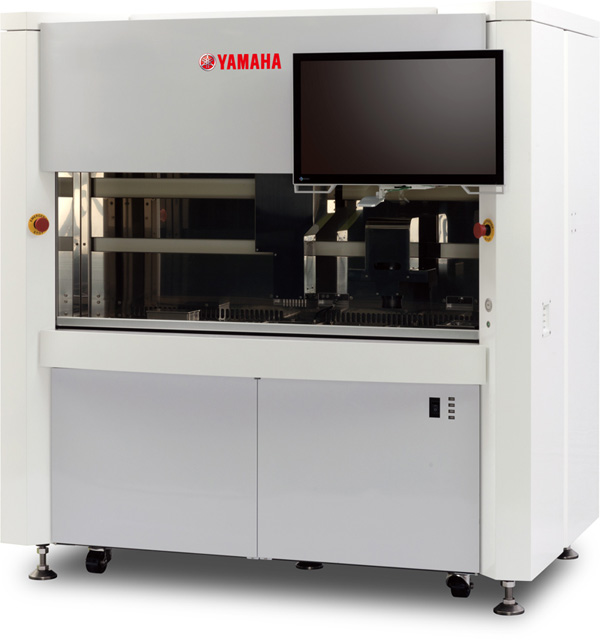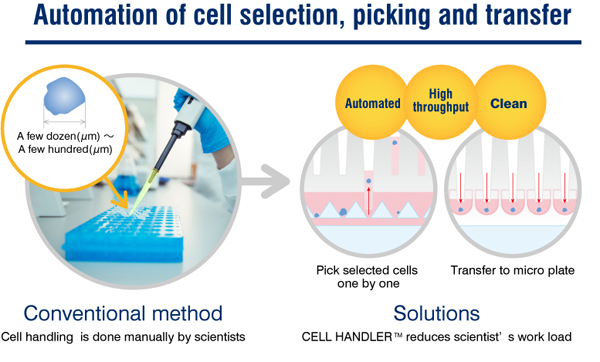 Market Background and Product Outline
There is currently strong growth in the market for business utilizing cells - such as iPS cells, cell therapies, and regenerative medicines. The number of cancer patients is rising every year, and there is a demand for further improvement in quality and work efficiency for anti-cancer agent sensitivity tests and biomarker tests to evaluate which types of anti-cancer agents are effective against which types of cancer cells, because currently, enormous time, cost and labor for doing such tests are required.

From 2010, Yamaha Motor began applications in the medical field with a view to further utilize robotics technologies. The company continues to face challenges in the development of picking & dispensing technology, and image processing technology suitable for more fragile cells with inhomogeneous shapes than electronic parts handled by conventional surface mounting machines. In order to verify our technologies, Yamaha Motor has undertaken joint-research with institutions such as the University of California San Francisco and the Osaka International Cancer Center. It will enable the development of high-efficacy therapeutic drugs quickly and at low cost, which will in-turn contribute to reducing medical costs.
CELL HANDLERTMSpecifications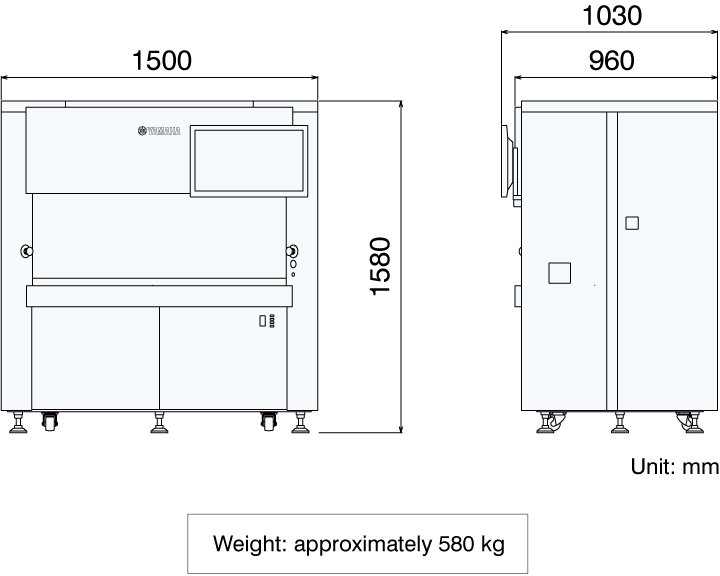 * For research use only. Not for use in diagnostic or therapeutic procedures.
*Currently this model is commercially available only in Japan.
*The specifications are subject to change without notice.