Yamaha Motor Increases Corporate Value and Brand Strength through Global Brand Strategy — Defining the Unique Style of Yamaha, and Designating the Company's Founding Date (July 1) as "Brand Day"—- News Releases
June 29, 2017
IWATA, June 29, 2017—Yamaha Motor Co., Ltd. (Tokyo:7272) announced today that it has designated July 1- the anniversary of the company's founding - as "Brand Day" to encourage Group employees worldwide to feel a closer connection to the Yamaha brand. The Brand Day concept has been formulated with the aim of strengthening internal branding, so that each and every employee can feel increased understanding and affection toward the brand, and ultimately manifest "The unique style of Yamaha" through products and services. At the same time, top management is taking the initiative to further promote the "Global Brand Strategy" with the intent of improving corporate value and brand strength.


Yamaha Motor considers further increasing the value of the Yamaha brand to be one of the Company's highest management priorities. In order to realize the corporate mission of being a "Kando* Creating Company," the slogan "Revs your Heart" was conceived in 2013.
"The unique style of Yamaha" has now been defined (refer to the diagram below) to improve both corporate value and brand strength.
Additionally, in January this year the Brand Committee (Chairman: Mr. Akihiro Nagaya) was formed with a commitment by top management and from overseas subsidiaries. Working across Group businesses and from a specialist perspective, the Committee develops and promotes global brand strategy, measures and analyzes brand values, and provides feedback to management.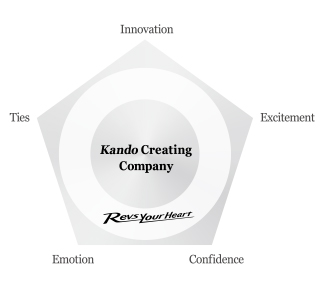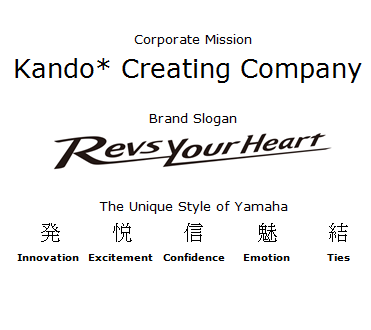 Yamaha Motor deploys a variety of programs with the aim of further strengthening its internal branding. These include employee surveys and brand workshops conducted both in Japan and overseas, The Global Rev Challenge Award, and dissemination of brand values with booklets, videos, etc.
Yamaha Motor is also promoting its brand management based on the framework developed by Interbrand, the world's largest brand consultancy.
*Kando is a Japanese word for the simultaneous feelings of deep satisfaction and intense excitement that we experience when we encounter something of exceptional value.