Yamaha Motor Releases Unmanned Herbicide Sprayer - WATER STRIDER — Lightweight and Easy Handling for Improved Rice Cultivation Efficiency —
March 15, 2017
IWATA, March 15, 2017—Yamaha Motor Co., Ltd. (Tokyo:7272) announced today that the unmanned WATER STRIDER boat - capable of being remotely controlled for herbicide spraying work required before and after rice planting and direct sowing in paddy rice cultivation - is to be available for the agricultural market from April 25.

The WATER STRIDER is an unmanned boat approx. 1.6 m in length, which is capable of spraying herbicide from its hull while traversing rice paddies via the wind-power generated from its propeller driven engine, with steering operated through a dedicated transmitter. (No license required)
This model uses graphic designs that improve its visibility, making full use of Yamaha Motors FRP processing technology, which is one of the hull technologies cultivated over many years in boat and pool manufacture.
WATER STRIDER - Main Features
1- Speedy chemical supply through the adoption of the industry's first detachable cassette tank*1
2- Excellent handling and maneuverability due to the lightweight body and shape of the hull (capable of operating in water depth of over 5cm)
3- Innovative shock absorbing material*2 applied to boat development technology
4- Ever increasing nationwide service network *3
*1 One detachable cassette tank is supplied as standard equipment. Additional tanks are available for purchase separately
*2 Impact absorption technology is currently under patent application
*3 After-sales services that provide parts and maintenance are carried out by Yamaha unmanned helicopter dealers across the country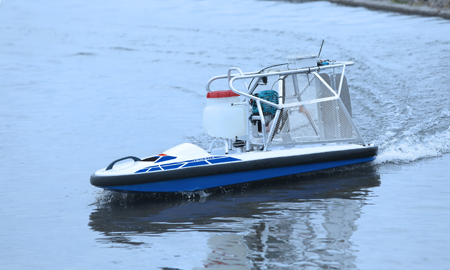 Model
Launch Date
Recommended Retail Price
First Year Target Sales
WATER STRIDER
April 25, 2017
972,000 yen


(unit price 900,000 yen + 72,000 yen consumption tax)

150 Units

(Yearly/Domestic)
Development Background and Planning Key Points
The government has set goals to reduce rice production costs by 40% from current levels, and in domestic agricultural workplaces, demand is being seen for further agricultural land consolidation and scale expansion working toward mechanization and higher efficiency. Work in paddy rice production locals involves a variety of tasks such as raising seedlings, plowing, fertilization, rice planting, weeding and pest control, cutting, and threshing.
For herbicide spraying, especially during rice planting or after direct sowing, although simply casting seeds in from the ridge has been the focus in the past, the WATER STRIDER easily moves along paddy fields by remote control, spreading herbicide, and in turn saving on labor.
In 1987, Yamaha Motor released an industrial-use unmanned helicopter, and in addition to spraying herbicides, insecticidal fungicides, etc., in recent years this model has been widely used in agricultural work such as in the direct sowing of rice from the air.
With the company's contribution to greater efficiency and cost reduction in agriculture gained through the introduction and practical application of unmanned helicopters into rice paddy production over the last 30 years, along with the addition of its unmanned boat line-up that incorporates boat manufacturing know-how, we can expect further agricultural efficiency and lower cost.
Main Specifications
| | |
| --- | --- |
| Overall Length x Width x Height | 1,660 x 740 x 650 mm |
| Weight | 24 kg |
| Engine | 4 Stroke, 34 cc |
| Fuel Type | Regular gasoline |
| Fuel Tank Capacity | 650 cc |
| Chemicals Used | Flowable type pesticide |
| Delivery Tank | 8 L |