Mechanics from 21 Countries and Regions Compete for World Champion Title, Yamaha Motor Hosts YAMAHA World Technician GP 2016, Japan Wins Sports Model Class, with India Clinching Commuter Model Class
October 13, 2016
IWATA, October 13, 2016-Yamaha Motor Co., Ltd. (Tokyo: 7272) hosted on October 12 the 7th YAMAHA World Technician GP 2016. This competition featured 21 Yamaha motorcycle service technicians (mechanics from dealers and sales offices) selected from 21 countries and regions around the globe showcasing their best service techniques. Japan's representative, Ryohei Samejima (YSP Kawasaki Chuo) won the sports model class, with India's Jignesh Girishkumar Rana (PLANET AUTOMOBILES) taking out the commuter model class. The last time a Japanese technician won a category in this competition was 13 years ago, at the 2nd running of this event in 2003.

The competition is split into two categories, Sports Model Class and Commuter Model Class, with rankings determined using an overall score across competition in three areas of service techniques. These are "Basic Maintenance Techniques," demanding accuracy in fundamental maintenance such as tire changes, "Troubleshooting Techniques," requiring correct diagnosis of problem causes and repair, and "Customer Service Techniques," testing communication skills with the customer such as when explaining about repairs which have been carried out.

Since 2000, the Company has promoted its unique global standard-based service technician training program YTA (Yamaha Technical Academy). The Academy aims to provide a consistent high-quality service at all Yamaha dealers worldwide, under the catch phrase One to One Service (expressing the concept of using professional service skills to create and strengthen the bonds with each and every customer). As of October 2016, there are approx. 33,000 YTA-certified technicians from 46 locations utilizing their skills in each country and region.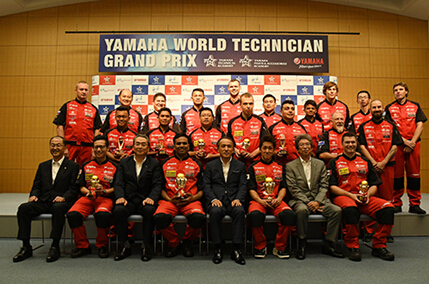 YAMAHA WORLD TECHNICIAN GRANDPRIX 2016
http://global.yamaha-motor.com/revsplus/en/special/wtgp2016/
-Prize Winner Comments
Sports Model Class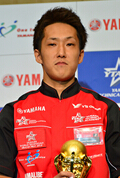 Winner: Ryohei Samejima (Japan)
"Well of course, I am just really happy. I have never been this nervous for anything before.
It makes me feel so proud that I had the support from the chairman and president down through all the staff. Our branch is usually open every day, but they closed it for the day to come all this way to support me. Maybe I have met their great expectations by coming in first place.
I think it would be great if I can help even in some small way to encourage other service technicians who are interested in the YAMAHA World Technician GP to take up the challenge by telling as many people as possible my thoughts, feelings, and experiences that "It was so great competing in this competition." This was a really fantastic experience! Yamaha Motor is the only manufacturer that runs a global competition like this where service technicians are evaluated correctly and accurately."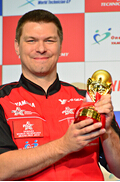 Runner Up: Luke Pakkala (Canada)
"I am very proud to have achieved second place in this great competition. Along with the training support from Yamaha Motor Canada, I am also very grateful for Yamaha Motor and everyone else for hosting an event like this.
As there is a 13-hour time difference between Canada and Japan, I had to work hard to get used to Japan time such as by getting up very early in the morning to practice so I could give it my best here. I am sure that I can use the experiences gained in this competition to help train other staff back home."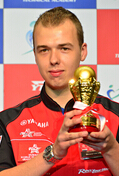 Third place: Remco Van Wijk (the Netherlands)
"I am very happy with third place; I wasn't expecting anything like this. I am really looking forward to telling my co-workers of the result.
I think it's come from all of the everyday work we do which builds up to this competition. I don't want to just leave this experience as it is, I want to learn from it and further improve my skills to get better to help in eventually owning my own branch."
Commuter Model Class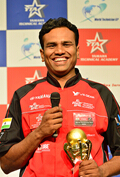 Winner: Jignesh Girishkumar Rana (India)
"I am really happy. I would not have been able to get a result like this if I had not had the support from the staff at our shop, my friends, or my family. So many people helped with my training. I also had quite a lot of support from the owners who worked really hard to get my visa to come to Japan. Therefore I am really grateful to them, because without their help I would not be able to be here.
I want to share these invaluable experiences with my co-workers, and work to improve customer satisfaction with a service worthy of a world champion."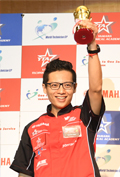 Runner Up: Tan Chor Sian (Malaysia)
"Well of course the major aim was to win, but I am extremely happy to get a trophy, which was another of my targets. I am very proud of my achievement here. This is because this is the first trophy that I have ever personally won, and the first trophy that Malaysian mechanics have won in the last 10 years of competing at these world championships.
I am also very grateful for all the encouragement from the staff at Hong Leong Yamaha Motor Sdn. Bhd. right throughout these championships. In addition, I received significant support for special training from Hong Leong Yamaha.
In the future, I intend to share my experiences and skills with everyone in order to help realize Yamaha's service objective, the "One to One Service". Also, I will provide the customer 100% of the skills I have acquired here. Lastly, I am also very grateful for all the support I have received from my family and my girlfriend."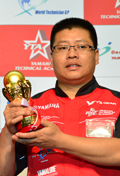 Third Position: Zhong Shunhai (China)
"I am extremely happy as I did not expect this at all. I am really very surprised. After becoming the Chinese champion, I worked towards preparing for this world championship every day through my job in inspection, maintenance, and customer service.
Competing against the high degree of technical skills that the other competitors in these world championships have has made me realize just how much I have to learn. I want to learn how to make better use of the tools I have. I also noticed that in the customer service section, some of the other competitors around me were still talking with their customers well after I had finished. So I need to work very hard in these areas in order to improve the services I provide to the customer."
Customer Service Award (Special Award)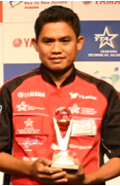 Ramel R. Realin (the Philippines)
"I am very happy to be awarded the CS Award. After the one-week intensive special training I completed at the agency training room, I also practiced at my own shop. I want to put the knowledge gained and experience of winning this award into practice with my colleagues that I work with daily at my shop, as well as continue to work towards providing service that customers love."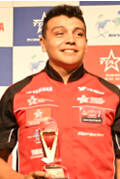 James David Fajardo (Columbia)
"It is wonderful to receive such an award at these world championships. I am very moved by it all. I am also very grateful for all the support from everyone at Incolmotos Yamaha, the branch owner, and everyone else who helped me.
The YZF-R3 that was used in competition is not that common in our region, so I had to do lots of practice at Incolmotos Yamaha. That turned out to be very beneficial for me. Thanks to everyone, I was able to come to Japan and give my very best in the competition.
I want to take the knowledge that I have gained here back to Columbia, share it with my colleagues, and work at providing an even better service. This is because improving customer satisfaction is the "Revs your Heart" for us mechanics.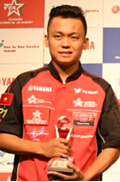 Nguyen Van Du (Vietnam)
"I am very happy, and want to share this happiness with my friends, the owner, and my family, and I wish to thank Yamaha Motor for hosting such a valuable event. Thanks to Yamaha Motor Vietnam, I was given special training, and starting with the owner, at our shop we are all highly aware of the concept of customer service improvement. The service we provide in our daily work formed part of the preparation toward competing in this world championship. I won't take this award lightly. I want to work toward improving my own customer service, and continue to spread the great Yamaha brand not just in our shop, but nation-wide across Vietnam."